Family, police officers, community remember Yazzie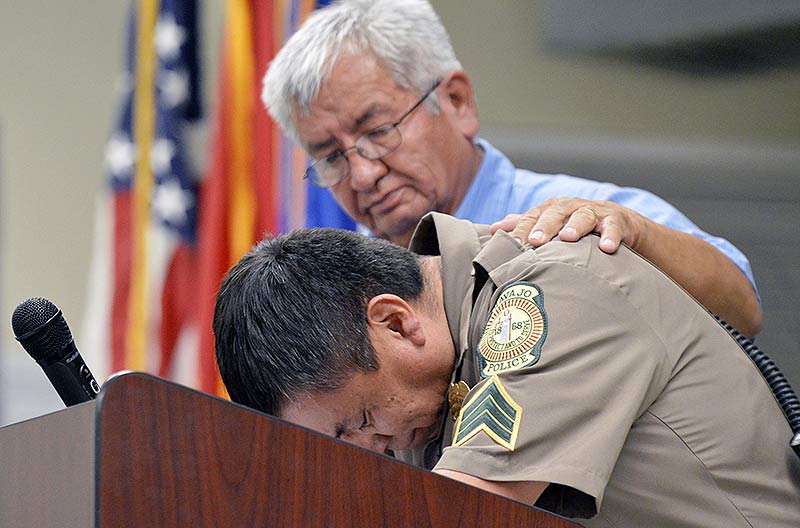 CROWNPOINT
The family of fallen Navajo police officer Alex Yazzie, as well as Navajo police and several members from the New Mexico State Police, spoke Friday night at a family gathering of Yazzie's bravery and heroic actions during a shootout Thursday night.
At the Friday night gathering, Navajo Police Sgt. Terry John talked about Yazzie's early days as a police cadet, before he became a police officer.
"I was working out there in Toyei years ago and he went through the academy," said John, describing him as being "very motivated, always wanted to go first."
After completing his training, Yazzie went work for the Navajo Environmental Protection Agency in 2002.
"Years went by and one day I was working the Window Rock fair and next thing you know there he is, wearing this uniform," John said, pointing at his uniform. "And I say, 'Hey, you finally switched over.'"
Talking about the night of the chase that occurred before the shootout, John said the call came into Window Rock that there was a guy who was shooting and officers needed help.
"Immediately, officers working shift, they all wanted to go up there to help out. I called Crownpoint District and said they were heading up there. Chinle was up there. Shiprock was up there. We all met up and started to look for this guy.," John said.
"Last night was pitch black," he said, adding that he received a call for more officers.
"Of course, all the officers in Window Rock wanted to go up there. And I said no, 'You gotta watch Window Rock. So they stayed back," he said as he became emotional.
"A lot of these officers, they haven't slept all night long," he said.
He finally had to tell some of the officers to get some sleep. Six officers were sent from Window Rock who stayed at the scene of the shootout from 5 a.m. to 1 p.m. On Saturday and Sunday, John said, he will be sending more officers.
"I want you to know – the family members – that you need not mourn all alone. Police officers will be mourning with you. Not just police officers from here, but police officers nationwide. We all mourn with you. On behalf of the Navajo Nation Law Enforcement, our hearts go out to you. We will be there with you, all the way through," he said.
John concluded by thanking the family and encouraged community members to give their support to the family.
Trooper Devon Largo with the New Mexico State Police, who is originally from Pinedale, N.M., said his fellow officers were also sorry for the loss of a fellow police officer.
"Thank you for being here for the family, his daughter. We have kids, loved ones we come home to everyday. It is really hard to accept what happened. But be proud for what he has done for the community, his family." Largo said.
His family members talked about his bravery.
"He fired back," Brenda Joe said, talking about her uncle. "If he didn't he (Fowler) would have hurt more people. That's what I was told. It's the scariest thing to get a phone call like that at 2 o'clock in the morning."
His uncle, George Tolth from Casamero Lake, N.M. urged those present to "visit the police, to keep them in their prayers, and to pray with them."
"We don't do these things for them. We only have so many officers. Care for them," Tolth said.
He talked about some of the feelings people have of police officers.
"We curse them when we see them coming. We look down on them. But now is the time for people and police to join together to mourn. Please pray for our officers," Tolth said.
Yazzie graduated from Crownpoint High School in 1992.
The family is asking for help paying for the funeral cost ($8,100) and burial at the Farmington Memorial Gardens ($2,500). Another meeting has been scheduled for 6 p.m. Tuesday to solidify burial plans and designate a place people can send donations.
The Friday meeting at the chapter house also included a number of speeches by family members and fellow police officers remembering his life and the night he died.
Yazzie's funeral is tentatively schedule for March 27 at 10 a.m. at the the Farmington Civic Center in Farmington, N.M.
Crownpoint Chapter president Rita M. Capitan remembered Yazzie by reading a caption that accompanied a senior photo of him, from her Class of '92 Crownpoint High School yearbook: "Alex can be described as a quiet and very nice person, yet he can be convivial when given the chance. Alex, we aren't sure what you are going to after high school, but we know you will succeed!!"
Yazzie was 42.
Justin Fowler, 26 (The Times reported age 24, which was initially confirmed by the Navajo president's officials), of Little Water, N.M., the gunman, also died during the shootout. Two other Navajo police officers, Herbert Frazier and James Hale were each shot in the leg. Frazier was taken to the Shiprock Medical Center, while Hale was flown out to the University of New Mexico hospital.
[slideshow_deploy id='4439′]
---