Flagstaff police investigating fifth note found at local high school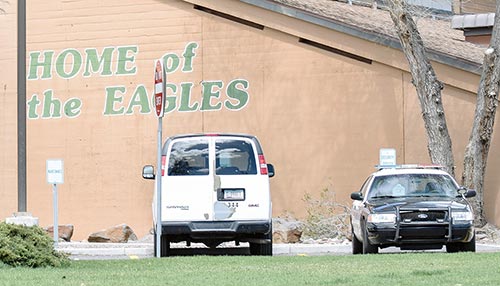 FLAGSTAFF
A fifth note has been found at Flagstaff High School, where a series of written threats have been made over the past month, the Flagstaff Police Department said.
Flagstaff Police reported that the menacing message was found in the girls' bathroom on Tuesday, March 28.
A student in the boys' bathroom found the first threatening note on March 9. Authorities say the note indicated that there would be a Columbine-type incident in the month of March.
The second note was found last Monday at another school. Though the note was not specific, it contained disturbing information, which eluded to April 20, 1999 – the anniversary of the mass shooting at Columbine High School in Littleton, Colo.
Another student on March 23 informed police he had located a third note on March 8 in the boys' bathroom at FHS. Authorities say the student reported that he thought it was a joke and threw the note away at the time. The student who found the note stated the note gave a warning that there would be a shootout.
A custodian at the high school later that evening found a fourth note, this time, in the girls' bathroom. Authorities say a non-threatening statement was also found on a wall inside the girls' bathroom at Thomas Elementary School.
Flagstaff Police and the FUSD are investigating the situation as a felony. A school resource officer with the Flagstaff Police Department has been assigned to work at FHS full time during school hours for the next several weeks.
Anyone with information should contact Flagstaff Police Detective Barreras at 928-679-4055 or Silent Witness at 928-774-6111.
---