Researchers confirm NASA findings of methane cloud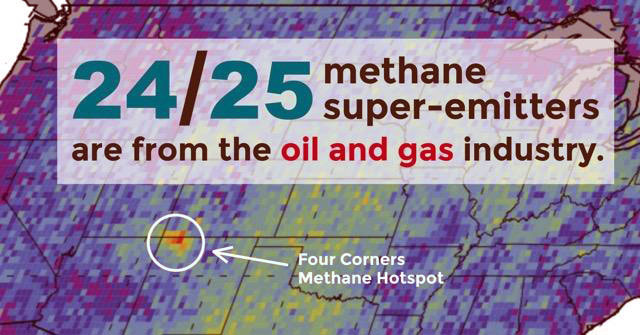 AZTEC, N.M.
A day after the National Aeronautics and Space Administration released its new finding of 250 methane leaks in the San Juan Basin, a group of researchers launched their own investigation.
"We found several methane leaks, natural gas leaks, coming from various facilities," said Pete Dronkers, Southwest Circuit Rider for Earthworks, confirming NASA's findings of a methane hotspot the size of Delaware over the Four Corners.
Dronkers, along with New Mexico representatives of the environmental organizations Sierra Club and Diné Citizens Against Ruining our Environment, used NASA's newly released hotspot map and Google Earth to pinpoint locations of methane leaks around Aztec and Bloomfield, N.M.
The located facilities were wells, tanks and two refineries in the area. The methane extractors are not illegal, and venting and flaring in some cases are standard practices.
"It's disturbing because these are so easy to fix, if the companies were willing to invest in that," said Dronkers, looking through his Forward Looking Infrared camera that can spot emission leaks invisible to the human eye.
The NASA study revealed that 10 percent of the emitters were the cause of around 50 percent of the methane released, releasing around 600,000 metric tons annually.
"That 10 percent leading to 50 percent of the pollution really tells us that these are 'super emitters' that we're talking about," said Alex Renirie, New Mexico representative of the Sierra Club.
NASA on Tuesday released a map pinpointing the locations where concentrations of natural gas were highest. While investigating the leaks with an entourage of press and government officials, Dronkers informed the group we were near one of the pinpointed locations.
---