'You are our healers'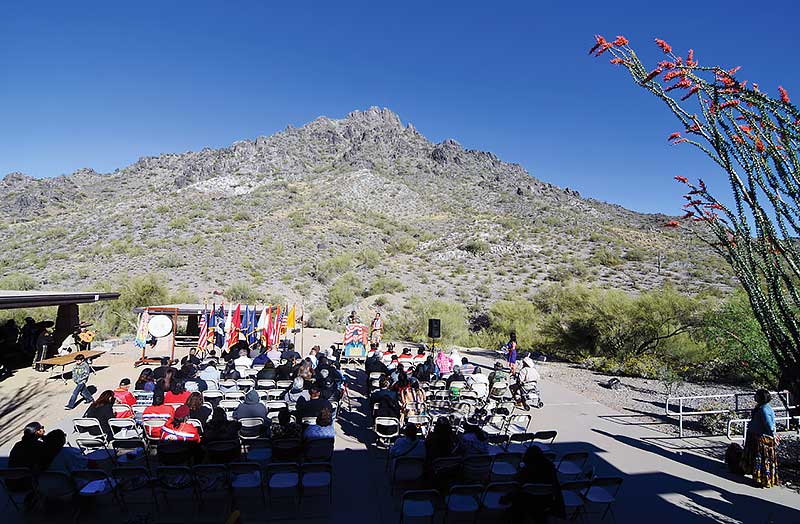 13th annual Piestewa Memorial event honors all fallen heroes
PHOENIX
She wouldn't take no for an answer.
After seeing her cousin Jaylen Scott carry a Hopi eagle staff up the top of Piestewa Peak year-after-year, 10-year-old Lorianna Piestewa finally got her chance to help honor her aunt, the late Army Spc. Lori Piestewa.
Lori Piestewa, a member of the 507th Army Maintenance Company in Forth Hood, Texas, died in combat during the invasion of the Iraqi War when their caravan ran into an ambush near Nasiriyah on March 23, 2003.
She was the first Native American woman to die in combat in the United States military.
At Wednesday's 13th annual Piestewa Memorial sunrise service, Lorianna ran up and down the 1.2-mile trail with her cousin Carla, the 16-year-old daughter of the late Army specialist.
"I always wanted to do this," Lorianna said. "Jaylen always did it and it looked fun.
"I was real proud that I brought it down with her," she added.
As they neared the base of the peak, they got a standing ovation from the slightly dense crowd that braved the cold windy morning. The two girls were embraced by family members, which included their grandparents Terry and Percy Piestewa as well as Carla's brother Brandon.
The Piestewa family joined other families of fallen soldiers as a way to celebrate the lives and sacrifices they made while at war. …
---