A second chance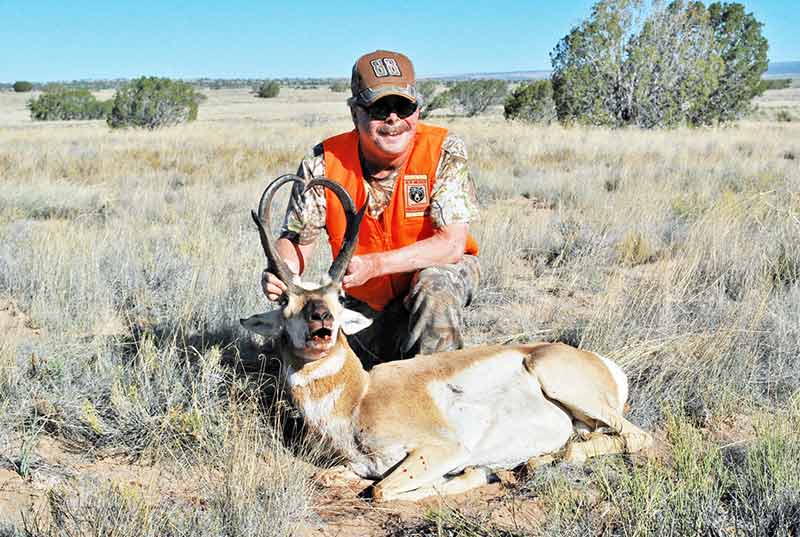 Local hunter bags antelope despite challenges
WINDOW ROCK
It was a cool September morning and a slight breeze blew through the air when Michael Sanders got his record setting antelope in New Lands, Ariz. That was a year ago.
Sanders was always an avid hunter but in 2004 he was injured in a refinery explosion that left him blind. He recalls coming home from the hospital and telling his wife they needed to sell his guns.
He thought he would never hunt again.
However he said his family and friends made sure that never happened. After putting in for three tags in New Mexico he wondered what he would do if he got one. That question was quickly answered when he got not only one tag but all three.
With the help of family and friends, Sanders was able to find the equipment he needed to hunt.
The equipment was developed by AeroSolutions, a company that specializes in engineering and product development.
Tom Healy, owner of AeroSolutions, said when he heard about Sanders he was automatically interested in helping.
They were able to fit Sanders with a RifleCam. A camera that mounts onto the gun and gives a live video feed. Through an eight-foot cord, Sanders' wife, Michele, can see the live feed on a video screen. She can see the animal and the cross hares as if she is looking through the scope herself.
She is then able to direct Sanders toward the animal.
---