Everybody's best friend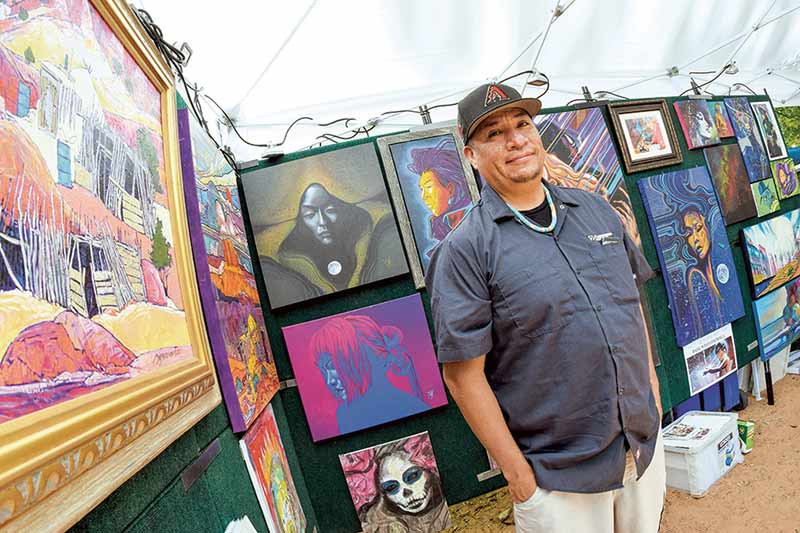 Rock the Canyon Arts and Music Festival remembers Bahe Whitethorne Jr.
SHONTO, Ariz.
Visitors wandered through the late Bahe Whitethorne Jr.'s canopy, some glancing at his artwork neatly arranged on the display panels.
The only way to understand a work of art is to think in shapes, colors and spaces, he might have said and would have smiled. Even those who never met Bahe experienced his influence and personality through his artwork over the weekend at the 10th annual Rock the Canyon Art and Music Festival, where his family displayed a number of his art pieces, which are now part of the Whitethorne family's private art collection.
"So, I'm just coming back from Bahe's booth and I'm not sure how to put any of that into words," said Ed Kabotie, Hopi-Tewa artist and musician, who was good friends with Bahe. "Bahe was everybody's best friend."
Bahe walked into Kabotie's life about seven years ago when Kabotie first moved to Flagstaff and came across him at art shows on many occasions. "His artwork was outstanding, I mean it was on another level," Kabotie said in tears. "I felt like it was always moving, always growing and I could see it … and I could feel it, and it was intimidating. "I mean you're trying to be the best that you can be, and you see somebody like Bahe who is naturally talented, insightful and creative," he said. "But then I met the person and that person was just a person who emanated light, joy and humility."
Bahe Whitethorne died on March 26. Better known as "Buddy," the 41-year-old's unexpected death left the art world devastated. His family, close friends, and the Shonto community were even more grief-stricken.
---