Student's film chosen for film festival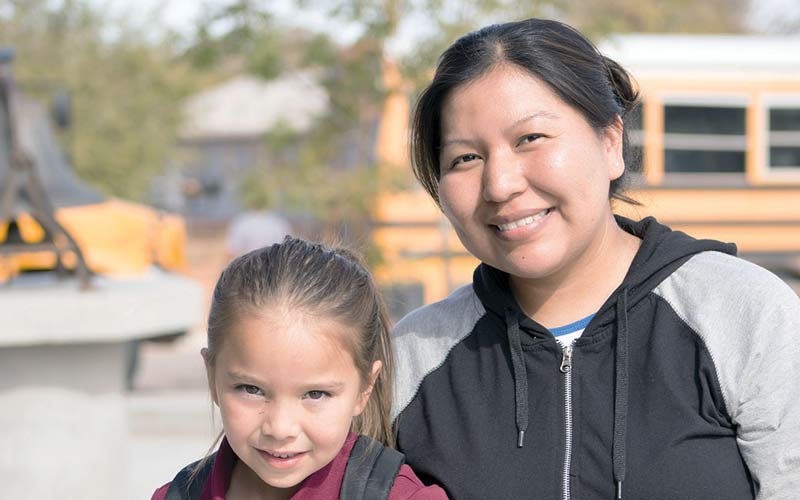 TUCSON, Ariz.
"Amásání" (The Grandmother), the short film written, directed, edited and produced by University of Arizona BFA 2017 Film & Television graduate Stacy Howard, has been selected to screen at the 2017 ImagineNATIVE Film + Media Arts Festival.
Held annually in Toronto, ImagineNATIVE is the world's largest Indigenous film festival. Taking place this year from Oct. 18 to 22, ImagineNATIVE will present 115 feature films, documentaries, shorts, and music videos created by Indigenous filmmakers from 16 countries.
Along with "Amásání," 72 percent of the films have been made by Indigenous female directors.
Filmed at Mexican Water on the Navajo Nation in Navajo and English, "Amásání" stars Erica Anna Green and Gloria Benally presenting the relationship between a rebellious young girl and her traditional Navajo grandmother. The film pays tribute to the importance of Navajo culture and language.
"Growing up, I never knew anything about blockbuster movies until cable finally made its way to the reservation," Howard said. "I loved how movies inspired me, and I wanted to make films that inspired my Diné people.
"I wanted to focus on Native themes and help save my Navajo language," she said. "I am excited about the positive response to 'Amásání,' as I have so many more native stories I'd like to tell."
Howard's film had its World Premiere at the Fox Tucson Theatre in April 2017 during "I Dream in Widescreen," the annual event screening the films of the senior students of the UA Film & Television program.
While Howard was interning at the UA Hanson Film Institute, its director, Vicky Westover, identified the film as a worthy entrant for the premier film festival and helped the young director submit it.
The institute will sponsor Howard's trip to Toronto in October.
Originally from Mexican Water, Arizona, an unincorporated community in the Navajo Nation, Howard attended Red Mesa High School before graduating from film school at Scottsdale Community College in 2009.
She then earned her bachelor's degree in film and television at the University of Arizona.
Howard was awarded the AZPM internship by Vision Maker Media, one of only three students nationwide – and the first University of Arizona student – to be selected for the competitive program.
---