Bearsun makes last journey through Diné country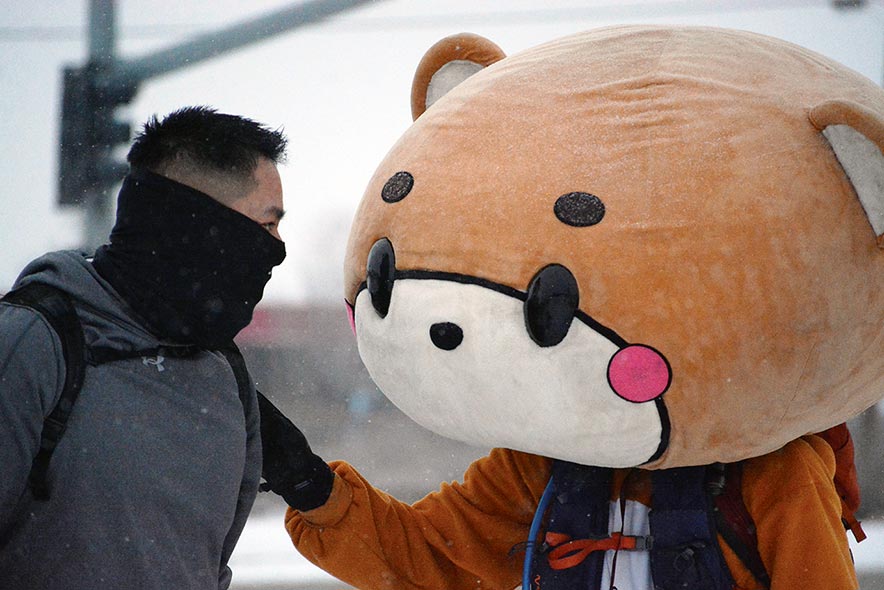 WINDOW ROCK
On a snowy cold morning in the capital of the Navajo Nation, what was expected to be a quiet morning because of a two-hour work delay turned out to be a horn-honking greeting.
The delay was because of the inclement weather.
I am Bearsun, a social media phenomenon – Jesse Larios, who wears the Bearsun suit – running across the country.
Last year, he began his first run from the West Coast to the East Coast and is now on his return trip back. He departed from New York City Nov. 2 – thus far, he has traveled over 1,900 miles, averaging 39 miles a day. As of Tuesday, Bearsun has about 700 miles left to complete his journey to California.
I am Bearsun arrived on the Navajo Nation New Year's Eve.
Without intention, Bearsun has become a healing figure to many people of all ages in the Nation. His reception resembles a parade or presidential motorcade or something along the lines of frenzy.
Waves of people have been running along, some for miles, and some were only running long enough while scrambling for a photo or selfie. Supporters have been parking alongside the roads and honking their horns, while others have been rolling down their windows and yelling words of support and appreciation.
Today, Bearsun is departing from Window Rock and is making his stop for the evening in Leupp, which will be a 127-mile run through active falling snow in wintery weather.
Bearsun said his journey back from the East Coast to the West is a personal journey for him.
No expectations
The first journey that began in California came with no expectations. Unsure of how he would be received with what he set out to do, his doubts were quickly resolved. He instantaneously became a phenomenon with an overwhelming outpour of support from everyone across the U.S.
"This trip home is something I needed to give to myself," Bearsun said on Tuesday in Window Rock.
He explains that the initial trip from California to the East was for the people.
"I met a lot of interesting people across the United States, and I have been given so much inspiration and support," he said. "However, I feel I gave so much to everyone, but I neglected to also give to myself in the process.
"I just wanted to do it as Bearsun, it too, is inspiration for me," he said.
Bearsun elaborates that he feels like he didn't finish. He is still thinking about why he feels that way because the journey has been so successful; so much happiness has been brought to many people. So to him, this is his closure; this is the peace he seeks for himself.
Welcoming hospitality
After reaching the Nation, Bearsun said that the tribe had tired him with the welcome and hospitality he had received. He had to take two days off to rest, recuperate and prepare for his journey home.
His traveling companion on a bicycle is his friend, Gerald Meyers, whose clans are Ta'neeszahnii, Tódích'íi'nii, Mą'ii Deeshgiizhinii, and Nakai Dine'é.
Meyers said he would escort Bearsun to Burnside, Ariz. From Burnside, he will load the bike into his truck and drive alongside Bearsun to Leupp.
Meyers has committed to accompanying Bearsun all 700 miles back to California.
"I am so thankful for Gerald (Meyers)," Bearsun said. "I have been running alone for a long, long time now.
It does get lonely out here, lots of miles, but each step gives you a lot of time with your thoughts and reflection.
"There have been people who have joined along the way. However, Meyers was here for me all the way last year, and he is here again this year with me," he said.
Bearsun has decided this will be his last run as Bearsun. With his accomplishments and remarkable journey to and from each coast of the country, he is ready to evolve Bearsun.
"I feel there is more to this story," said Bearsun.
Maybe a book or a movie in the future. Although running as Bearsun may be over, for now, he assures Bearsun is still here and there will be more to come.
---