Dineh Tah Dancers well received at historic home sites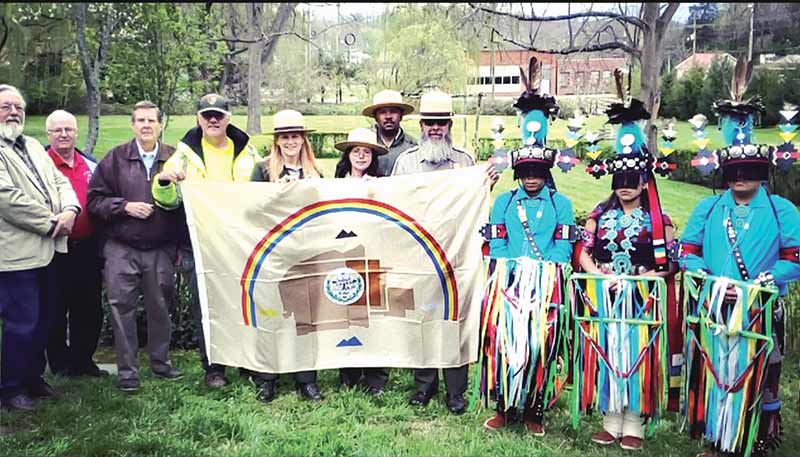 WINDOW ROCK
The Dineh Tah Dancers succeeded in their mission of sharing the story of the Treaty of 1868 at two significant historic sites earlier this month, their leader reported.
"The genuine warmth and overwhelming gratitude we received was beyond words," said Shawn Price, after returning with the group from a visit to the Andrew Johnson National Historic Site in Greenville, Tennessee and Sherman House, the birthplace of Gen. William Tecumseh Sherman in Lancaster, Ohio, on April 6 and 13, respectively.
Johnson was president when the treaty was signed and Sherman helped negotiate and signed it on behalf of the United States. "It was a serious and important trip for our group," Price said, noting the dancers were not there to entertain but rather bless the sites and spread awareness of the treaty.
The group gave and received gifts on behalf of the Navajo Nation, the latter which will be presented to President Russell Begaye and Vice President Jonathan Nez on June 9 in Fort Sumner, New Mexico, for the official treaty celebration. The event at Sherman House was attended by the great-great-granddaughter of William T. Sherman. "She was grateful for this wonderful opportunity to make the strong connection between her great-great-grandfather and our ancestral leaders," Price said. "I reminded her that her great-great-grandfather and our Navajo Nation are forever linked because of the treaty."
In Lancaster, Price said, the mayor officially proclaimed June 1 (the date the treaty was signed) Navajo Nation Treaty Memorial Day.
---