'Lessons learned': Cameron solar project folds due to map error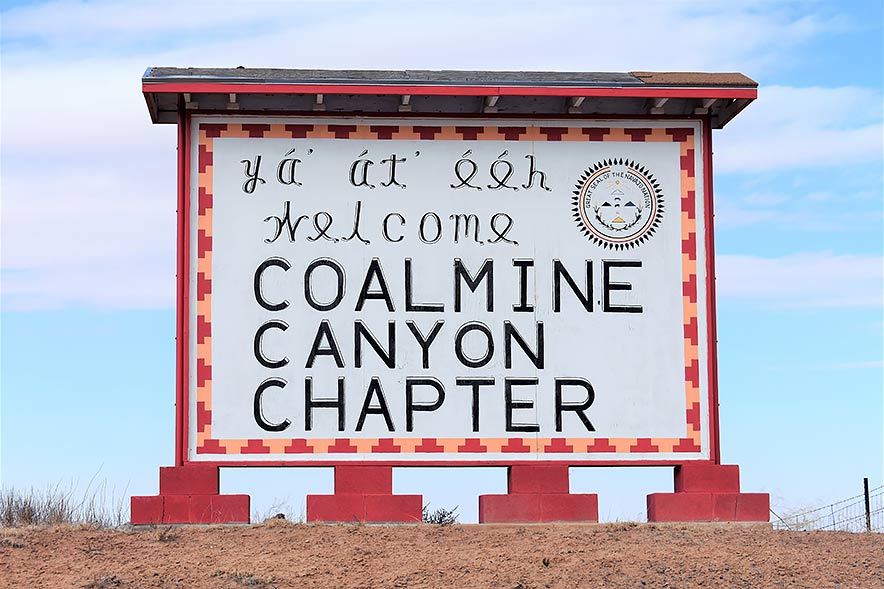 CAMERON, Ariz.
After courting Cameron Chapter to support a large-scale solar project across the Little Colorado River, Navajo Power PBC officials concede that the 5,500 acres of land they were eyeing for its location is actually in Coalmine Canyon.
Chapter boundaries indicated in the project plans were based on an outdated Cameron community land use plan map instead of the BIA grazing district map.
To make matters worse, the Navajo Nation Land Department erroneously approved Navajo Power's request for the "Cameron" land withdrawal last August.
Then, on Dec. 27, Land Department Manager Mike Halona rescinded the land withdrawal.
"The Land Withdrawal Designation … has been rescinded, because of an error," Halona stated in a letter to Painted Desert Power, LLC a subsidiary of Navajo Power managing the solar project. "The proposed project is actually within Coalmine Chapter Service Area and Coalmine Chapter Grazing Boundary."
'The forgotten people'
When contacted by the Times, Cameron grazing official James Beard said he had yet to be notified that the land withdrawal had been revoked.
"I'm disappointed to hear that," said Beard.
"It's not Coalmine Canyon, it's Cameron's land," said Beard. "It's a Cameron planning zone. We've been using that area in the past 30 years. Coalmine is on top of the ridge."
Beard said Navajo Power had offered to help the people of Cameron with community planning and development.
"We in Cameron are the forgotten people," said Beard. "We don't have electric 10 miles off the highway. We don't have power, windmills or waterlines. That's where Navajo Power was going to help us with the solar panels."
Beard said he was going straight to Window Rock to the Land Department to talk with Mike Halona.
"The land department doesn't know what they're doing. There's a lot of complaints here," said Beard. "If only those Window Rock officials would come out here and spend a week among us they would understand how we're living."
'Starting from scratch'
Meanwhile, Coalmine Canyon Chapter officials say they knew nothing of the solar project until they were invited to an official tour of the proposed site last fall that President Jonathan Nez also attended.
"It was a surprise," said Coalmine Canyon Community Services Coordinator August Gillwood.
Shortly thereafter, Coalmine Canyon Chapter passed a resolution to oppose the solar project until they had more information. They also expressed their concerns about the chapter boundaries to Council Delegate Thomas Walker.
Coalmine Canyon Chapter Vice President Phil Zahne said the purpose of the resolution was to get Navajo Power to the table with Coalmine Canyon.
Zahne said that while the number of maps that exist — including IHS, school districts, service districts, Census, county, and delegate representation — can vary and be very confusing, the BIA grazing district lines are what most chapters go by in confirming boundaries.
How the Navajo Nation Land Department, "the centerpiece for oversight of land and chapter areas," didn't catch the mistake, is perplexing to him.
"They should know all of this," said Zahne. "How they signed off on the project, I don't know."
To add to the confusion, Coalmine Canyon's own grazing official, Harry Goldtooth, also signed off on the proposed Cameron solar project.
Regardless, Zahne said he does not believe the project is necessarily terminated, but that the proper documents have to be gathered in order to move forward with it at Coalmine Canyon Chapter.
"We're starting from scratch," said Zahne. "We just want things to be done the way they're supposed to be done."
After that, Zahne says that it's really up to his community members to decide whether or not to proceed with the project.
Gillwood said questions have have been raised about whether or not the Coalmine Canyon community would actually benefit from the solar project, which Navajo Power will have to explain in detail.
She said chapter members are distrustful due to the lack of transparency and the way everything was handled to date on the Cameron side.
"To me it's up to (the) public," said Zahne. "It's all done by resolutions."
'It's Coalmine's land'
The question remains as to what happens with Cameron chapter grazing permittees who were compensated for their consent by Navajo Power for the rights to use their grazing land in Coalmine Canyon.
"The permittees on those specific areas were compensated whether Cameron or Coalmine registered voters," said Navajo Power partner Clara Pratte. "The compensation is tabulated based on expectation of length of land use and land valuation. We have NDAs (non-disclosure agreements) with each permittee so we cannot disclose any amounts without their consent."
Pratte is former campaign chair for the Nez-Lizer Administration, former advisor to the OPVP, and was Chief of Staff for the Russell Begaye-Jonathan Nez administration.
"Lessons learned," she said. "Boundaries are not always cut and dry. Sometimes there are conflicting maps."
Pratte said she and her team from Navajo Power have already met with Coalmine Canyon planning officials.
"We're having to go back and redo what we did with Cameron with Coalmine," said Pratte.
She explained that at first Coalmine Canyon didn't want to anything to do with the project because they weren't consulted.
"It should not have gone through Cameron in the first place," said Pratte. "If you're going by the land department map, they are 100 percent right. It's not Cameron's land, it's Coalmine's land."
Pratte said that while Navajo Power invested "a good amount of time and resources," not all was lost and she's glad they discovered the error sooner than later.
When and if there is a new Coalmine Chapter resolution and grazing consent supporting the solar project, it can again move forward with a land withdrawal, due diligence such as biological and cultural clearances, and then negotiating a lease with the Nation which will need approval by the Resources and Development Committee.
Pratte said the process of developing a new project is very costly and time consuming, but Navajo Power is fully funded by a variety of investors.
Regardless, she says, as a public benefit corporation, Navajo Power has to prove substantial economic benefit will come back to impacted communities, which would be demonstrated in the lease application process and agreements with individual chapters.
'As long as it's equitable'
Cameron chapter Secretary/Treasurer Mae Franklin also spoke to the confusion over maps and the disconnect between Window Rock and the local communities, especially when it comes to custom use areas.
"They don't do community education," said Franklin. "We hear all these things but we don't know which maps people are using. We've been given the wrong information all this time."
Franklin said while she is frustrated that the solar project fell apart, she said she is hopeful that all parties involved can come back to the table and work together to resolve the issues.
She proposes a work session with the Land Department, Navajo Power, Coalmine Canyon Chapter and even President Nez to "clarify everything."
"Doing partnerships is a great thing because it brings a lot of people to the table," said Franklin. "I'm all for it as long as it's equitable."
More guidance needed
Delegate Thomas Walker believes there should be more guidance provided to developers on the Navajo Nation.
"There needs to be something in place, a clearinghouse, which would help in that way," said Walker.
"My recommendation to the president and the Háyoołkááł Group is to consider developing a 'Renewable Energy Office' for immediate use."
The Háyoolkáál Work Group is tasked with vetting energy projects on the Nation.
This, Walker said, would be separate or an offshoot of the broader "Energy Office," which still needs to be defined and established through legislation.
"If there is confusion over land and consent, where does a company go to especially if there is overlap in land use between two communities?" asked Walker.
Pratte agrees.
"Unfortunately it's a barrier for a lot of projects that could happen but don't," she said. "Outsiders are scared to get involved in disputes and don't understand the lay of the land. Even for insiders like us, we can make mistakes like this."
Info: navajopower.com
---