Education
From cactus to ivy
Diné Yalies face rigorous academics with vigor
By Cindy Yurth
Tséyi' Bureau
NEW HAVEN, Conn., Nov. 17, 2011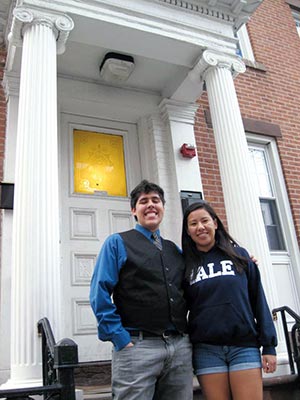 (Times photo - Cindy Yurth)
advertisement
F
orget every stereotype you ever had about Yale University. Especially the "Yale man."
"Tall, white, muscular, and wearing a cardigan vest," grinned Christian Brown, ticking off the attributes he associated with Yale students - before he became one.
Actually, aside from being a different color, Brown is not too far off the mark. He is medium height and broad-shouldered, and last Saturday, he happened to be wearing a sweater vest.
But it was a special occasion. He and the other Diné students at Yale were assigned to take the visiting Navajo Nation Supreme Court justices out to dinner at one of the best restaurants in New Haven - on the university's tab.
"Not something that would happen at your typical state university," declared the dapper freshman, who is Kinyaa'aanii (Towering House Clan), born for bilagaana.
Dinée Dorame, Tabaaha (Edge Water Clan), born for Naakaii Diné'e (Mexican People Clan), was sporting a Yale T-shirt and shorts. She had just come from working out at one of the campus's many gyms, having blown off a club basketball game in favor of meeting the justices.
"Yeah, I'm a jock," she confessed. "You can be a jock at Yale, too."
Right at home
Far from their hometowns of Phoenix and Albuquerque, and two of only six Navajo students at Yale, you might expect the two freshmen to be at least a little freaked out. But they seem right at home. And they are interrupting each other in their zeal to sing the praises of their new alma mater.
advertisements
---
Both seem a bit astonished to be here. Brown credits his high school counselor, K.R. Scott, for constantly urging him to aim for the top.
He applied at both Stanford and Yale, but was won over by the sense of tradition and history at the East Coast school - even after he learned most of the buildings were built in the 1900s, and just made to look old by staining with acid. (Among Yale's most vaunted institutions is the School of Architecture, where this kind of know-how is developed.)
Dorame attended College Horizons, a college visitation program for Native students, in 2009 and was impressed with how energetically the Yale recruiter courted the Natives.
"Yale wanted me, so I wanted Yale," she said.
Many friends
To say neither has had a moment of regret would be an understatement. And they soon found their own stereotypes of the Ivy League school falling like the autumn gold and red leaves dropping from the giant oaks and maples onto New Haven Green.
"I thought I would have, like, zero friends," Dorame admitted. "I already have so many friends it's ridiculous. Everyone here is exceptional, and it makes it so you meet really, really unique people."
"But if you talk to them, they're just like normal people," added Brown. "You wouldn't know that they're John F. Kennedy's grandson, for example. He's here."
"I recently learned one of the people in my dorm was the No. 1 high school chess player in the country," Dorame chimed in.
And they're not alone in terms of supportive staff and faculty, either. Each "residential college" ("That's a fancy name for a dorm," explained Brown) has a dean to attend to the students' academic needs and a master to attend to any other problems they might be experiencing. Both mentors live in the residential hall with the students.
Regular "master's teas" feature guests as diverse as New York Times columnist Ann Coulter, former NBA star Kareem Abdul-Jabbar and the CEO of Morgan Stanley.
There are also peer liaisons for each class (Dorame is the one for the freshmen) and, in the case of ethnic students like Brown and Dorame, each racial group.
"Yale's really big on support," said Dorame. "You get bombarded by people who are going to look after you."
Studying together
While both students expected the classes to be cutthroat, they were pleasantly surprised.
"People study together all the time," said Brown, who is majoring in geology and geophysics along with a pre-med curriculum. "They don't want you to fail. The goal is for everyone to graduate."
Dorame, who is undeclared but leaning toward political science, panicked when she got a low C on her first Spanish test. Before she could decide what to do, her professor called her and offered her extra help.
"I started meeting with her every Monday and pulled my grade up," she said.
But let it not be thought that all Ivy Leaguers ever do is study. In addition to her club basketball games, Dorame is in the marching band, as is Brown. He also plays in two orchestras and somehow fits in visits to the town to teach music to grade-schoolers.
"Unlike some of the Ivy League schools, which are kind of set apart, Yale is right in the middle of town," he said. "We're expected to be a part of the community."
There is, for example, Freshman Community Service Day, during which Dorame propped up and painted a fallen fence in one of New Haven's many low-income neighborhoods.
There are also the innumerable cultural activities, which are so well supported by students, faculty and townsfolk alike that you usually need reservations.
"For Halloween, everybody goes to this silent movie where the Yale Symphony plays the accompaniment," Dorame said. "I was like, 'Seriously? People spend Halloween at an orchestra concert?' But everyone was there, and it was really fun.
"If you're not doing something yourself," she added, "You're going to someone else's thing."
Missing home
This is not to say that these displaced Diné do not occasionally miss the Southwest.
Dorame catches herself looking to the west and sighing for a New Mexico sunset. Phoenix-raised Brown could do without the three-day drizzles that characterize the Long Island Sound.
But for now, they wouldn't be anywhere else. And with 40 Native Americans in their freshman class, "this is the place to be if you're Native," Brown said.
The university is responding to the wave of Natives by giving them their own building to house the Native American Cultural Center (they currently share a building with the Asians).
Brown says sometimes he still can't believe he's here.
"Every day I wake up and I think, 'I go to Yale!'" he said. "I still feel very lucky. I don't think that's going to wear off."