education
Page students learn the ins and outs of hot-air balloons
By Krista Allen
Special to the Times
PAGE, Ariz., November 8, 2012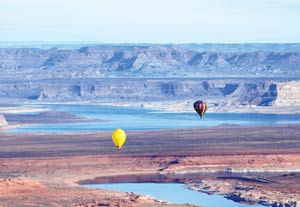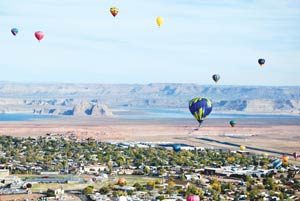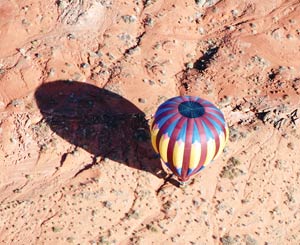 (Special to the Times – Krista Allen)
advertisement
E very year, during the annual Page-Lake Powell Balloon Regatta, Cookie See volunteers her time to teach fifth graders at Desert View Intermediate School how to make miniature hot-air balloons constructed from tissue paper.
The 10th annual event kicked off on Nov. 1 with Education Day, an illuminating program that some balloonists at the rally participate in to teach students in the Page Unified School District about how hot-air balloons work and how they fly.
See, a pilot from Cortez, Colo., said it takes seven panels called "gores" of tissue paper to make a balloon as she provided glue, flexible wires, ready-made gore panels, scissors, and strings.
"I've done it for years and years," See said. "I absolutely love these children. I put smiles on their faces and it's awesome."
Making a tissue-paper balloon is simple.
First, gores are glued together to form the shape called the "envelope" of the balloon, leaving an opening at the top and bottom. Then a string is tied at the top. Finally a wire shaped into a hoop is attached at the bottom, which allows for inflation.
See said the activity is about collaborative learning because it teaches the children team-building skills and learning how to name a balloon.
Primarily it teaches the children about scientific principles such as comparing the building of a balloon to the effort required to fly an actual hot-air balloon.
See says a hot-air balloon is inflated partially by cold air.
"What makes them rise and go up is the heat from the burner," she said. "So we're using stove pipes and (turkey fryer burner elements). We hold (the tissue paper balloons) over the stove pipes and they'll fly."
"We don't keep them over the stove pipes very long because they'll take off and go really high," she added. "I don't want them to fly too far away because the (children) want to chase them."
See travels to hot-balloon rallies across the country year around with her husband, Glenn, who pilots their neon pink, bright yellow, and black hot-air balloon named, "Racy Madame."
advertisements
---
Along the way, See volunteers her time to teaching students how to make miniature hot-air balloons.
See worked with fifth graders at Desert View Intermediate, where 75 percent of student population is Diné.
"Flying the tissue paper balloons is the educational part for the children," See said. "It's fun and it makes the (children) happy – it really does."
More than 50 hot-air balloon pilots from across the country and their crews gathered Friday morning at the regatta field on Highway 89 as media crews from the region were taken for rides high above the city.
The Page Chamber of Commerce hosted a street fair of local vendors Saturday morning ending the night with an eminent balloon glow down Lake Powell Blvd. The regatta came to an end Sunday with a "Crew Appreciation Day."
See said she and her crewmates plan on returning to the area for the 3rd annual Monument Valley Balloon Event and the Bluff Balloon Festival in January.