education
Guitars and hydroponics
At GUSD, learning STEMs from hands-on activity
By Shondiin Silversmith
Navajo Times
GANADO, Dec. 5, 2013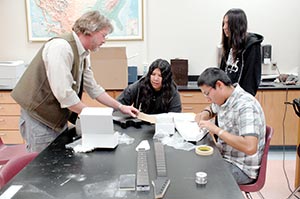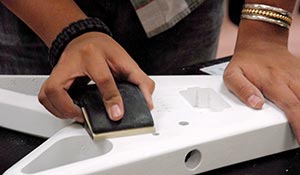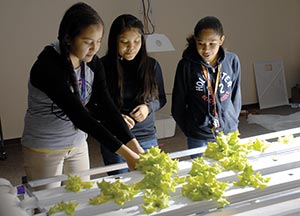 (Times photo – Shondiin Silversmith)
advertisement
E
very person learns differently. Some take to lectures and textbooks, while others need a more hands-on approach.
That is what the new elective science, technology, engineering and math classes at Ganado Unified School District are offering students this school year.
You can learn a lot about acoustics, for example, by building a guitar, or about botany by actually growing plants.
Jeanna Dowse, director of instructional services, said the district developed a five-year plan to incorporate more STEM-based classes into the GUSD curriculum as a way to get the students more excited about the fields.
"We're integrating all those subjects into every aspect of the curriculum," Dowse said. The two STEM courses being offered now are a part of their exploratory model for their five-year plan.
"In order to implement STEM fully you start off with the exploratory model," Dowse said adding that the STEM classes in this stage of immersion are stand-alone programs. The courses offered are guitar and hydroponics.
"Now that we're in the 21st Century and the Age of Technology, and how rapid everything is moving nationwide, kids are falling far below in engineering and technology," Dowse said. There is a need for people in these fields but the nation is unable to fill them because there are not enough kids graduating with degrees in science, technology, engineering and mathematics, she explained.
"It's not just a problem here on the reservation ó it's across the nation," Dowse added. "These jobs we need to start filling, and as a school system we need to start preparing kids for those areas."
The two STEM classes offered now at GSUD are the starting point, Dowse said, adding that hopefully in five years they will have STEM classes fully embedded into the curriculum.
How to get The Times: