PEOPLE
Seven a lucky number for young artist
By Shondiin Silversmith
Navajo Times
WINDOW ROCK, July 11, 2013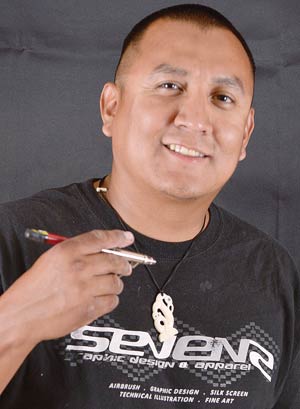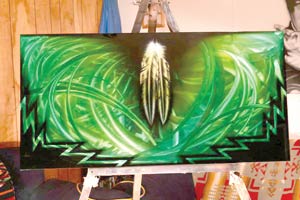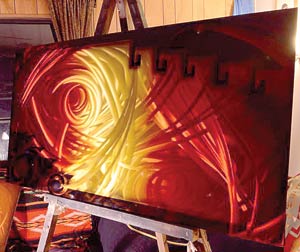 (Courtesy photo)
advertisement
F or Nate Tsosie, creating art is a matter of sharing his talent.
Tsosie, 33, from Page, Ariz. said he has the talent to make quality art and he doesn't intend on wasting it, so he wants to show people what he can do.
"I've been drawing since I could pick up a pen and paper," Tsosie said.
He knows a lot of artists say that, but the furthest back he can remember is fifth grade. "I see a blank piece of paper it's like OCD," he said. "I have to draw on it."
He does this through several outlets but lately it's been his business called Sevens Graphic Designs and Apparel, a project he started in 2006.
"I didn't get here by doing everything by myself," he said. "It took a lot of support."
As far as the name is concerned, Tsosie said seven is a number that his whole family can enjoy because they all have the number seven in their birth dates or other special times.
"It's more a reference to family than anything," he said.
Sevens Graphic Designs and Apparel offers services in graphic design, airbrush (t-shirts, banners, automotive and wall murals), band mats (50 by 90 foot vinyl mats) and silkscreen press.
"Quality is my biggest thing and just keeping designs simple and clean," Tsosie said. "I try to sell people quality art. If I'm not happy with something I won't even sell it. If I find something I don't' like I'll scrap it completely."
"That's what kind of defines me as an artist, just bringing the uniqueness of my culture," Tsosie said, noting that he'll add personal touches to each of his designs.
For example, on an airbrushed shirt he created called the "Navajo Nation Rez Bunny," the rabbit has feathers in place of ears.
"I'm showing people what I'm capable of," Tsosie said.
He's built up a nice portfolio and he likes to show the people his work because it helps with his business.
"I'm always willing to try something new," he asserted.
Tsosie stands by that because he considers himself the first Native to create Kustom Kulture metal artwork on the Navajo Nation.
advertisements
---
"That's kind of what makes me unique," he said. "I've been to several art shows and a lot of people tell me they've never seen anyone like it."
Kustom Kulture, according to Tsosie, is a style of artwork dating back to the 1950s and it's sort of got a rockabilly look.
Tsosie created an air-brushed metal series of Native designs, adding grinding treatment to the metal pieces he's working with and then using paint to add the color.
"When you walk around the painting it gives a holographic affect, kind of like a 3D affect," he said.
Tsosie has always been an artist first, making his name known in the more technical side of art as a graphic arts designer for a company called Spectrum Sports in Phoenix. He said they did a lot of designs for the Phoenix-based sports teams like the Diamondbacks, Coyotes and Suns.
"I learned pretty quickly what the industry demanded," Tsosie said, adding that as a graphic designer one must be able to design things on the spot and it would have to be whatever the clients wanted. "A lot of the time it's taking other people's ideas and doing something with it. They don't know how to draw or how to illustrate and that's where I fit it."
Tsosie said his time spent as a graphics designer is what really helps him with his business today.
"People just give me an idea and I work off that," he said. "I only have one chance at getting it right or I waste t-shirts."
An advantage Tsosie said of having a background in graphic is that he is able to print out a design and show his customer what their project might look like or will look like.
"A lot of the time I don't know what a design will look like when I begin, but I'll keep working it and working it until I come up with something I like," Tsosie said. His inspirations draw from the previous artists he's works with or been exposed to.
When he was working at Spectrum Sports he worked with a graphic designer named Chris Keal, and "he's just an awesome artist, one of the best that I know," Tsosie said.
Tsosie also gives his family credit for his artistic ability because there are a lot of talented artist within his family.
"I'm glad to have my little part of it," he said. His late great grandmother Suzie Lee Tsosie was a weaver and Tsosie said her creativity plays a big role in his art.
For more information about Sevens Graphic Designs and Apparel visit Nate Tsosie on Facebook.