People
Heroes and monsters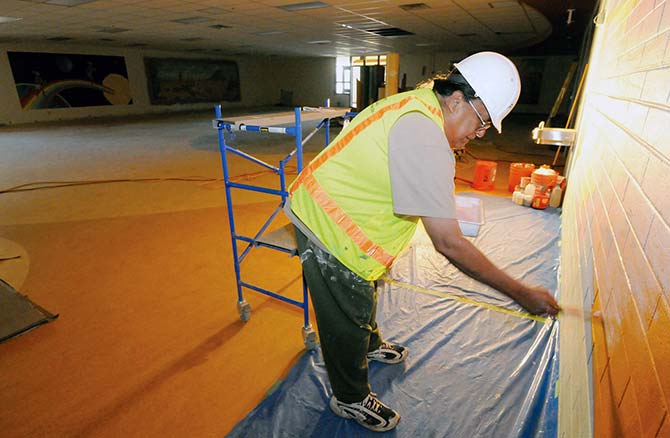 (Special to the Times - Donovan Quintero)
For a Chinle artist, a mural becomes a teaching tool
By Cindy Yurth
Tséyi' Bureau
FORT DEFIANCE, May 13, 2010
W
hen Teddy Draper was asked to repaint the murals in the refurbished cafeteria of Tséhootsooí Middle School, he jumped at the chance.
It wasn't just an opportunity for the Chinle artist, who usually paints expansive landscapes on canvas, to hone his mural skills. It was a teaching moment.
The school wanted scenes from the life of the Hero Twins, a subject dear to Draper's heart.
"I grew up on those stories," Draper said. "It's disappointing that a lot of kids today don't know them. Even more disappointing, a lot of the adults around them don't know them."
Draper thought if he could make the murals intriguing enough, students might start asking questions.
"I'm going to include a lot of little details," he said as he touched up the setting for "The Separation of the Sexes," the first in a series that will wrap around the entire room.
"Maybe kids will ask something like, 'Why is one twin wearing blue armor and the other black?' Hopefully one of their teachers will know," he said.
On the other hand, Draper took some artistic license. For instance, while tradition has it that Horned Monster was killed by a blow to the head, he depicts the fatal strike landing on the creature's back.
"I wanted to paint his face," Draper explained.
It's one of the most challenging projects of Draper's long career, mostly because of the technical issues.
"When they asked me to paint a mural, I pictured a nice, smooth wall," he said. Instead, he got pockmarked, 50-year-old brick that "just soaks up paint."
He was also astounded by the number of regulations on the type of paint you can use in public buildings these days.
advertisements
---
"No bright cadmium yellow, because cadmium's bad for kids," he recounted. "No VOCs (volatile organic compounds), which means I can't use the oils I'm used to."
Draper was stuck with acrylic paint, which he says gives kind of a flat effect.
"The colors aren't as brilliant, it's not as shiny, it just doesn't mix the same," he said. "There's no true black, so you have to know just which colors to mix to make it look black."
Still, the murals are taking shape beautifully. And Draper believes the Hero Twins and their adversaries are as relevant now as they were eons ago when they roamed the earth.
"The way I see it, some of these same monsters are around today," Draper said. "The one who kicks people off cliffs is like the payday loan companies that kick people into a chasm so deep they can never get out. Horned Monster is the mining and oil companies that dig up our land.
"The Bird Monster carried our children off, like bad eating habits and risky behavior."
Draper started painting the series of 7-foot by 15-foot murals Feb. 29 and hopes to be done shortly.
For all the care he's taking, he sometimes wonders if it will make a difference. The paintings will last another 50 years at least, but will the stories themselves fade away?
"Maybe in a hundred years," he speculated, "they'll see my signature and say, 'Who was that Draper guy? And what are these pictures of?"