Ganado students build robots as part of STEM curriculum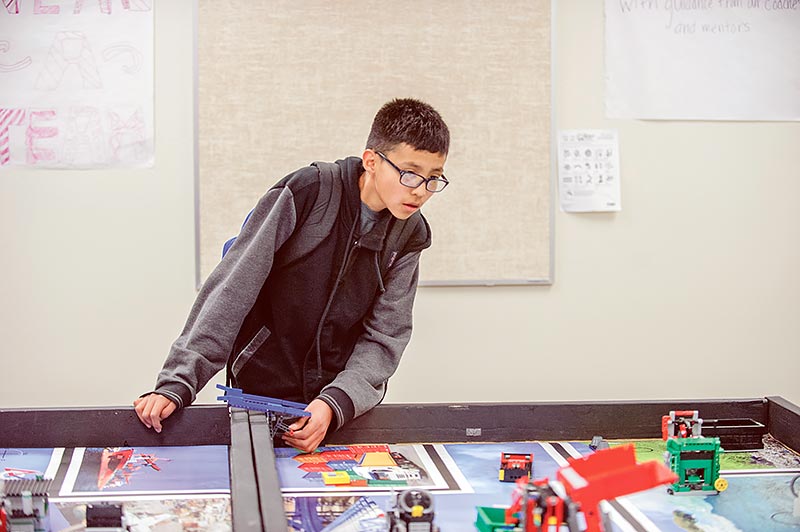 GANADO
Students in Ganado Middle School's Lego Robotics Club aren't just playing with Legos, they're working together to build and program a real robot.
"We work on things," sixth-grade teacher Brian Scholliel said. "We work on teamwork, and all of that to make them understand that, and then the idea about understanding programming and how to get that thing to compete and do the things you want it to do."
The program is part of a school focus on the educational concept of STEM, which stands for Science, Technology, Engineering, and Math. As part of the STEM focus, Schalliol teaches a class on robotics and runs the Lego Robotics Club. For the education of its sixth through eighth graders, Ganado Middle School maintains a focus on critical thinking skills.
Students in the club design, build and program a robot to compete in the For Inspiration and Recognition of Science and Technology Lego League. The FIRST Lego League presents students with a chance to compete head-to-head with other teams, but it also maintains a focus on exploring real-world issues and concepts beyond robotics.
The club took the name Lega-Gee's, a play on the word legacy, which the team has built since their first competition in 2014. In 2014 they took home an award at the First Lego League Arizona Official Qualifying Tournament in Winslow for best project. The team followed that up with a showing from two teams in 2015, one "rookie" team for new competitors and a "veteran" team for students who had competed before. The rookie team took home a judges award called "Against All Odds" with only three members who placed fifth at the regional competition.
---