Largest Winter All-Star class recognized at Times ceremony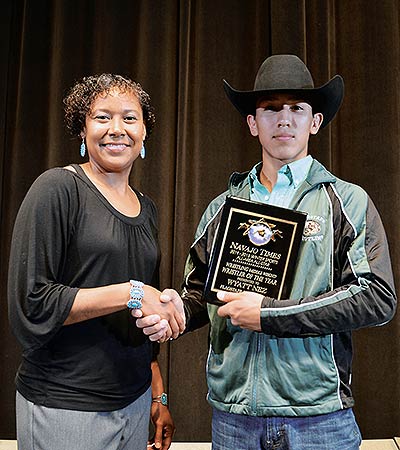 SHIPROCK
After four years of ups and downs, Tohatchi head coach Tanisha Bitosi was given another reminder that coming back home to coach was the best decision she made.
On Monday, at the Navajo Times 2014-2015 Winter All-Star awards ceremony held at the Phil Thomas Performing Arts Center in Shiprock, Bitsoi was named the Times' coach of the year for girl's basketball.
She said it was nothing short of a surprise.
"Although the coaching award was an honor and was surprising, I coach because I love those kids in Tohatchi and I want the best for them," she said. "I just don't envision things like this."
Bitsoi was recognized in front of dozens of athletes, parents, coaches and spectators during the award ceremony.
Navajo Preparatory School head girl's basketball and volleyball coach Rainy Crisp gave the keynote speech at the event.
The Navajo Times recognized over 60 wrestling all-stars with six of them being named wrestlers of the year.
Holbrook High School's Theron Johns was named wrestler of the year in the lower weight division along with Aiden Cockrell from Kirtland Central High School.
Cockrell, a junior, earned the 132-pound individual New Mexico state wrestling title in February after missing nearly half the season to an injury.
After successful seasons, Tuba City's Brandon Williams and Piedra Vista's Michael Bejar were awarded our coaches of the year.
---