Letters: 'It's time to make a change'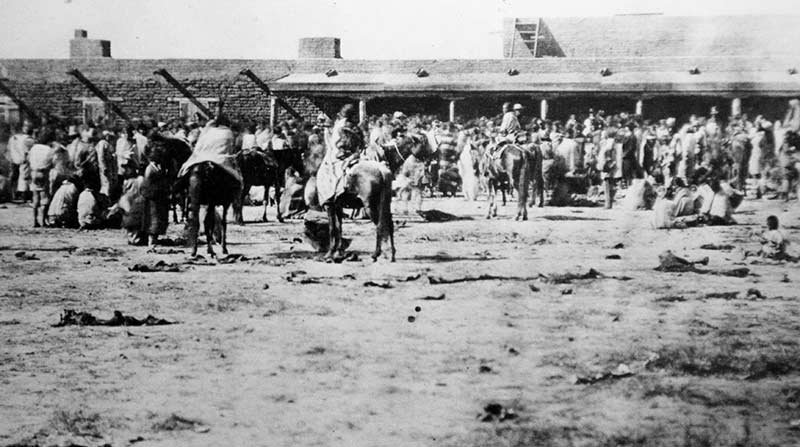 I am no better than anybody else on this planet, everyone isn't. We let stupidity get the best of us. Why? Because we don't have the ability to think about our situations that's been said to us, these are things we face today.
The president of the United States has been sending out millions of money to our tribal president to help the needy from various chapter houses for hay, wood for our elders, and houses to be built so that they have a place. Dams were built back when our community and representatives weren't taking money. All these things are now needed in rebuilding our windmills for our livestock. These things, as we travel across our nation, it's sad to see how every community these days in various chapter members did misuse in every way to put up their houses with our money (you all know who you are).
It's time to make a change. That's what Chris Deschene pointed out. We say that we need a president that will speak our native language. I'm disappointed because when we listen to people in chapter houses and on KTNN radio station most of the people speak really good Navajo to a certain point but then switch off to English here and there.
Look at our pattern. All the way back to Fort Sumner, N.M., our people starved, gave up their lives to stay on native soil, some young women gave up their bodies to soldiers for food, some didn't have enough nourishment, and some died of sickness.
The government made corals to surrender our people, so they would call our land the reservation to control us. Little by little, they continued to control by minimizing our livestock to a certain amount. Then our children were forced to boarding schools throughout our native land. In schools if we spoke our language they would put soap in our mouths to control us to speak English only. Our people wondered around at night having to find solutions to withdraw their emotional behavior because of the lack of guidance and needing teachings from counselors to help these individuals so that they too have a chance at life.
I think parents should raise their children and show how much they care by taking them to their programs, activities and schools.
Dr. Schindler from Sacramento, Calif., introduced Dr. Duran, describing in every detail about how our people came a long ways through historical trauma, tragedy, emotional stress, anger, and dramatic hatred that is carried out in our childhood today.
From what our forefathers went through, there's always situations that need improvement such as applying for food stamps, general assistance, SSI, etc. Some staff members do not comply to their standards by ways of talking with the needy people. In other words, they are supposed to be professional in complying with the people, not yelling at them. They bring their problems to work and need to be more pacific in their field.
We forget that our people are shy at a certain point or extent, but yelling at them will make them walk off mad and disappointed. They try so hard that they just turn to alcohol and start wondering around at night. People should realize these things, so that our people wouldn't get lost and have a better lifestyle.
Jonathan Katso
Monument Valley, Utah
Use $554M for JUA relocation housing
improvement, renovation
We were asked at a public hearing how the Navajo (Diné) people should spend the $554 million dollars. I suggested that the Navajo tribal government allocate some money for the JUA relocation housing improvement and renovation.
When the Diné families were ordered to relocate from their homeland, they were assisted with housing. There was no future plans in place for the JUA relocation Diné housing needs in the ever changing environment. The JUA Administration Department and Navajo Nation government should have started with a survey and a master plan that showed future housing needs for JUA relocates. There were big families with elders and small children that were forced to relocate.
Today, the JUA houses are overcrowded with three or four families in three-bedroom houses. Some JUA houses are over 30 years old and in poor condition. These existing JUA homes need renovation, some homes need handicap accessible, and new homes built for young families. I think that our Navajo Nation government needs to look into this. We should be considered under what special groups need homes when housing needs are being addressed by our government.
To my fellow relatives that were forced to relocate by the government, we need to all voice our concerns and support each other in this matter.
Being forced to relocate brings back memories and stories of the Long Walk years ago. Our Diné people have been emotionally, mentally and spiritually abused by the government.
Anna Holiday McCabe
Kayenta, Ariz.
We are a democracy, the people choose their leaders
Historically, the Naach''d was where our people's voice was heard where they chose their leaders to be their voice. Leaders would say, "You chose me to lead you, now tell me what you want to accomplish."
Today, we have a democracy where we, the people, chose our leader to speak for us, thereby making our vote count.
We have all seen and heard of political forces that are thinking only of themselves by trying to stop the grassroots peoples' choice for Chris Deschene to take office as our leader.
Our time is now! We can make a difference to have our voices heard by writing-in Chris Deschene's name at election time, choosing him to speak for us as our Naat'aanii.
Marie Bahe
Winslow, Ariz.
Leaders are acting like 'silly coyote'
Our tribal election leaders in Window Rock are acting like that silly coyote. They are going around in circles trying to bite their own tail. Our elders say, "Don't ever be like that."
Elmer Muzzie
Pinon, Ariz.
'My rights are being violated'
The current Navajo Nation political drama is very volatile; as such, decisions made by our leaders are questionable. The Diné people deserve better and must stand up for their rights.
The recent legislations passed by the Navajo Nation Council and supported by the President only serve to add fuel to the fire — the legislation do not provide any resolution or justice to the Silent Majority of voters who also voted in the 2014 Primary Election. It further erodes the authority of the Supreme Court and attempts to usurp its responsibility.
A total of 51,300 votes were casted in the 2014 Primary Election; the votes of 41,566 Navajo Nation citizens are violated by the passing of legislation to hold another primary. Many citizens I speak to are disgusted by the legislations and may refuse to vote, if their votes mean nothing. This is a sad day for the Navajo Nation!
The Navajo Nation is meant to operate as a three-branch government — all leaders should support the concept of "balance of power." Sadly, this is not practiced. The Code Book is written to protect the Navajo Nation leadership — no suits can be filed against the Navajo Nation Council, the President and/or Vice President.
The Deschene candidacy was ruled invalid because he lied on his application regarding his fluency in the Navajo language. There qualification exists because it states who we are as Diné citizens, it encompasses every facet of our livelihood. Surely one person should not assume his supremacy over the sacrifices made by our ancestors who survived the Long Walk or the Navajo Code Talkers who gave their lives for our right to be known as the Diné.
The Supreme Court made its ruling and the elections should be held so citizens can vote for either Joe Shirley, Jr. or Russell Begaye. This is the only path that does not violate voter rights.
The Nation needs to move forward — not backwards, and the election needs to happen immediately, as ordered by the Supreme Court. Further maneuvering by the Council to remove the Chief Justice only seeks to invalidated the Supreme Court rulings and place our nation in serious jeopardy of losing its democratic process.
The chaotic political atmosphere has alienated so many voters. Many are just tired of the merry-go-round that currently exists. The uncertainty of when and how the next leader of our Nation will be elected lies in the hands of those in power at this time. The people have been completely forgotten and ignored as to how this Great Nation should proceed in this unprecedented situation, again a situation caused by the current leadership.
Our current system of government has failed us over and over again. Will leadership ever listen to the people whom they serve? It seems our leaders today are self-serving with total disregard to those they claim to serve. It is up to us, the constituents, to demand a new form of government because the system in place was broken from the beginning and cannot be fixed in its current state. I urge all the voters to come forward and exercise your rights. With a single vote there is no power; but together, we are the power. I hope the new Council joins us.
I write this letter as a Citizen of the Navajo Nation because my rights are being violated and my vote invalidated.
Marjorie Johnson
Tsaile, Ariz.