News
Freedom Cyclers ride through rez
By Cindy Yurth
Tséyi' Bureau
TUBA CITY, Ariz., June 20, 2014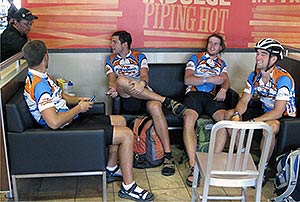 (Times photo — Cindy Yurth)
advertisement
F
our young men from Tennessee are dodging traffic to end human trafficking.
The college buddies, all juniors at the University of Tennessee, are on their way from Tuba City to Kayenta, Ariz., today (Friday) as part of a cross-country bicycling adventure that started in Los Angeles and will end in Savannah, Georgia.
Along the way, the four friends — Jason Elliott, Taylor Carlisle, Matthew Roelofs and Jeff Maier — are educating folks and accepting donations to end modern-day slavery, which they define as anything from child labor in sweatshops to sex trafficking.
So far they have raised more than $4,000, which will be divided among three organizations: The Mekong Club, One Less Ministries and the Community Coalition Against Human Trafficking.
"We picked these three because they each come at the problem from a different angle," explained Elliott. The Mekong Club, he explained, is more or less "on the front lines, arresting pimps and partnering with businesses to make sure they're aware when their supplies are coming from sweatshops."
One Less concentrates on finding homes for orphans, who are at the greatest danger of falling into the wrong hands and being trafficked as slaves or sex workers.
The Community Coalition concentrates on lobbying for laws that create greater penalties for trafficking.
Three of the four buddies are accounting majors, and "We wanted to have one fun summer before we spend the rest of our lives crunching numbers," Maier said.
"But," added Elliott, "we wanted it to be for a cause."
Maier and Elliott gave themselves a week to think and pray about which cause could best benefit from their youthful energy, "and at the end of the week we both came up with slavery," Elliott said. About a week later, Matt Friedman, the CEO of The Mekong Club, came to speak at Elliott's church, cementing their decision. The cyclists have been in touch with him throughout the trip.
"He lives in Hong Kong, so we Skype him," Maier explained. "He's got someone working on social media for us."
The guys are blogging and Tweeting their trip, and also have a Facebook page.
"We're getting money from people we never even met who found us on Facebook," Carlisle said.
When the Times caught up with the young cyclists Thursday, they had completed their eighth day of biking and were relaxing in Tuba City's MacDonald's.
Maier described the trip so far as "a combination of the absolutely coolest moments of my life and the most grueling."
The previous week had taken them through the Mohave Desert, where they braved 110-degree temperatures, and then on a 12-mile-long uphill stretch between Laughlin, Nev. and Kingman, Ariz. with 45-mile-per-hour crosswinds.
The next day they had been rewarded with stunning vistas of the Grand Canyon, and on Friday they had enjoyed their entrée to the Navajo reservation via Cameron.
"The soil changes color like every mile," enthused Maier.
"It's like nothing we've ever seen before," added Elliott.
The guys are occasionally camping but mostly staying in motels, some of which have donated
Elliott's mom is driving the sag wagon. "I'm pretty proud of them," she said.
Informatin: thefreedomcyclers.com, or follow thefreedomcyclers on Facebook
How to get The Times: