Letters: Who are fluent speakers of 2014?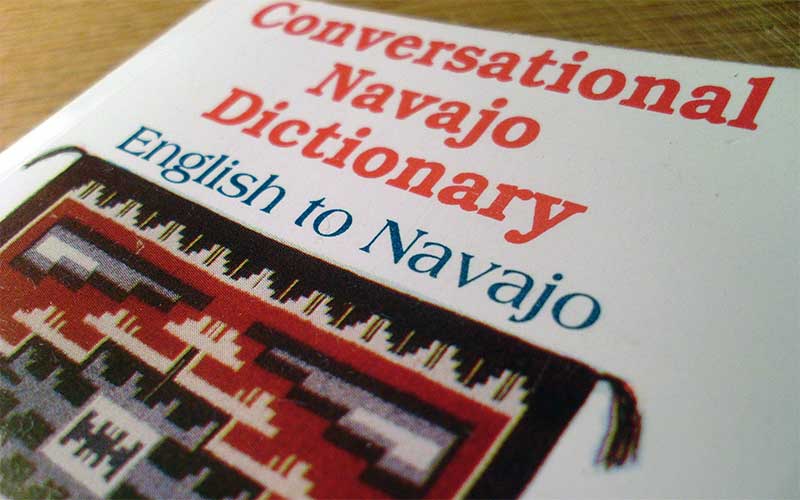 Who are the fluent Navajo language speakers in the year 2014? Evidently, the land of the code talkers is a nation of code switchers, switching from English to the Navajo language like a pinball machine.
Apparently, the practice of code switching includes some of the elected leaders requiring fluent Navajo for the presidency. But the fluent Navajo speakers are the few elders who have never been forced to have their heads dipped in an English-only environment.
Unfortunately, at one time the Diné people in the baby boomers era and some in the prior era beginning in 1887 were forced into English-only institutes military style and it was never their choice. Such institutes established were the BIA boarding schools and some mission schools.
Furthermore, at these institutes, students have been "conditioned" or "brain washed" and sought to strip away Navajo culture and were restricted to speak their first language.
Who is responsible for this atrocity? The late federal Gen. Richard Pratt, founder and superintendent of Carlisle Indian Industrial School, whose motto is "To civilize the Indians, immerse them in civilization, and when we get them under, hold them there until they are thoroughly soaked" or "Kill the Indian, save the man."
The immersion began and the Diné people were forced to learn the English language. But most produced children who prefer to speak only the English language.
In the year 2014, this atrocity has caused a qualified, young, educated, veteran's candidacy and desire for presidency to be dishonored. It is especially embarrassing for the individual holding the highest office's lack understanding to veto a bill that would have been fair.
However, the subject about Navajo language fluency has finally surfaced, only because of a law that favors fluency for the presidency. Leaders are scratching their heads now, blaming the schools or blaming the parents. Why are they not blaming themselves?
They are the elected leaders and need to teach why it is important to retain the Navajo language for a sovereign nation.
"– Learn the English language to protect your land and sovereignty, but do not forget your language and culture," Chief Manuelito said. He meant the Navajo language should be flowing at all times.
And why the fluency test for former presidential candidate Chris Deschene?
It would be fair to test all candidates. This is the year 2014.
Also some of the leaders who supposedly are fluent in Navajo need interpretation in the English language. Sometimes it is difficult to comprehend elected leaders who practice Navajo/English language code switching.
Finally, a law should protect the rights of all, the young and old of the Navajo Nation. So, who is to amend the law?
At least the 11 delegates made a choice to protect all the Diné in desperate need of good leadership. These leaders must remember that the Diné people are not to blame for the fading of their language, yet need support from their leaders.
Erma Yellowman-McCabe
Black Falls, Ariz.
Protect, preserve Diné bizaad
History tells us that around 1890 Navajo names written in Navajo but with English spelling were given to Navajo people. As we know today, there are Benally, Tsosie, Yazzie, etc., names existing among us.
Today, some chapter names are changing to Navajo names and written in the Navajo language.
Some of us appreciate our sacred language, and we still speak it regardless of what the BIA has done to us and the state of Arizona's English-only law. We also respect our Diné language because our Navajo Code Talkers used it to win the war.
Twenty-four years ago, on Oct. 30, 1990, Congress enacted an executive order, P.L. 101-477, and declared a policy that Native Americans were entitled to use their own languages. They have also declared to preserve, protect and promote the rights and freedom of Native American to use, practice and develop Native American languages.
In the Native American Language Act of 1992, Congress approved funding and grants for eligible tribal governments and Native American organizations to assure the survival and continuing vitality of Native languages.
The Esther Martinez Native American Language Preservation Act of 2006 expired in 2012 and the National Indian Education Association submitted a resolution to Congress to reauthorize the act.
Our Navajo Nation Title 10 education code states, "The superintendent of schools is responsible for protecting, preserving, and perpetuating the Navajo language through the Navajo education system."
The Navajo Nation Sovereignty in Education Act of 2005 states that the Navajo Nation Board of Education established the Navajo Nation Diné Language Act.
The Bureau of Indian Education was given the accountability workbook devised by the Diné Education Department, which also requested the preservation and maintenance of our culture and Navajo language education in the BIE schools.
We have the full support at the national level through the National Indian Education Association who worked tremendously with Congress so that we can protect our Native culture.
So how important is our Diné language to us and to our Navajo leaders? So much work had been done on these acts that were passed by Congress. Today some of our leaders and people think that it is unimportant at this time.
I truly believe that our Navajo leaders must set the example of preserving, protecting and maintaining our Diné language by speaking our language fluently and be able to be understood by our elders who still do not speak and understand English. Our elders have foretold that if we lose our Diné language, that is the end of our culture.
So how important is it to you when you have a last name such as Tsosie, Yazzie, Begay, etc., and the chapter you're living in has a Navajo name? What can you do to preserve, protect, maintain, and promote our Diné bizaad, nihizaad?
Ask yourselves, "Is it important to throw away my Navajo language?" Or you can say, "Maybe I can learn beginning today."
After all, Congress is behind you and the law is there.
Pauline M. Begay
Fort Defiance, Ariz.
Deschene did not meet qualification
The controversy over the election for Navajo Nation president is certainly unfortunate, but many of the issues in the controversy are ones in which there are well-reasoned arguments on both sides and I think the long run interests of the Navajo Nation will benefit from these issues being fully developed and ultimately resolved.
A few points:
Former presidential candidate, Chris Deschene, certainly has an impressive resume, but perhaps the greatest contribution his candidacy brought to the election process was getting Navajos — mostly young Navajos — who have generally not participated in Navajo government interested in the process.
As we all know by now, Navajo law requires that a candidate for president "fluently speak and understand Navajo." What exactly this means is certainly open to debate.
— In the absence of some clarification from the Council or the Courts before candidates filed for the election, it is reasonable that a candidate who honestly believed he or she was "fluent" would give him or herself the benefit of the doubt.
— Chris Deschene did not believe himself to be fluent. This raises the issue highlighted by the Navajo Supreme Court — how could a person who knew he did not meet one of the essential qualifications for being a Navajo Nation president swear that he did meet all the qualifications?
The Supreme Court has been criticized by numerous commentators for its actions in the "Deschene cases." Some suggest the court has taken on powers it should not have and that it does not act like one of three co-equal branches.
For me, it is clear that at least some of the power that the court and its chief justice, Herb Yazzie, currently have arises from the failure of the Council and president to name and confirm a third justice for the Supreme Court.
This failure lets the chief justice choose which cases will be decided with only two justices (Chief Justice Yazzie and Associate Justice Shirley) and also lets the chief justice choose a third justice to hear cases, rather than the third justice being someone chosen by the president and confirmed by the Council.
The court has also been criticized for depriving the "people" of their right to vote for anyone they want. But it is the Council, which has established qualifications for the office of president (and other offices) and all the Supreme Court did was uphold the qualifications established by the Council …
It is true that the Supreme Court treated the (now former) Board of Election Supervisors harshly, but the board's consistent failure to comply with decisions of OHA and the Court left the Supreme Court with no other choice if the "rule of law" was to govern the Navajo Nation.
— I am hopeful that Chris Deschene will learn from his mistakes and, in future years, become a great leader of the Navajos. I wish him well in this.
Lawrence A. Ruzow
Flagstaff, Ariz.
We should already have a master plan
The legislative and executive should not be going around asking audiences for their input on the usage of the $554 million at this hour. Every administration for the past 50 years should have a master plan on what the needs are for the nation. The needs assessment planning documents should be in every legislator's, executive and judicial offices and reviewed annually.
The master plan should be developed coming from the people at the local chapter level. The delegate's role is to attend the chapter meetings, listen to the people, take the people's ideas and during the Council sessions, prioritize the hundreds and hundreds of needs that they bring to these sessions.
Business should not be done by the Na'bik'iyati' Committee directing the speaker's office to hold these meetings for input at the last minute. Daily the local radio stations announce chapter meetings at locations with time and dates. What happens to the voices and input of the Navajo citizens at the chapters?
Another point is why these input meetings are taken to Albuquerque and Phoenix asking people what to do with the funds? Urban communities have been asking for urban chapters to be recognized and established. To my knowledge this has not happened.
The years old chapter concept seems to be outdated in today's technology boom. My opinion is: I do not think Navajo citizens are interested in attending because input does not go beyond the chapter level.
Another issue pertaining to this topic is the legislative running their own meetings and the executive doing their own. The three-branch government (the bilagaana's method) seems like it doesn't work for the Diné people because each branch tries to do their own thing without collaboration …
A few ideas: Every community needs better roads. Utilize the funding to make lives better for all people. Build our own Navajo Nation Roads Department just like the states. Create jobs for people.
I do not mean a transportation department like the one we have now. We need safe roads and roads to be maintained daily. Most Navajo rural routes, non-state roads are not maintained, especially during the winter season. They are already unsafe, usually narrow with faded or no markings and potholes. We may depend on BIA, but do you see them out there? We always depend on someone else to do something for us. We need to do our own.
Recreation facilities for everyone, especially our youth and maintained by paid Navajo Nation employees. Every four years, we are promised jobs, but no one has ideas such as these …
We want to be a proud nation but we put each other down continually. For the time being, I am afraid things will not change. The only changes usually are appointees and division directors shuffled around.
Ed Lano
Ganado, Ariz.
Criticism of attitude, conduct of legislators
I am compelled to write this letter after what happened on the evening of Oct. 23 and the following early morning hours in the Navajo Nation Council Chambers. I do have an issue with the legislation that was enacted, but I am more concerned about the attitude and the conduct of some of our legislators and how they conducted themselves.
We are all aware the Navajo Nation government is a three-branch government, perhaps the only tribal government in the country. After the turmoil in 1989, the three branches were created. I helped create the branches and I am proud to have our government set up in the manner it now is for check and balance.
It seems like as the legislative branch recognized its power, they saw themselves as "super power" over and above all others, including the people. And this became more evident in the 2000s. I did not witness nor did I listen to the debate that evening. I heard from so many how certain Council delegates went after over and over the judicial branch, especially the nation's Supreme Court and the way it handled the Deschene issue.
I like to say among the nation's three-branch governments, the worst of those is our legislative branch. Countless articles local, state and nationwide been written about them and reported in just about every media of their misuse of people's money for their own gain. At one point almost the entire members of the delegates were charged with stealing the people's money.
Money illegally taken is in the hundreds of thousands of dollars. We have yet to see any paid back. Many since have been convicted and several have been forced to resign as result, including the speaker, one of the three branch chiefs. What a shame!
On the other hand, the judicial branch seems to be the cleanness and spotless. They are recognized as one of the best courts in the country. Their work is superior and professionally done each time. So much so that they been invited time and time again by various renowned institutions throughout the country to hold their hearings at their institution. I can only imagine how many prestigious awards they must been awarded.
Finally, I want to say to those delegates, before you start bashing the other branches, you really need to look at yourselves and your predecessors and look at your records. You have caused shame to the nation over and over again. You took an oath and sworn to be accountable, exercise integrity and be transparent. Where did the pledge go?
Percy Deal
Big Mountain, Ariz.
Inevitable for Shelly, Snyder to pair up
While watching that video clip of Navajo Nation President Ben Shelly wearing a Redskins cap, snuggled up next to Redskins owner Dan Snyder during the Oct. 12 game, the realization came to me: These two men actually have quite a bit in common — they're both public figures who profess to care for Native Americans, yet in actuality their actions reveal them to be egotistical, venal and opportunistic.
And while they may claim to be promoting indigenous cultures respectably, they're actually undermining and eroding these cultures. So perhaps it was inevitable that these two should be paired up.
Lately in Indian Country some have been kicking dust over a certain young presidential candidate and his alleged lack of fluency in the Navajo language and how support of this might damage our society. Yet, let's go back to that image of Ben Shelly. Literally in one sitting he has done more damage to our people than any one candidate could ever aspire to. Sad to say, but that image of Shelly sitting in box seats next to an elated Dan Snyder shows how much of a PR-stunt/photo-op moment this all was.
To Snyder, Ben Shelly was used as a puppet, a mascot to show off to the public in an attempt to win more support. The grin of Snyder's face says it all. It speaks volumes when your leader chooses to associate himself with war criminals like Israeli Prime Minister Benjamin Netanyahu and money-hungry/attention-seeking capitalists like Dan Snyder. These are the people Ben Shelly wants to ally the Navajo Nation with.
But he doesn't speak for me, nor does he speak for the people. Whoever wins the presidential office later this year, the Navajo public must keep this in mind — we must always hold power accountable. We must always remain critical and unrelenting. Ben Shelly has lowered the bar of public office and we must make sure that we never let another leader sink this low again.
Journalist Chris Hedges once spoke of a scene from Henry Kissinger's memoirs, where in 1971, during the Nixon presidency, a huge anti- war demonstration surrounding the White House has caused the administration to put city buses end-to-end as a sort of barricade. And Nixon is standing at the window, wringing his hands and he says to Kissinger, "Henry, they're going to break through the barricades and get us."
And that's just where you want people in power to be.
Kirbie Bennett
Shiprock, N.M.