Animas River spill tough break for Shiprock farmers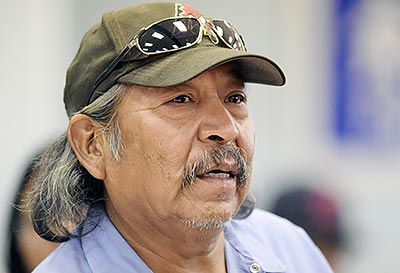 SHIPROCK, N.M.
Despite the early morning prayer offerings given by Shiprock farmer Earl Yazzie to save his fields of corn, squash, melon and cantaloupe, it seems it won't be so.
According to Shiprock Chapter president Duane "Chili" Yazzie, who is a farmer himself, the chapter's farm board made the decision to keep the irrigation closed for the remainder of the season.
"You can't describe the extent of hurt that we've been thrown into," Yazzie said.
During an August 5 excavation conducted by the Environmental Protection Agency at the Gold King Mine site, loose material gave way, spilling the contaminated water into Cement Creek, which feeds into the Animas River.
The spill is about three times larger than the early estimate of one million gallons.
On Saturday the orange-colored Animas River merged with the San Juan River. On Monday afternoon, the color seems to have all but disappeared, looking more normal.
However, Yazzie said that despite it looking "normal," the Navajo Nation continues to caution community members living along the river to not use it until further notice.
"The heavy metals in the contaminants sink to the bottom of the river and are easily agitated when disturbed," Yazzie said.
The bad part is that this will stay like for a long time he added.
"Don't use or touch it despite it looking normal," he said.
Earl and his wife Cheryle Yazzie, who will be celebrating their 39th wedding anniversary on Oct. 2, say all they pray for is for the river to heal.
"People see us out here everyday. Hoeing away in the middle of the day and heat, sunburned," Yazzie said. "It is a labor of love."
"Me and my wife Cheryle, we sell our crops and hand them out. We also donate some of it to the women's shelter here in Shiprock," he added.
"We had plans. We were going go make steamed corn and kneel down bread. Now this happens," said Cheryle. "Looks like we aren't gonna have our steamed corn. You know what they say, 'you never make plans.'"
---