'He always made Thoreau first': Ben Shelly, former Navajo Nation president, dies at 75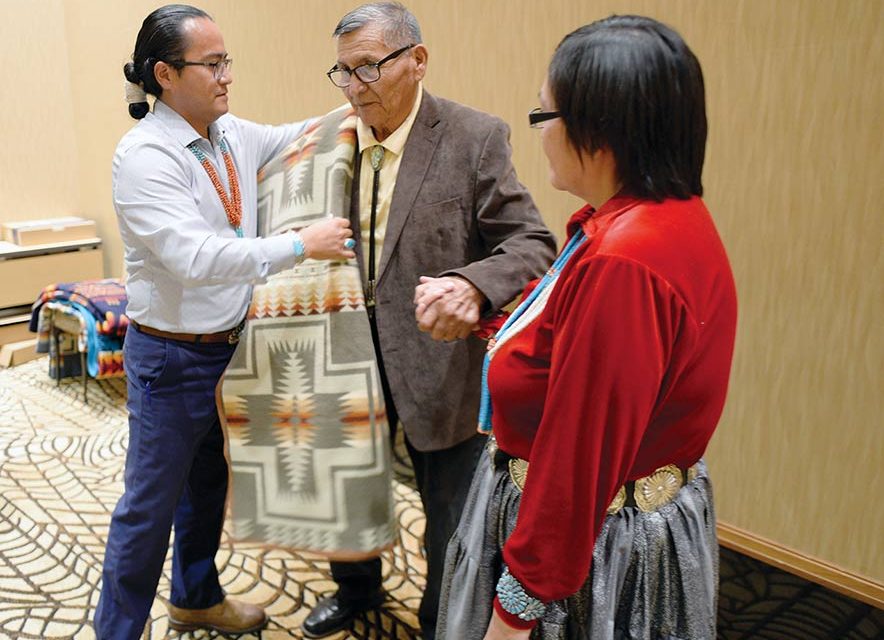 WINDOW ROCK
Ben Shelly, the former president of the Navajo Nation, died after an illness Wednesday morning, March 22.
Shelly, 75, was from Thoreau, New Mexico. He was Tó'aheedlíinii and was born for Ts'ah Yisk'idnii. His maternal grandfather is Áshįįhí, and his paternal grandfather is Táchii'nii.
In 2010, Shelly was elected president, went into office Jan. 11, 2011, and served until May 12, 2015.
Shelly ran against Lynda Lovejoy, the first female president-elect.
In an interview with the Navajo Times, Lovejoy said, "I am sorry to his family to hear of his loss."
Lovejoy, who lives in Albuquerque, shared her experience running against Shelly in 2010.
"All I can say is it's over with and long gone," Lovejoy said as she remembered the grueling race.
"It was quite an experience," she said. "I had a lot of respect for him. He was vice president to Joe Shirley, and I have respect for our leaders. I didn't really run against him."
With differences in their campaigns, Lovejoy said she didn't run against Shelly and ran for the people because she felt better suited to be president during the election.
When asked about what her experience was like to be running against Shelly, Lovejoy said there were some immature moments highlighting her gender when she said it didn't need to be mentioned.
"It wasn't only him but by others who worked in his campaign who also displayed immaturity, but that's just how things are within Navajo Nation. It's not surprising; there could've been more professionalism," Lovejoy said.
"There should be no personal criticism, but there was. But also, we tried to display respect toward each other," she said. "It's just at times, there was immaturity displayed from his side and his campaign."
Man of many roles
During Shelly's election to the Nation's highest office, the Navajo Nation Council changed from an 88-member Council to 24.
Before his presidency, Shelly was vice-president under Joe Shirley Jr. Shelly then became the first vice president of the Navajo Nation to be president in the next election.
With being the first president to have also been vice president, Shelly was the first New Mexican Navajo Nation president.
In 2015, when Shelly's term was over, Shelly lost his re-election, but the Navajo Supreme Court extended Shelly's term for five more months.
At the time, former President Joe Shirley ran against Chris Deschene. Deschene was eliminated from the presidential race after Shelly's five-month extension.
The next president would be former President Russell Begaye.
Shelly was on the Navajo Nation Council for 16 years before being in office, and after leaving, Shelly and his family operated a transportation business for seven years.
Throughout his presidency, Shelly worked on numerous projects for the Navajo Nation, ranging from water issue discussions with Sen. Jon Kyl to being recognized by the Indian Health Services Director Dr. Yvette Roubideaux for his push to stop the use of commercial tobacco smoking in public places on the reservation.
Honest in conversations
Speaker Crystalyne Curley said, "On behalf of the 25th Navajo Nation Council, I offer my thoughts and prayers to Martha (Shelly's wife) and their entire family during this difficult time."
Curley reminisced on Shelly's life.
"President Shelly will always be remembered in our hearts and minds for his great sense of humor, devoted public service, and love for his people and family. We mourn the loss of our leader, but we honor and give thanks for his life and the legacy that he leaves behind," Curley said.
Dineh Benally, the former San Juan River Farm Board president, told the Navajo Times, "He led our Nation forward for quite some time––county commissioner, Council delegate, vice president, president.
"He did everything," he said. "He held every position; he did a lot."
Similarly, accounting for Shelly's many roles, Thoreau Chapter President Valerie Arviso expressed appreciation for Shelly always putting his hometown first.
Arviso said having grown up in Thoreau all her life, she had seen Shelly as a great leader who always put his community first, the elderly and the youth especially.
"My condolence to the family for their loss," Arviso said. "What I always remember is he always made Thoreau first. He did what he could, and we were so proud of him when he won. We were 100% supportive of him."
Former Speaker Lorenzo Bates said during Shelly's presidency, he got along with him because he was always honest in their conversations.
One instance Bates remembers was when Shelly and he were talking, and Shelly said, "You're just a speaker."
Bates said he laughed and responded, "I am THE speaker."
He remembered Shelly laughing and simply saying, "Yeah," a memory that Bates said contributed to why he liked him.
Bates also recalled Shelly's voice that could not be tampered with.
"When there (were) controversial positions and he took a different position than Council, whatever reason, I'd always get sent over, and I'd work it out with him," Bates said. "In all the times I'd go into his office, I'd learned I'd have to sit through 15 to 20 minutes of what we he felt and thought."
Laughing, Bates said there was no point in arguing with him. It would just make matters worse.
"He was quite the guy and never afraid to say what was on his mind."
Shelly leaves behind former first lady Martha Shelly, his wife of 57 years, from Coyote Canyon; five children, 12 grandchildren, and three great-grandchildren.
Shelly's family will have a private service and plan a future public memorial.
"My condolences goes to his family, and we are sad to have lost another leader. May he rest in peace. God gained another angel," Arviso said.
Deswood Tome, who worked for Shelly, said it was a privilege to serve the late president.
"He didn't wait for you," Tome told the Navajo Times. "He was constantly on the go. He would call me at 4 a.m. and (ask) if I (was) still asleep.
"He didn't like meetings because they were unproductive," he said. "His ambition was to get things done. If assignments weren't accomplished, he wanted to know why. He then would give implicit instructions to get it done."
Tome said when House Committee on Appropriations members came to the Navajo Nation in the spring of 2015, Shelly was adamant that it continues with the Office of Navajo and Hopi Indian Relocation.
The late Sen. John McCain wanted to eliminate the office.
"The problem is that there were still some 250 families remaining to be served for relocating," Tome said. "The president told the visiting members of Congress, 'If you're going to do away with ONHIR, then we're going to tell the Navajos to move back' onto HPL (Hopi Partitioned Lands)."
Tome said Shelly was direct.
"He wasn't a politician who spoke in hyperbole," he said. "He was the most candid person I ever encountered.
"What was great about working with the president is how fast he worked," he added. "It was a speed in which I was already accustomed to working. He wanted the job done right, (and) he had high regard for ethics and law and demanded the same of his staff."
---