Navajo legend ready for 2023 Santa Fe Indian Market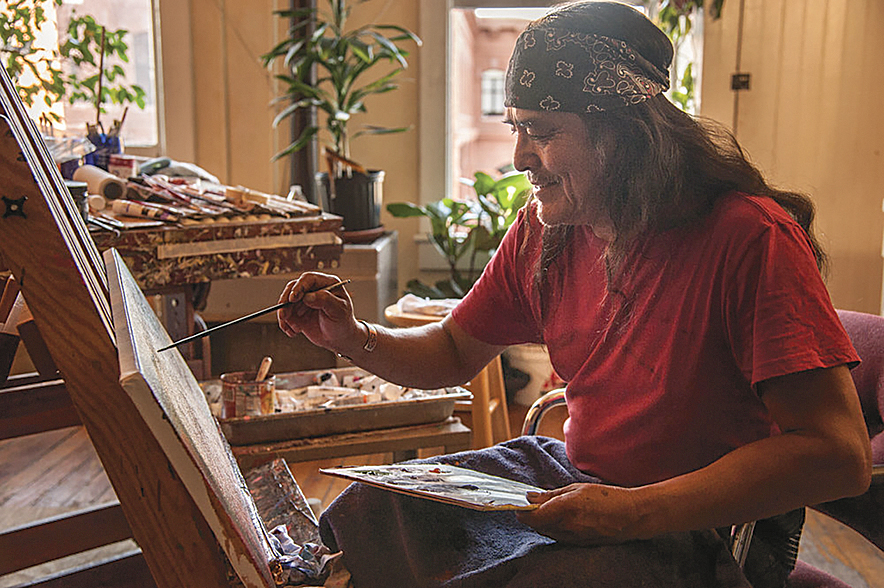 WINDOW ROCK – Dine painter Shonto Begay is a legend among legends in the world of Native American art.
Like many other Native American artists, he is preparing for the 101st Santa Fe Indian Market, scheduled from Aug. 19-20.
"I'll be at the Free Indian Market over on Federal Park. That's where I'm usually at, next to other legends," he said. "Bahe Whitethorne. Redwing Nez. Amando Pena. Those legends. I graduated up there, so now I can be in their company."
Begay is working on smaller pieces this year for the sake of mobility. He anticipates finishing a dozen or so pieces that he says are "manageable." He will be set up at the Free Indian Market, hosted by Greg and Angie Schaaf.
Last year, the Free Indian Market had about 600 artists, 10 percent of which were Indigenous artists from Canada, Central America, Mexico, New Zealand, the Pacific Islands, and South America.
On July 7, Begay celebrated the successful opening of his exhibit, "Shonto Moon," at the West of the Moon Gallery in downtown Flagstaff. He said the gallery had represented his work for the past 20 years.
Read the full story in the Aug. 17 edition of the Navajo Times.
---