Council foregoes prez report, moves straight to Gaming report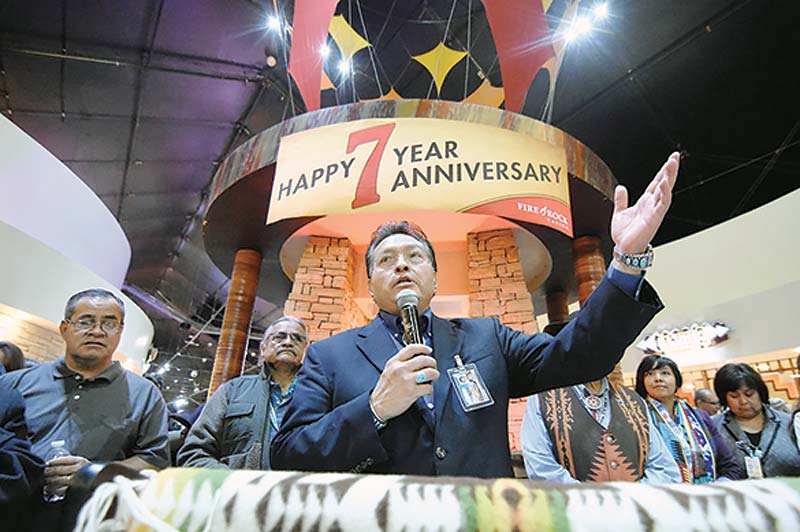 WINDOW ROCK
Before Navajo Nation President Russell Begaye could even begin his State of the Nation address, the Navajo Nation Council decided to accept his 10-page written report without questions or comments on the first day of the 23rd Navajo Nation Council's Winter Session Monday.
Instead, the Council voted to hear two different reports – one from the chairman of the National Indian Gaming Association Ernest Stevens, Jr. and the other by the Phoenix-based Morning Star Leaders Youth Council.
Stevens, who was invited by Council, was there to bestow a $1.5 million check to the Gaming Distribution Fund and to give a report on the state of Indian gaming. He listed the many positive aspects in which Indian gaming has been beneficial to tribes that operate its own casinos, such as the Navajo Nation.
"Indian gaming is the best economic development to have ever been introduced to Indian Country," Stevens said. "Indian gaming has created a revenue source for tribal government that is unprecedented. We need to continue to do more."
Indian gaming has become a $28.5 billion industry with 245 tribal governments operating over 400 gaming facilities in 28 states, said Stevens, adding that it has created jobs.
The four casinos housed on Navajo has created 1,400 jobs, Stevens said. He also emphasized that not only are casinos able to provide jobs with benefits, but it has allowed its employees to attain higher education credentials.
"Many of the Navajo gaming employees receive management and hospitality training, and are encouraged to earn their bachelor's and master's degrees," Stevens said. "Gaming has provided opportunities to enhance the already strong position of education in this community and we're proud of that."
---