Tohatchi, Navajo Pine split twin bill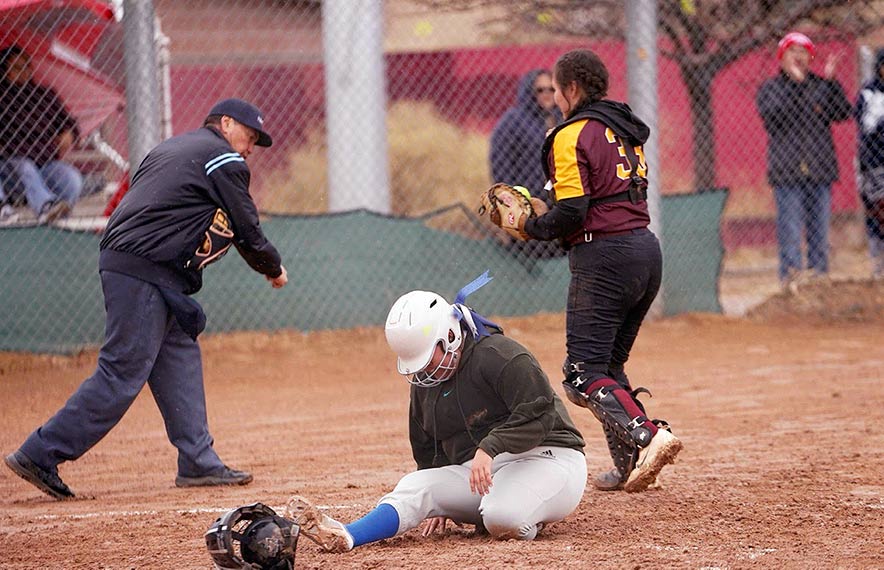 TOHATCHI
A four-run rally in the third frame provided a much-needed boost for the Navajo Pine softball team to split its doubleheader with Tohatchi on Monday.
After coming up short 20-8 in the opening game, the Lady Warriors closed out the nondistrict game with a 13-6 triumph on a cold and rainy afternoon.
"We played a lot better defensively and our pitcher was more consistent with her throws," said Navajo Pine veteran coach Hilary Thompson, whose team improved to 3-1 overall. "We got some pretty good hits, but we still have some struggling with their timing.
"But I think we were more effective in this (second) game," she added.
First-year Tohatchi coach Darrick Henry said the errors they made "demoralized" his squad as Navajo Pine erased a 3-0 first inning deficit into a 6-3 lead.
"They got a big jump on us," he said. "We had some bad throws defensively and it's something that we can correct. There were some calls that went against us, but those external factors didn't decide the game.
"This loss was all on us," he said.
With it being his team's season opener, Henry felt that his club did fairly well.
"Obviously, we saw some mistakes that we need to work on, but we're making slow improvements," he said. "We're glad to get some players from the basketball team last week, so they're still kind of raw but there's some positive things that we saw."
With 25 players on the squad, Henry said he has the numbers to field a JV squad.
"We like our numbers, but there are some challenges that comes with it as far as logistics, jerseys and making sure there's enough room in the dugout," he said. "But we're managing through it. I'm just very glad that the players are being flexible with me along with the parents."
The Lady Cougars are headed to the West Las Vegas tournament this week with the Henry-coached team opening up with Lordsburg at 4 p.m. today.
"It's going to be a good tournament," Henry said. "It's going to help us prepare for the future and it'll give us more of an idea about how we stack against our teams as well."
Of the nine starters that he has, seven are returning starters.
His top hitters include Raeanna Hunch, Amy Anderson, Mariah Begaye, Devyn Harvey, Daleighia Chato and Makayla Bitsoi.
"We're pretty stacked all the way around," he said. "They're all great and we also got some good substitutions as well."
In Monday's game, he utilized Mariah Begaye and Logan Benallie inside the pitching circle. For the time being, those two hurlers are going to pitch for his experience squad.
"We got another one, but she got hurt in our scrimmage last week," he said. "Hopefully, we'll get her back this week."
With a loaded team, the Tohatchi coach is looking to improve on its 13-14 record last season when the Cougars finished third in District 1-3A with 6-4 record. They finished behind co-district champs Navajo Prep and Zuni.
The rest of the district members include Wingate, Newcomb and Thoreau.
"Obviously, you always want to contend for a district championship," Henry said. "I'm hoping that we compete and get these seniors something to remember for the rest of their lives."
For Navajo Pine, Thompson is looking for her young team to grow.
"I just want them to come together and learn how to work together as a team," she said. "Right now, they're kind of struggling with communicating, but if they communicate better, I think they'll have more success."
Of the 11 players on her roster, nine of them are returners from last year's squad that produced a 10-13 overall record, which included a 3-5 mark in District 1-1A/2A.
"We have a whole new outfield," she said. "We only have one returner, so the rest are pretty new. We need to work on that, but our infielders are coming together. Our third base is new, but everyone else is a returner."
Like the Tohatchi squad, Thompson will be using a two-man rotation with freshman Mikayla Baker and junior Kayluanah Bahe sharing the pitching duties.
And although senior Jessica Joe is a returner, she is playing a new position at catcher.
Next week, Navajo Pine will take part in the Mesilla Valley Christian School tournament in Las Cruces as a way to prepare for upcoming district season.
"We'll see some good competition out there," Thompson said. "We'll see teams like Hatch Valley and Capitan, so the competition is really good there."
The district will have five teams this season with Rehoboth Christian and Laguna Acoma being the frontrunners. The rest of the district includes Pine Hill and To'hajiilee.
"They're usually up there," Thompson said of Rehoboth and Laguna Acoma.
---