Winslow's 2nd-year coach aims for playoffs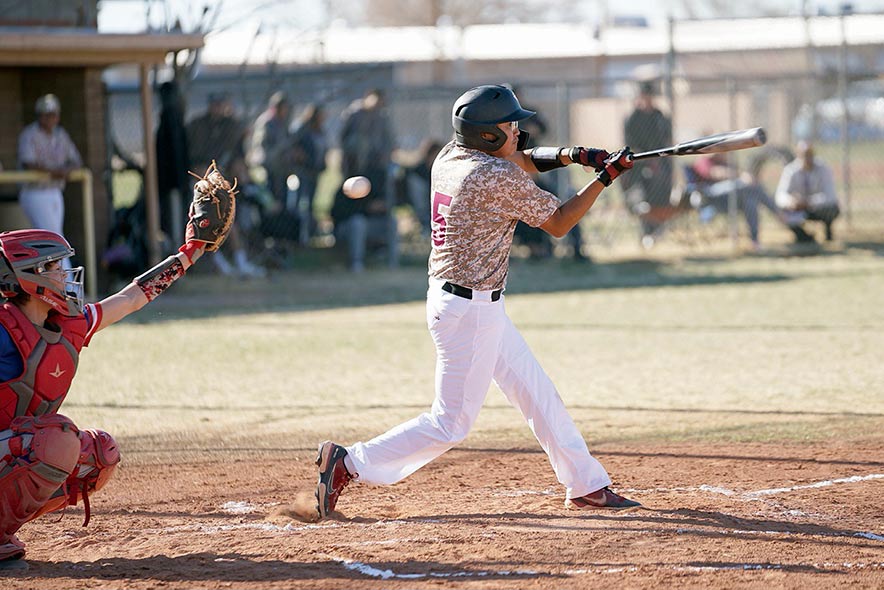 WINSLOW
Chris Garrett is a Winslow alumni who helped the 2010 baseball team make the Final Four in his sophomore season.
That was the last time Winslow had a shot at a state title. Now in his second year as the head coach, Garrett is aiming to get his team backing into the playoffs for the second straight year.
On Tuesday, the Bulldogs finished with 20 hits, scoring a big win over archrival Holbrook. With that hit parade, Winslow posted a 16-2 win, improving its record to 7-4 overall and 2-2 in the 3A East Region play.
"Winslow just put the bat on the ball today and we could not catch and throw them out," said Holbrook coach Ryan Baldonado, whose team dropped to 7-5 overall and 0-2 in the conference. "A lot of times it's just the simple stuff that gets us.
"They hit a lot and we made a few errors there in the first inning and they never looked back," the Holbrook coach said of the Bulldogs.
This year's Winslow team is a "special" mix, consisting of six seniors, several juniors and few talented sophomores. The seniors take on leadership roles, but Garrett is focused on forming a brotherhood that will strengthen their bonds, especially when playing.
Garrett said it took a while for the team to find their groove at the start of the year, but after some close games, they focus on getting the fastball, focusing on their pitchers and adjusting to the opponent's response.
The team's No. 1 goal this year is to win regionals. Garrett believes if they win regionals they have a shot of making the 16-team state bracket. When asked about making a deep run, Garrett said it's a possibility as the last Winslow team to do so was in 2010 when he played for his old coach.
In high school, Garrett was mentored by legendary coach Art Griffith, the highly renowned baseball coach in the 3A division who headed the Bulldog program for over 50 years before stepping down.
Garrett worked under Griffith as an assistant coach for five years before taking the job as head coach last year.
"Griffith was awesome," Garrett said. "To this day, he's there to answer any questions I have, and it's an honor to take after him and I got to hold his high expectation that attitude is everything. We continue his legacy by doing that with our kids, we come out here and ask for attitude, energy and great effort."
The 2010 season was the last time Griffith got his team to the Final Four, but Garrett feels like this year's team has the chance to make it back to the top again.
Three-year varsity player Kane Ybarra is similarly confident the team has a shot at the playoffs. He is the starting shortstop, but he also pitches.
"I feel like we're a good group of kids and we've been playing since little league," Ybarra said. "We've always been tight, even the younger guys too. We all played with each other in the senior league."
Last season, the team earned the No. 16 seed and just barely made it into the playoff, overcoming a hard fight with Show Low. However, they didn't last long after facing No. 1 seed Northwest Christian.
The team isn't discouraged though, if anything they are determined to get a better region record this season than last year's 5-5 mark.
"We're gonna at least be top two within our region this year," Ybarra said.
In the AIA statewide ranking that was released on Tuesday, Winslow sat at No. 24.
On Tuesday, the Roadrunners got on board first but the Bulldogs responded with eight runs to finish off the first frame.
Ybarra said that day was just their day, the moment he saw his teammates just started hitting, and he knew they were going to win that day.
He knows the team has a chance and is going to make a run, saying he's just proud of his guys.
It is this attitude that Garrett is looking for and why he is feeling confident for the Bulldogs.
"I believe this group has a chance definitely," Garrett said. "A wise coach before me told me its not the most talented teams that he's taken to the playoffs, it's the team with the special bonds and ready to get to work that have won state championships."
Garrett is hoping that he has the team to do just that.
---