Thoreau football notches first playoff win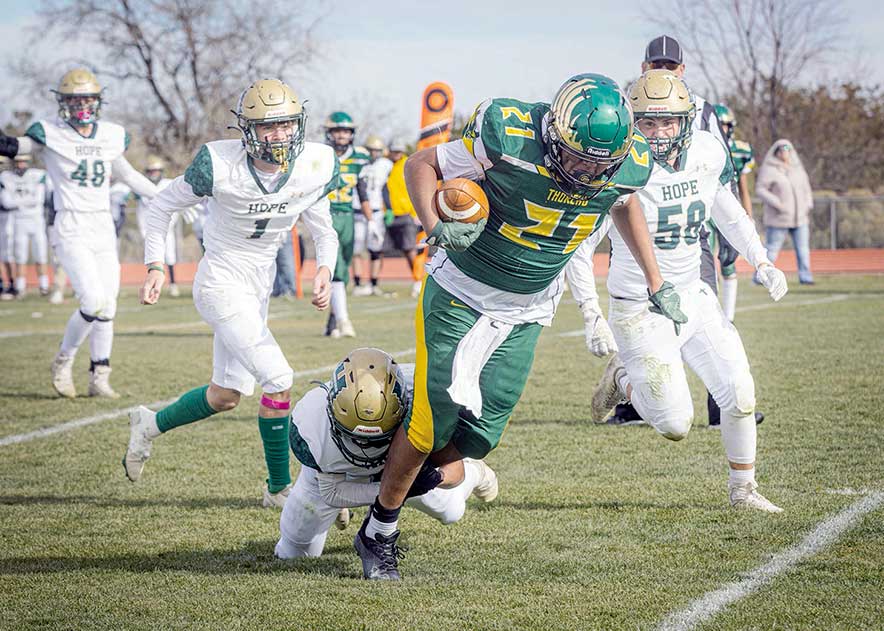 WINDOW ROCK
It's been a long time coming for the Thoreau Hawk football team.
In what could be the school's first playoff win, the fifth seeded Hawks (9-2) advanced into the 3A state quarterfinals with a 19-13 overtime win over No. 12 Hope Christian on Saturday in front of a full house at Thoreau High School.
"To my knowledge and everybody that I've asked, I don't think they ever have," Thoreau coach Erik Loera said when asked whether this was the school's first playoff win.
"I went in expecting us to win, but this is more than what I could have imagined," he added. "It's just the kids buying into the program and playing their hearts out."
Like every OT session, each team starts from the 10-yard line and they have four plays to score.
"They elected us to go first to see what we were going to do," Loera said. "We ended up scoring right away but they stopped us on the extra point."
The Thoreau coach said Hope Christian ran a few plays with its possession, and on one of those plays the Hawks forced a fumble.
"They ran a quarterback keeper to the right and we managed to hit the guy and he fumbled the ball and we landed on it," he said. "It was an intense game and I must have aged five years."
Loera said he got contributions from everyone, but on the offensive side of the ball senior fullback Tyes Tahe led the team.
"Just like he did in our last game, Tyes was running people over," Loera said. "He was being smart, and he was patient waiting for the holes to open up."
On the defensive end, Loera said, outside linebacker Elam Smith disrupted Hope Christian's offense until he got hurt in the third quarter.
"He was really good," the Thoreau coach said of Smith. "I think he sacked their quarterback two, three times. He's a track star and that speed has really transitioned into football.
"Usually there ain't anybody on the field that can keep up with him," he said.
Loera felt that they could have ended the game in regulation, but they made mistakes.
"We kept them (Hope Christian) in the game long enough," he said. "We should have done a little better against them. We kept it a little too close and, you know, a lot of the mistakes were on my playing calling. I could have been a little wiser on the play calling and clock management."
The six-point win puts Thoreau in the quarterfinals as the Hawks will travel to fourth seed Santa Fe St. Michael's on Saturday. Kickoff is scheduled for 1 p.m.
"They're seeded No. 4, but looking at the rankings they were ranked No. 1 in the state," Loera said. "They have a storied program and last year they were state runner-up, so they're always in it.
"They got very good coaching and we're going to have our hands full," he said. "We're going to go in and play our style of football and we'll see what happens."
From what he's heard, Loera said St. Mike's has plenty of weapons and they can go either airborne or on the ground.
"They're a balanced attacking team," Loera said. "They also got a lot of speed, which worries me because we've struggled with speed in the past.
"They're solid up front too," he added. "With our offense kind of sputtering in this last game we definitely have to play a better game of football for us to have a chance."
---