Coyote Canyon's Yazzie wins INFR all-around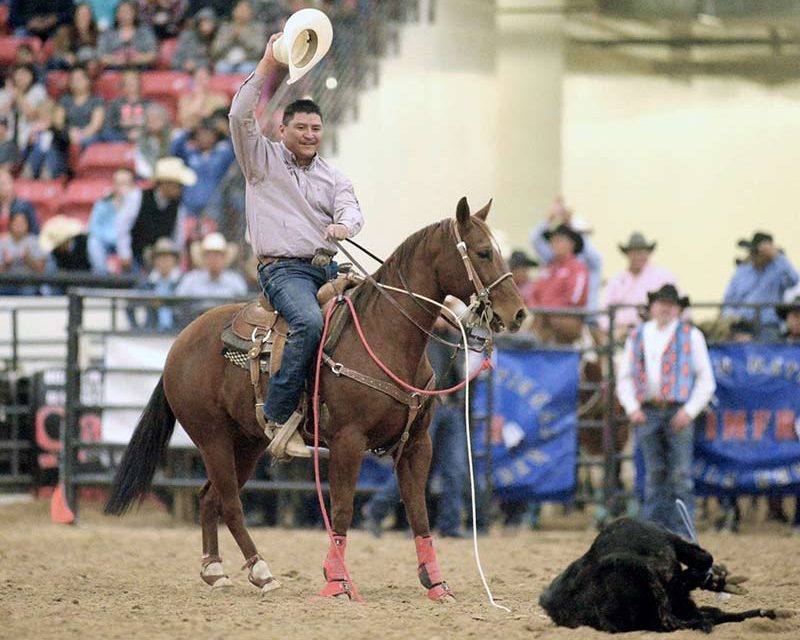 LAS VEGAS, Nev.
Perhaps it was the luck of the draw (or the lack thereof).
Whatever it was, it played out for Coyote Canyon, New Mexico, cowboy Donovan Yazzie as he emerged as the tie-down and the men's all-around champion at this year's Indian National Finals Rodeo.
"I didn't draw too well all week but I was happy to get all of them down," Yazzie said of his exploits in both the tie-down and steer-wrestling events.
In the tie-down, he won the opening round with an 8.63 run with a good calf but in the next two rounds he had to safety up with the draws he received.
"The draws were uneven," Yazzie said. "I was lucky to catch what I drew. I just thought about just making a practice run with those draws and try to not make a mistake."
In the final round, Yazzie said he "drew a decent calf" as the high callback and like his previous rounds he had to make sure he got this one caught. With nearly three seconds elapsed he caught his calf in the middle of the arena and without hesitation he posted a 10.03 run that placed him fifth overall in the round.
With that he finished the aggregate race in 40.60 seconds on four draws. Second-place finisher Ty Allen Fischer recorded four runs in 44.51 ahead of third-place finisher Levi Jackson, who turned in four runs in 48.48.
"I was runner-up three times so this means a lot to me," Yazzie said. "I always wanted to be a world champion and I like to give to my grandfather (James Begay Sr.) for the gift he gave me. If it weren't for him I wouldn't be here or be who I am."
During the weeklong rodeo, Yazzie also lamented on the uneven draws in the steer-wrestling event as some of the top cowboys recorded no times. That was the case in the fourth performance as some of the steers stopped performing mid-run with nine of the 15 cowboys having no such luck.
Nonetheless, Yazzie nearly pulled off the win in the aggregate race. He threw down four steers in 26.85 seconds and lost the title to Nolan Conway, the 2011 winner. Conway won the event in 26.85.
"I had some runners and some strong steers. I had one that set up on me last night," he said. "I finally drew a good steer to be a (5.39) on him to win the go-round."
---