Speakers, teddy bears added for Shiprock Marathon's 35th year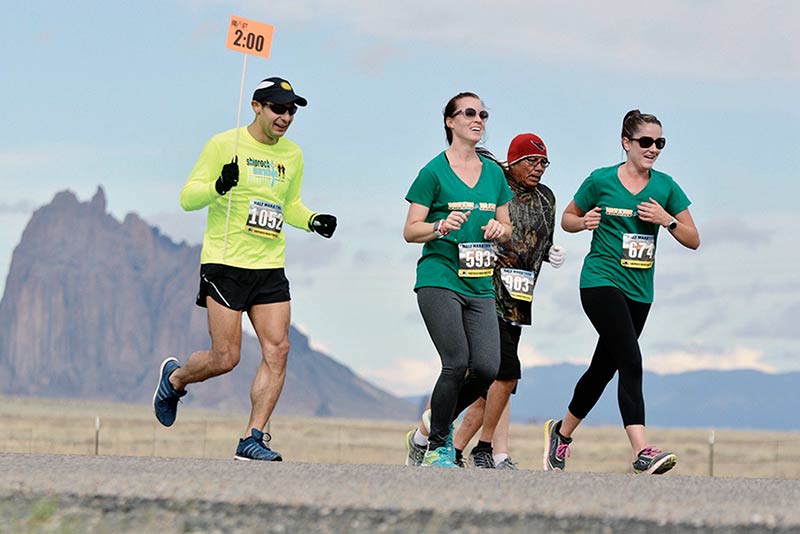 SHIPROCK
After 35 years, the Shiprock Marathon is still going strong.
With every year that passes, the marathon has changed or added something for the better, and this year is no different.
Shiprock Marathon Race Director Tom Riggenbach said the marathon is moving in the right direction and continues to gain momentum.
"It's super exciting. The thing that I've heard so much over the last week is the anticipation is really high," Riggenbach said. "It feels like this is our year."
The marathon and marathon relays will take place this Saturday, beginning 7 a.m. The half marathon will follow with an 8:15 a.m. start time.
Marathon festivities begin tomorrow (Friday) with the expo where vendors, informational booths, and running shops will be available for guests to visit starting at noon.
New to the expo is a speaker series, which Riggenbach said was added thanks to the increase interest in running and health events.
"It's kind of a response to a need that we've seen because there's a real growth in the number of people doing this kind of stuff. I mean Tuba City just did its first half-marathon the other weekend," he said. "There's stuff going on like the Navajo Parks Race Series; there's just so may people getting into this active lifestyle. It's really cool to see. We just felt like there was some need for some knowledge for those who want to know how to eat right or how to prepare for a marathon."
Featured speakers include comedian James June whose presentation is entitled "Warrior Strong: Living the Healthy Lifestyle," and "Running to Connect with Our Dine Cultural Ways," by Shiprock native and college runner Herbert Beyale III, among others.
---