sports
Arizona Division III girls basketball
Many Farms, Holbrook girls post big wins in first-round action
By Quentin Jodie
Navajo Times
WINDOW ROCK, Feb. 20, 2014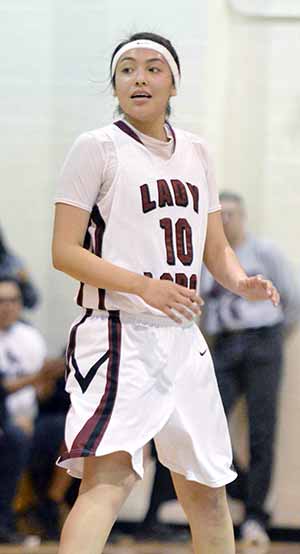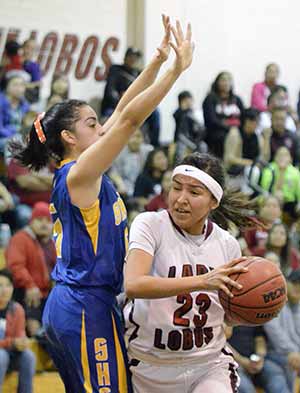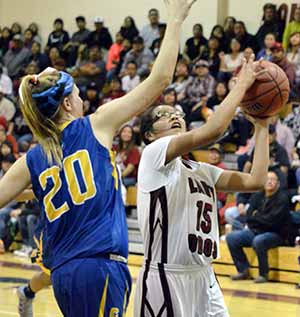 (Times photos - Donovan Quintero)
advertisement
A
fter not making the sectional finals one week ago, the Holbrook and Many Farms girls basketball teams received the perfect elixir on Wednesday night.
Both teams bounced back from a tough loss by posting a couple of lopsided victories in the first round of the Arizona Division III girls state basketball tournament.
The Lobos (22-4) completely annihilated Sahuarita on their home court winning, 71-25. Holbrook, on the other hand, held Ganado to six points in the second half as they advanced into the second round with a 55-24 victory.
Many Farms coach Gary Clah said his girls received a wakeup call after losing to Window Rock in last week's sectional semifinals.
"It was an eye opener for us because there was no team effort," Clah said of last week's game. "We need to play every game as a team and tonight we did that. Everybody got playing time, even our bench."
The No 10 seed Lady Lobos had three players score in double figures with senior Briana Clah putting on a clinic by going 6-of-10 from long range. Clah finished the game with 30 points while Bianca Yazzie and Kayeona Teller added 13 and 12 markers, respectively.
"We put in a couple of good practices this week and it showed on the court," Clah said. "They did what I asked them to do, especially on the defensive end. We pressured (Sahuarita) tonight and we were able to get some key steals."
Many Farms led 39-17 at the break before they outscored the Lady Mustangs 32 to 8 in their runaway win.
With the game being so one-sided, Clah said there was a running clock put in place at the start of the fourth quarter.
"I didn't expect our game to go like that because they had some height and they were a little more physical," the Many Farms coach said of their opponent. "I thought it would be competitive but we got little resistance."
"Maybe that long trip affected them so they did not have a whole lot of energy tonight."
On Saturday, the Lobos will play Fountain Hills, the No. 7 seed, at Payson High School. Tip-off is scheduled for 6 p.m.
"I really don't have an idea of what they are like," Clah said of Fountain Hills. "I just know they have some height on them but they don't have a lot speed"
Like Many Farms, the Roadrunners got it done on the defensive end in their 31-point win over Ganado.
"We got a balanced effort from everyone, especially in the second half," Holbrook coach Greg Perkins said. "When you can hold a team to six points in a half you're going to win a lot of games. The girls played with a lot of energy tonight and they worked really hard."
That aspect was missing in last week's sectional tournament as the Roadrunners dropped a 69-52 decision to Snowflake.
"We didn't play real well against Snowflake," Perkins said. "We lost our leading scorer with a hand injury in that game. She didn't play tonight as well but we had some other girls that stepped it up."
As a team, Holbrook had nine players score with juniors Rochelle Nez and  Summer Olney leading the way with 10 points. Cheyenne Lester came in next with nine while Shandie Demuth added eight.
For Ganado, Candice Tsosie finished with seven points in the losing effort.
The Hornets ended their season at 10-15 overall while Holbrook improved to 22-9 for the year. The Roadrunners will play Estrella Foothills at 4:30 p.m. at North Canyon High in Phoenix on Saturday.
"We played them last year in the state tournament," Perkins said of their next opponent. "They are real aggressive and they are big so they can hurt us. We just have to handle both sides of the court and we got to play defense as well as we did against Ganado for us to have a chance to stay in it."
In other first round action, No. 12 seed Tuba City advanced with a 73-41 win over Morenci while Monument Valley took care of Palo Verde Magnet, 60-53.
No. 13 Chinle held off Safford in the quarterfinal match while Alchesay posted a nail-biting 45-41 over Camp Verde at home.
How to get The Times: