Whiterock: Small but independent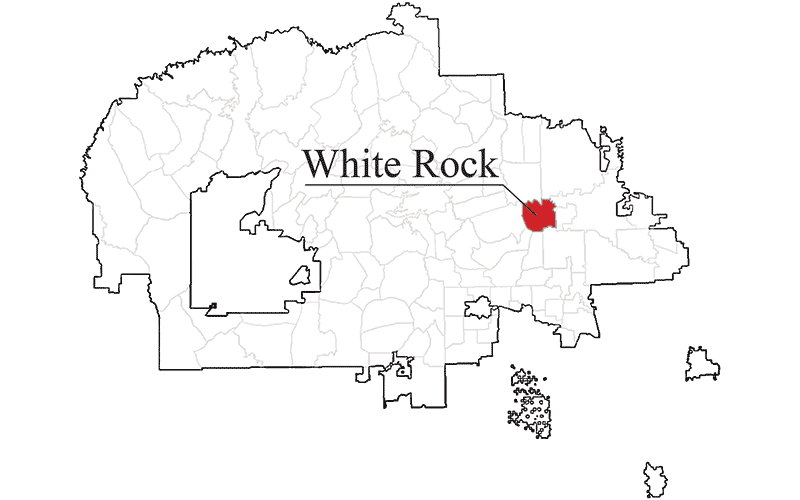 On the cusp of many borders, White Rock finds its own way
(Editor's note: In an effort to chronicle the beauty and diversity of the Navajo Nation, as well as its issues, the Navajo Times has committed to visiting all 110 chapters in alphabetical order. This is the 109th in the series. Some information for this series is taken from the publication "Chapter Images" by Larry Rodgers. For the full series, view the Chapter Series archive here.)
WHITE ROCK, N.M.
White Rock Chapter President Ramona Begay has spent most of her year-and-a-half in office explaining the new council form of government to chapter members — including the previous administration who instituted it.
"Sometimes I wonder if they read their own policies," she sighed.
But this least populous of all Navajo chapters (officially, it only has 76 people although Begay insists it's over 300 when you include those living on the checkerboard) forges ahead. Being small and almost scarily remote does not keep White Rock from being one of the most progressive chapters on the Navajo Nation. It's fully certified, has a new representative form of government and is negotiating with the state, power companies and other entities on its own.
While Upper Fruitland's chapter manager recently described that chapter's relationship with Window Rock as being a teenager with one foot out the door, Begay compares White Rock to the 18-year-old who was kicked out of the house, found a good job "and now the parents are coming back and saying, 'You owe us money!'"
The chapter, for instance, recently negotiated a lease with Cellular One for land for a cell tower, only to have the tribal government muscle in and say that money needs to go in the general fund.
"So what does it really mean to be certified?" asked Begay. "That's what we're trying to figure out. I don't think the Council really thought it through when they made the Local Governance Act. There are a lot of glitches we're finding."
Ancient place
While it may be unafraid to jump into uncharted territory government-wise, White Rock is paradoxically an ancient and very traditional chapter. Begay and her vice president, Norman Henry, estimated some 60 percent of the chapter members — young and old — speak Navajo.
The present settlement, around an artesian well drilled by a company that was looking for oil but instead hit bath-temperature mineral water, dates only to the 1930s, but there have been people in the vicinity of White Rock Mesa since ancient times. The plantable flood plain below the mesa once attracted outliers of the Chacoan culture, whose ruins are so abundant that power lines have to snake around them, and it must have been the home of the Diné since the tribe's very early history, since the sculpted grey mesa figures in the old songs and stories.
Two ridges of the mesa run almost straight north-south and east-west, which inspired early Navajos to use this natural representation of the four sacred directions as an offering and ceremonial site.
According to Navajo legend, this is the place horses originated, which is why you will see them frolicking on signs indicating the way to the chapter, painted by some talented summer youth.
This area has long been sought out by medicine men, which may be why so many good ones hail from here. A white, glassy mineral known in Navajo as hadahoneyé is harvested here for use in ceremonies calling for rain; also a grey clay and the red mineral called "chii" that early Navajos mixed with grease for a sort of sunscreen.
At Owl Spring, said former Council delegate Gilbert Roger, medicine people procure bottles of water; it's thought that this pool, which never dries up even in the unholiest drought, is blessed by the Holy People.
Today, the word "blessed" is not the first thing that comes to mind as you drive through some of the most desolate country on the Navajo Nation. It's more like, "How long am I going to be able to drive before I hit a washout?"
New Mexico Highway 371 snakes in and out of White Rock — or, more accurately, the chapter boundary juts into and away from Highway 371, which is more or less straight north and south through here. Other than that, the roads are made of the grey clay that washes down from the mesa. They are notoriously horrible when they get wet, and most residents of this chapter — which is 45 minutes from the nearest grocery store on a good day — simply plan on getting stranded in the winter.
No fear
Simply put, not much scares the handful of rugged individualists who call this chapter home.
"I hear leaders of other chapters saying, "What are we going to do now that they've dismantled the LGSC (Local Government Service Centers)?'" Begay said. "Well, it doesn't scare us. We've been doing for ourselves for a long time."
One of the first things the chapter built for itself was a shower house, harvesting water from the naturally warm artesian well. That was used for both bathing and drinking until the 1970s, when Begay's father, former chapter president John Nez Begay, decided the sulfur-scented water probably wasn't good for people and started advocating for a well in the 1980s. The well was finally completed and hooked to 23 homes in 2005. It plunged more than 2,400 feet below the surface before the drill bit met good water that wasn't too salty and mineralized to drink.
In the 1940s, the chapter took it upon itself to build a chapter house. You can see it today: a gorgeous, L-shaped building with gracefully arched, almost church-like windows. According to Roger, the foreman was paid $100 and a concha belt; the rest of the crew were volunteers.
The present chapter building dates to the 1960s and was originally a pre-school. Begay remembers — not all that long ago, in the 1980s — when it didn't have electricity or running water.
"I was working for the chapter then," Begay recalled. "Tom Henry was the secretary. There was a huge generator inside a warehouse, and he was the only one with the key. He only ran it on weekends when there was a chapter meeting. I remember sitting there in the winter, typing on the manual typewriter, just freezing."
There were no files; Begay introduced a filing system. With no copy machine, she simply inserted sheets of carbon paper between two pieces of paper as she typed a record for each family in the chapter.
"So you see," she said — no one in this practical chapter wastes their breath unless they have a point to make — "you come here and you probably think nothing has changed in years and years. But it has. It's changed a lot, and we have a lot more to do."
Quilt of jurisdictions
White Rock's location hampers it in more ways than just the isolation and rugged countryside. Man-made boundaries create a web of jurisdictions. Jutting out on the western edge of Eastern Agency, White Rock borders T'iis Tso Sikaad — which is in Northern Agency — to the north and Naschitti — which is in Fort Defiance Agency — to the west. Partnering with either of those chapters on projects requires crossing jurisdictions.
A wire fence about 100 yards from the chapter house divides the trust-land portion of the reservation from the checkerboard, a crazy quilt of BLM holdings, state land, trust and Indian allotments — which makes getting the right-of-way for a power or water line a nightmare.
Not only that, but three utility companies — Jemez, Continental Divide and NTUA — duel over territories in this no-man's land.
Still, Begay's goal for her term as president is clear: "I want to serve every household in the chapter with power and water."
The roads are also a mishmash of San Juan County, Navajo Nation and BIA jurisdiction. One of the major roads — east from New Mexico High 491 — is not on a school bus route and is graded maybe twice a year, Begay said. Although it is by far the shortest route home to Chinle for the reporter, Begay, Henry and Roger all three discourage her from taking it because it has recently rained.
"You hit a washout, no one's going to find you," warned Henry darkly.
The chapter is discussing developing a gravel pit in hopes of trading materials for work on the roads to either the county or the tribe.
Getting to school
White Rock is also on the cusp of two school districts.
"Technically," said Roger, "We're in the Central Consolidated School District, but no kids from here go to those schools."
Instead, because the roads are better toward the east, parents send their kids to Lake Valley, Crownpoint, even Farmington, driving as far as 40 miles to meet the bus if necessary. The boarding school in Huerfano allows teens from White Rock to sleep in the dorms so they can attend high school in Bloomfield, N.M.
Still, probably because school is just so darned hard to get to, the dropout rate is high.
White Rock wasn't always this remote. It was on the old Togay Trail, a Turn-of-the-Century freight route between Farmington and Gallup, and once had not one but two trading posts (you can see the remains of one just east of the chapter compound). In the early 1960s, however, the posts merged and moved to the present location of the Tsaya Trading Post on what is now Highway 371. In case you ever wondered why that post is called Tsaya, "Under the Rock," when it's just sitting on a flat plain, it retained its name from its former location in a canyon of White Rock Mesa.
Today, White Rock isn't on the way to anywhere, but you won't be disappointed if you go. Rising from the lunar landscape like a settlement on a distant planet are the chapter house, a log hogan veterans' center, a senior center (although the Navajo Area Agency on Aging shut it down two years ago for a problem it has yet to reveal to the chapter) and even a busy Laundromat making use of all that clear, deep water from the new well.
As long as you don't climb the sacred mesa without a good reason, you can wander the endless badlands like the Chacoans of old, marveling at their beautifully pieced stone dwellings and round watchtowers, and maybe find some hadahoneyé for your favorite medicine man.
Don't be depressed by the isolation and the stark conditions here. The locals aren't.
"We always stay positive," Begay explained. "We grew up with so little that any good thing that comes our way, we're very appreciative."