Shirley's pick nixed, he goes with Nygren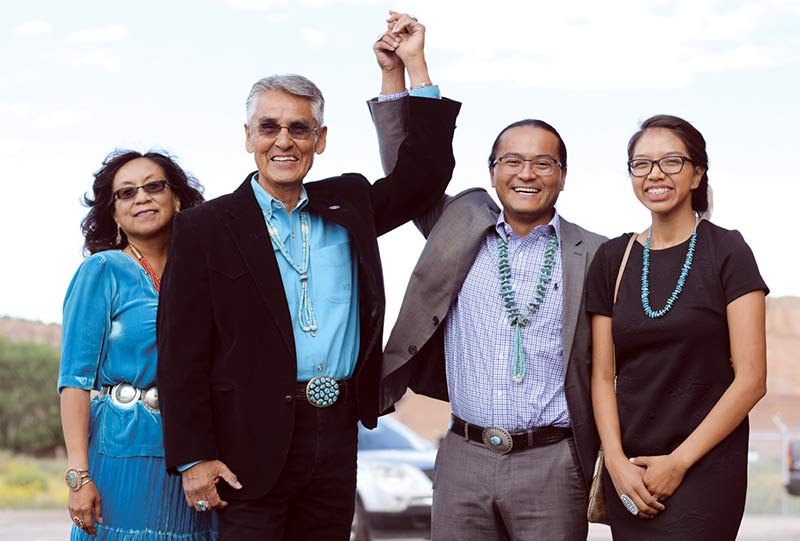 WINDOW ROCK
Everything happens for a reason, said presidential candidate Joe Shirley Jr. late Tuesday afternoon after the Shirley campaign learned that original vice-president choice Peter Deswood III was ineligible to hold a Navajo Nation office.
Deswood was part of the around 40,000 voters who were purged earlier this year. This made him an unregistered voter and thereby ineligible to run for office, the Navajo Nation Election Administration decided shortly after Shirley announced his choice.
The Shirley campaign went with their backup choice, Buu Nygren from Red Mesa, Arizona.
"I came here to celebrate Joe's vice-president and going into the general," he said. "Not knowing that a few hours later I was going to get the phone call saying. 'Hey cheii, come on back!"
Nygren and his wife have been campaigning with Joe Shirley Jr. all summer.
He is Oozéí Táchii'nii born for Náá'Ádaałts'ózí (Vietnamese). Nygren was raised by his grandmother in their home that had no running water or electricity. Nygren's first language was Navajo. He graduated from Red Mesa High School and went on to attend Arizona State University where he graduated with a degree in construction management.
When Nygren was in high school he used to help with his uncle's construction business.
He also has a master's in business administration also from ASU. He is currently in a doctoral program at the University of Southern California studying education and organizational leadership.
Right now he works for a large general contractor that builds schools from elementaries to universities all over the country.
"I'm constantly flying," he said.
His wife is Jasmine Nygren who is from Red Mesa, Arizona. She graduated from Stanford University and is currently in her second year of law school at ASU.