Arts
Natives look for evolution at Indian Market
By Chee Brossy
Special to the Times
SANTA FE, N.M., Aug. 25, 2011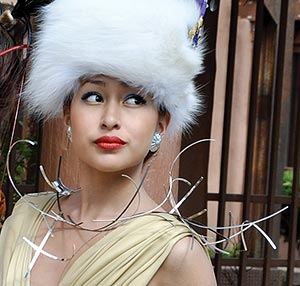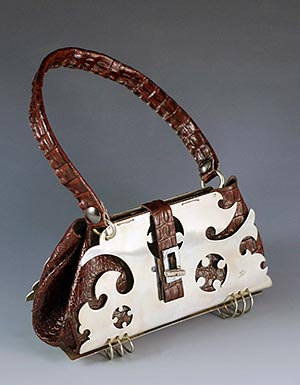 (Courtesy photos)
advertisement
"Make it new," said the American writer Ezra Pound. He could have been talking about a literary movement, or the mindset of every would-be iPhone app entrepreneur or about today's Native American art scene.
Making it new is what Native artists are struggling to do and be recognized for in an art environment whose major commercial influence is the annual Santa Fe Indian Market.
Indian Market is at the heart of Santa Fe's summer even as it signals the coming fall. Revelers and tourists create a sea of straw hats in the downtown sun, wandering the booths with heads bent, sometimes looking up to find a partner after a particularly good find.
They come to see silver hammered into squash blossoms and turquoise in clusters, exquisitely painted pottery, paintings with vibrant colors. These are all emblems of Santa Fe and the Southwest in general. But these images haven't changed for some time. Why? Today's Native artists think they know and aim to reshape things. But change is slow.
After graduating from college in 1999, David Gaussoin travelled the world, touring and backpacking through the countries of Europe and Africa. He found new people and new approaches to art and saw the works of Michelangelo, Picasso, and the French Impressionists.
He brought it home with him to Santa Fe and began to put these new influences into his jewelry. And it looked different.
Now Gaussoin, Picuris/Navajo, who comes from a long line of Native jewelers, makes decidedly modern jewelry. Two recent pieces: a necklace of twisted and looped wire that evokes the shiny ribbon of New Years Eve confetti; and a tufa-cast bracelet with organic offshoots of silver, as if the metal is sprouting plantlike tendrils.
But Gaussoin ran into problems when showing the pieces back home.
"They thought my jewelry was too radical," he said, "that I wasn't following the established rules of Indian jewelry. There were people trying to run me out of business."
Gaussoin and his brother Wayne Nez began to make jewelry in their new style and Gaussoin said both Native artists and non-Native buyers didn't like what they were doing.
Indian Market, as the largest Native American art market in the world, played a role in how their jewelry was received, said Gaussoin, and through its standards and judging system was "dictating what was right and wrong" in Indian art.
"I'm an artist," says Gaussoin. "No one should be telling me what's right or wrong, what's traditional or non-traditional when it comes to art. Whenever someone puts standards on what is traditional or non-traditional, I call that censorship."
advertisements
---
Steven Wall, Chippewa, an artist and instructor at the Institute of American Indian Arts, calls it the imagined aesthetic - an imagined concept of what Indian art is, imagined by the non-Indian buyer.
That Indian art must conform to certain forms, like the silver and turquoise concho belt, colorful stylized landscape paintings, geometric rugs, to be Indian art.
"That imagined perspective is so powerful," says Wall. "Only a few have been able to break out of it. People like David and Wayne Gaussoin fought that imagined barrier and were met with tremendous resistance."
Wall also points out that it's not just non-Natives who want the "old style" work to be the definition of Indian art, but Native Americans as well. And maybe this shouldn't come as a surprise.
Like the rest of the world Native Americans live in a changing time. Tribes struggle to keep hold of traditional ways and ceremonies, to retain a singular sense of culture and community in the midst of a broadening, Internet-based world.
Retaining fading Native languages is a concern for all American tribes. In this environment, hanging on to old ways of making art - art that has always been an integral part of Native identity - makes sense.
It also makes sense for artists to support themselves and Indian Market is the main source of art sales for many artists who show there.
"This is people's livelihood," says Comanche painter Nacona Burgess.
Burgess, famous for portraits of iconic Native Americans as well as pop figures like Marlon Brando and Jimi Hendrix, estimates he makes over half of his yearly sales at Indian Market.
In addition to his pop culture portraits, Burgess paints abstractly as well. But, he says, "I only take my Indians to market" because he knows what the market wants.
Wall even says that it's hard to think just about the art. Ideally, in order to devote yourself to breaking new ground as an artist without worrying about money and the preferences of the market, you need to have "an independent source of income."
Still other artists, like Rose Simpson, Santa Clara, don't show at the market at all. Simpson is one of a number of young Native artists making a name for themselves. Her ceramic pieces, like a larger-than-life adobe figure curled in the fetal position left to deteriorate naturally in a recent installation, challenge personal identity and how we construct it.
Simpson also has strong views about Indian Market, views that have occasionally gotten her in trouble with other Native artists and relatives who see her comments as disrespectful of what's come before.
Simpson, who comes from a long line of artists, says the struggle with what is Indian in art is a symptom of a collective "post-colonial stress disorder."
Although she isn't showing at the market booths, Simpson, who just finished a master's degree at the Rhode Island School of Art and Design in ceramics, will have her new work "Thesis" on display at Chiaroscuro Gallery in Canyon Road.
"I'm lucky the gallery represents me," says Rose. "I don't like to deal with buyers - sometimes I'm a little too honest."
But perhaps the biggest aspect of Indian Market, and what all agree on, is its people.
"It's a living gathering," says Simpson of Indian Market, herself about to attend feast day at her native Santa Clara. "I really love being there and seeing people I love, artists whose work I adore. I know lots of amazing people I've met only because of Indian Market. There's an amazing spirit there."
David Gaussoin will be there, showing his jewelry. Despite his sometimes rocky history with the market, Gaussoin, who grew up helping his mother, renowned jeweler Connie Tsosie-Gaussoin, at her Indian Market booth, appreciates the market's history - and new direction.
In reaction to the push by new artists, Indian Market is slowly expanding its definition of art. Last year was the first time a film category was included.
Director Bruce Bernstein said the decision was in part to give non-Natives "a broader context of Native life."
The short film "Shimasani" by Navajo filmmaker Blackhorse Lowe won a share of Indian Market's Best of Show Award that year. But perhaps indicative of SWAIA's attempt to please both tradition and the new market, the judges decided the best of show award was a tie between Lowe and Hopi artist Stetson Honyumptewa's kachina piece.
"There have been a lot of changes," Gaussoin admits. "And I'm excited to see where it's going. My hope is that they'll encourage the younger artists but not forget older artists who made Indian Market what it is."
Indian Market ran from Aug. 20 to 21. With the exception of Simpson, all the artists mentioned in this article showed their work at Indian Market.
Gaussoin, in collaboration with Navajo designer Orlando Dugi, showed his jewelry on models in an Aug. 18 show at the Museum of Contemporary Native Art in downtown Santa Fe.