Arts
'Jonesy' leaves readers jonesing for more
By Shondiin Silversmith
Navajo Times
WINDOW ROCK, Sept. 26, 2013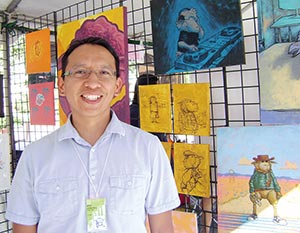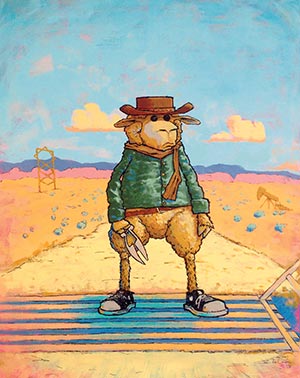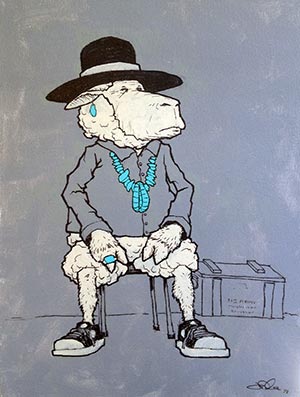 (Times photo – Shondiin Silversmith)
advertisement
Sheep mean a lot to the Navajo people and in a unique way of showing their importance, Navajo illustrator Jonathan Nelson has created a comic book about the modern life of a sheep living on the Navajo Nation.
Jonesy is his name and selling his wool is his game. Well, it is in the first part of Nelson's comic anyway as he introduces Jonesy, a sheep fresh out of high school still trying to figure out what to do with his sheepy life.
"Jonesy wakes one warm spring morning and as the day goes on he finds himself in new situations. We start on the northeastern edge of the Navajo reservation in the farming community of Hogback, N.M. Having just finished high school, Jonesy has been weighing his options for his future. Today, he is no rush to get moving," states the opening lines of Nelson's comic "The Wool of Jonesy."
These are the only words in the comic; the rest of the story is told entirely in pictures.
Nelson, 36, developed Jonesy as part of his last year of his graduate program at the University of Arizona in 2011.
His committee wanted him to come up with a body of work. Nelson wanted his project to involve Navajo culture and identity.
Nelson said he wanted to include some of his perspective of being Navajo, not really being able to speak his language or growing up in a traditional setting.
The original thought for his project revolved around the coyote, but when he couldn't really find a way to tie that into Navajo and identity, he changed his perspective to sheep.
"I thought, Why not sheep? I grew up with them, I know about them," Nelson said, adding that he would often help his mother shear sheep, butcher them, card wool and spin it.
Another reason why Nelson chose a sheep is because they are closely tied to Navajo culture as a form of both clothing and food.
"They are a way to survive," Nelson said. He also wanted to use the sheep to go against stereotypes seen in the world of Indian arts -- as well as stereotypes of sheep.
So with that in mind Jonesy was born.
"They are seen as meat, easily influenced, followers - so by using sheep I've given them this voice where they are able to go beyond the boundaries," Nelson said.
Nelson's character Jonesy comes from a family of weavers. He knows where he comes from and what he'd like to do, Nelson said.
"He has a strong personality," Nelson added.
So far Nelson has only the first of his comic book series for Jonesy, but he is developing the rest of his story.
But Jonesy doesn't only live inside Nelson's comic book. Nelson has brought him to life through various paintings that feature him with Coyote, whether it's Jonesy in a fight stance with the coyote or wearing a coyote skin to blend in while eating next to them.
He also features Jonesy in normal situations, like being a DJ or just lounging around wearing turquoise.
Nelson said everyone gets the humor he is trying to portray.
"I think humor is a large portion, but also people can relate to the character and they might see themselves or someone they know in these characters," Nelson added.
Nelson graduated from the University of Arizona in 2012 with a master's of fine arts, but has been an artist since he was a child.
Nelson said he doesn't really remember when he started drawing. His earliest memory of his artistic abilities included him creating a bunny out of cotton balls, but as he got older his focus turned to drawing.
"I've always had a sketch book and I was always drawing," Nelson said, adding that comic books were his big influence when he picked up drawing in elementary school.
advertisements
---
"I would trace them at the kitchen table," Nelson said, recalling how nice and big the table was É perfect for spreading out all his pencils and papers.
Nelson said his artwork all started with comics, though he never thought of it as a profession.
Before he went to UA to get his master's, Nelson said he worked professionally as a graphic artist since 2003, and the skills he developed there helped him further his artwork.
Nelson said he drew from a lot of his comic book influences to create his comic, plus his love for drawing people (although all the people in "Jonesy" are sheep).
"I love illustrating, drawing a lot of people. I enjoy drawing faces that are real expressive, and all of that went into this comic book," Nelson said.
Nelson now resides in Albuquerque, N.M. and is a teacher at the Institute of American Indian Arts in Santa Fe, N.M. He is Kinyaa'áanii born for Nakai Dine'e.
Information: www.badwinds.com. Contact Shondiin Silversmith at 928-871-1138 or ssilversmith@navajotimes.com.