culture
'Pull of the Moon' project combines Chinese, Navajo
By Lane Franklin
Navajo Times
COYOTE CANYON, N.M., July 3, 2014
advertisement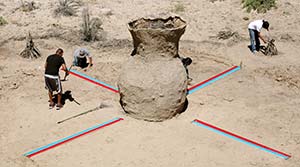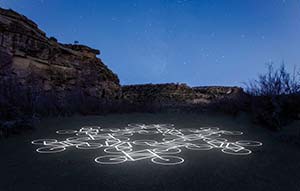 (Courtesy photo)
This past Saturday, internationally acclaimed Chinese dissident artist Ai Weiwei and local Navajo artist Bert Benally collaborated to create the "Pull of the Moon" installation.
"The concept is based on Navajo aesthetics, the idea that for the Navajo, art is more about the process than the finished product," Benally stated in a press release.
The installation was a temporary and site-specific display to signify the transformative power of international collaboration highlighting cultural challenges and the capacity for growth and healing from impactful events.
"It is important to pass on to future generations where we are from and to give a glimpse of the mind and soul of the people living in that time," Weiwei said.
Beneath the natural sandstone cliff, both artists' work laid side by side, each holding a significant message for the Chinese and Navajo people.
How to get The Times: