education
83 students earn Chief Manuelito scholarships
By Noel Lyn Smith
Navajo Times
FARMINGTON, August 2nd, 2012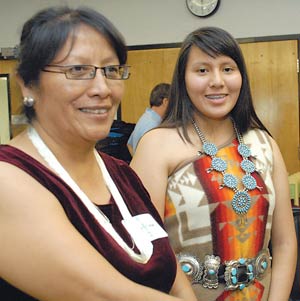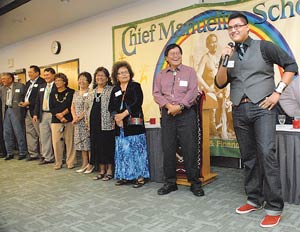 (Times photo – Paul Natonabah)
advertisement
K atarina Benally's eyes lit up and a big smile grew across her face when asked about being a recipient of the Chief Manuelito Scholarship.
"It feels surreal. I've grown up knowing about this ceremony, this award for the longest time but I never thought I would actually get it," Benally said.
Benally, 18, was one of 83 recent high school graduates who were honored with the scholarship July 27 at the Henderson Fine Arts Center at San Juan College.
She graduated from Whitehorse High in Montezuma Creek, Utah, and will attend Southern Utah University in Cedar City, Utah, to major in nursing.
The road to achieving the academic scholarship was not easy and Benally credits her teachers and her mother, Patricia Benally, for encouraging her to continue striving for the award.
"It was a lot of hard work," she said about the time spent studying and completing homework.
Jesse Velasco echoed Benally's statement about hours spent studying to qualify for the scholarship.
"I think it all comes down to hard work, dedication and determination," he said. "I'm pretty sure a lot of people have the potential to do it but they don't fulfill or go after it."
Velasco graduated from Farmington High and plans to study at San Juan College before transferring to the University of New Mexico in Albuquerque to study journalism.
advertisements
---
Wynonna Slim, who will attend Arizona State University in Tempe, graduated from St. Michael Indian School in St. Michaels, Ariz.
"Proud. It means a lot to me and my family," the 18-year-old said about receiving the scholarship.
Slim, 18, is the fourth child of nine. Her older sister attended the University of Arizona in Tucson, a brother is studying electrical engineering at UNM and another brother is a double major at Northern Arizona University in Flagstaff.
They talked to Slim about the college experience and life after high school. She also attended pre-college programs in New Hampshire and New Mexico.
When it came to planning the next step in life, Slim considered her siblings' advice and took the lessons she learned at the pre-college programs into consideration before deciding on ASU.
She said she selected ASU because of its pre-med program, which may lead her to a career in neurology or pediatrics.
The Chief Manuelito Scholarship is awarded based on ACT and SAT test scores and grade-point averages. Students must also complete a course in Navajo language and civics in order to be eligible.
Completing classes in Navajo language and civics proved to be an interesting task for twin sisters Andi and Jamie McBryde, graduates from Ogden High in Ogden, Utah.
Since their high school does not offer Navajo language or government classes, they completed the requisite online through the Utah Electronic High School.
In the end, the sisters were proud to achieve the status of Chief Manuelito scholars.
"It's definitely a scholarship that shows tradition...and a lot of people recognize it when you tell them," Jamie said. "I think it's a good privilege to be honored."
For Andi, she said it is one of the coveted scholarships to possess as a Navajo student.
"It definitely helps you go to college and do better things," Andi said.
The sisters will attend the University of Utah in Salt Lake City, with Andi majoring in business and Jamie studying biology. Both hope to become veterinarians.