education
'I will keep learning'
To'hajiilee school creates Diné language learning environment
By Colleen Keane
Special to the Times
TO'HAJIILEE, N.M., Oct. 9, 2014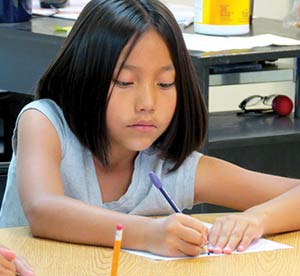 (Special to the Times - Colleen Keane)
advertisement
"I
know! I know! I know!" several kindergarten children in Lyndell Platero Chavez's class chimed out when she asked them to say words like head, ear, hand and leg in the Navajo language.
"We have been at it for two weeks now. We go over and over it," Chavez said in her classroom at the To'hajiilee Community School.
At the beginning of her class last Friday morning, each of her students stand and identify their clans in the Navajo language.
"I love the Navajo language," said third-grade student Tykeirah Apachito, as she held up a picture of a girl wearing a traditional dress that includes several words she's learning this week.
How to get The Times: