education
A morning with Baje
Youth learn to create hózhó through art
By Carmenlita Chief
Special to the Times
FLAGSTAFF, July 11, 2013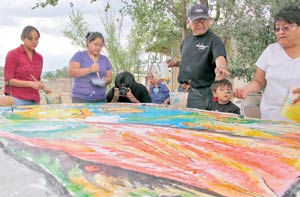 (Special to the Times – Carmenlita Chief)
advertisement
W hen sung, traditional Diné believe, Navajo songs have the powerful ability to attract hózhó and positive events into a person's life.
For 10 youngsters belonging to the Morning Star Leaders Youth Council, a Native youth organization, based in the Phoenix metro area, the Navajo songs they shared over the weekend blessed them with a unique opportunity to spend a day learning and creating art with legendary Navajo artist Baje Whitethorne, Sr. at his homestead in Flagstaff on Sunday.
Early that morning, amid the cacophony of horse whinnies and dog barks on Whitethorne's ranch, youth council President Megan LaRose, 15, explained how the youth council members came up with the idea of organizing the art workshop they decided to call "A Morning with Baje."
"Originally, we met Baje, and we really liked his artwork," said LaRose, of their meeting back in March at the Heard Museum Indian Market. "We started talking, and we put together a workshop with him. He's going to teach us to do watercolors and how to draw and sketch."
It just so happened that Whitethorne and Art of the People, Inc. - a group of Southwest regional Native American artists that most recently have adorned the Twin Arrows Navajo Casino Resort with vibrant pieces of Navajo art - were in need of Navajo songs sung by children to be featured in an extension of the group's promotional video that initially premiered at the casino's VIP grand opening on May 22.
Needless to say, a partnership was made: Whitethorne would teach and the youth would sing.
Armed with five pieces of drawing paper, the kids began the morning workshop with instruction on how to create rough sketches of simplistic Navajo landscapes for which Whitethorne is well-known.
"Take your fingers to the edge of the paper, and draw a frame around your picture," Whitethorne instructed. "Sometimes there is a little bit of discomfort at home, and this is your space."
Birds punctuated the air nearby with enthusiastic chirping.
"Are you ready?" Whitethorne asked. "Now, do as quick as I can."
Encouraged to practice drawing by doing and not thinking too intently on what they were to draw, the kids drew - as fast as they could - the landmarks of quaint Navajo life that Whitethorne quickly rattled off.
First, it was the Mittens of Monument Valley, then rolling hills in the foreground, followed by juniper trees, a brightly shining sun, clouds, a log Hogan, a sheep coral, a shade house, water barrels, and crows flying high above the land.
"Tsiilo!" Whitethorne prodded gently. "We're not trying to make it perfect, we're just trying to work quick."
The youth council members, along with parent volunteers, giggled excitedly as they guided their Sharpie markers hastily all over their drawing paper.
At the very end, everyone was instructed to write "Hózhó" at the top of their drawing frame, along with their names at the bottom.
"Jo hozho nitsaakees," said Whitethorne, explaining in Navajo that one's thoughts ought to be rooted in beauty and positivity when creating anything.
advertisements
---
After the first round of drawing, the group repeated their landscape drawings four more times. On their third attempt, however, they were told to slow down and to focus on basing their new landscape drawing on the one finished previously - only more detailed.
As Whitethorne guided the group's third and fourth renderings, he also became an increasingly descriptive storyteller.
"You need to draw a tall door to the hogan because our chi who lives there is really tall, and he has really tall sons with long legs who play basketball for Monument Valley High School," Whitethorne narrated as the kids and adults both drew.
After the fifth and final round of drawing, the message of practice makes perfect was shared, which resonated well with Skylar Yazzie, 14.
"I like how Baje said repeating a drawing can make you perfect it more if you keep practicing - kind of like sports," Yazzie said.
Megan LaRose echoed Yazzie's sentiment, adding that by the end of the final round of drawing, she could tell the stark difference between the early rough sketches and the final detailed drawing.
"It showed me how practice can actually help," LaRose remarked.
Acrylic painting
After lunch, the kids engaged in a group acrylic painting lesson atop a huge canvas drop cloth spanning at least 5 feet by 7 feet.
Ten-year-old Nizhonie Denetsosie-Gomez, who loves to draw horses and sketch traditional Navajo designs for her dresses, said this was her favorite part of the workshop.
She liked it so much in fact that when the workshop drew to a close, she gave Whitethorne three giant hugs with a huge grin on her face each time.
"Art is a universal way to communicate, said Whitethorne. "There are no languages, just visual."
By simply showing them a process of creating art, which is "calming" in itself, Whitethorne said that now kids can recall what they learned later, and possibly create art pieces to raise money for their projects.
Debbie Nez-Manuel, co-founder of the Morning Star Leadership Foundation, Inc., which assists with the affairs of the youth council, said Whitethorne's "heart was in such a good place" when he invited the kids to hold the workshop at his home.
Nez-Manuel, who is Tsénjíkiní from Klagetoh, Ariz., co-founded the Morning Star Leadership Foundation, Inc. in February after a couple of years of planning with her husband Royce Manual, a member of the Salt River Pima-Maricopa Indian Community near Scottsdale, Ariz.
The Manuels, along with youth advisor Amber Brown, helped organize the youth art workshop in an effort to reinforce cultural identity through an experiential learning process.
When asked what was significant about the workshop, Nez-Manuel remarked, "It's a connection between people. One of the most important values we have growing up is kinship."
In addition, the youth learn to recognize their cultural heritages - whether they are Navajo, Choctaw, O'odham, or Mexican, but also that they are all one people, she added.
"We often will tell the kids stories about the historical times where people were just considered human beings before anything," Nez-Manuel explained. "Then came a time in history where the government had to put us in different places for different reasons, but before that we were one people, and we all supported one another in different ways. We may have exchanged food, goods, skills, but we worked in partnership."
Nez-Manuel says the foundation is currently working on obtaining their 501(c)(3) non-profit organization certificate by the end of the year, and in the meantime she encourages all interested Native youth to join the Morning Star Leaders Youth Council.
The mission of the youth council is to create educational, cultural, and social development opportunities for tribal youth as "today's leaders" to foster their own personal and civic leadership growth.
The youth council holds meetings on the last Thursday of every month in various locations across the Phoenix area.
They hope to have an official website launched in early August, but for now can be reached at their Morning Star Leaders Youth Council group page on Facebook for more information.