education
Leaving a digital footprint
Diné language app offered for mobile users
By Shondiin Silversmith
Navajo Times
WINDOW ROCK, Sept. 18, 2014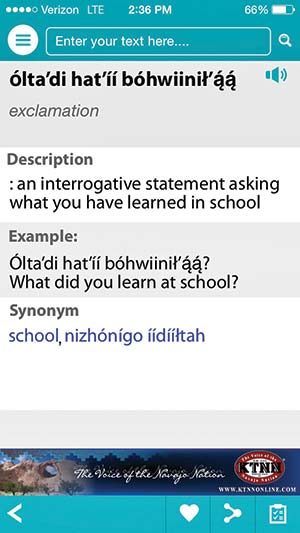 advertisement
T
here are a lot of different resources out there to help you learn the Navajo language. Here is another one you can add to that list.
Native Innovation Inc. released its new Diné Bizaad application for the iPhone, iPod and iPad devices.
The Diné Bizaad app was released on Sept. 13 and is available for a free download in the iTunes store.
"The Navajo language in our culture is sacred and valued," said Kialo Winters, an education technology specialist, on why the app is free for everyone. "Our company didn't want to make a profit off our language because our language is universally free."
"We, at Native Innovation, want to contribute to the indigenous language revitalization initiative," Winters said, adding that the free tool they invented will help preserve the language for generations to come.
Native Innovation President Jerome Tsosie said the app is their way of giving back and allowing people to experience a different perspective on learning the Diné language.
How to get The Times: