News
Diné a force in Arizona agriculture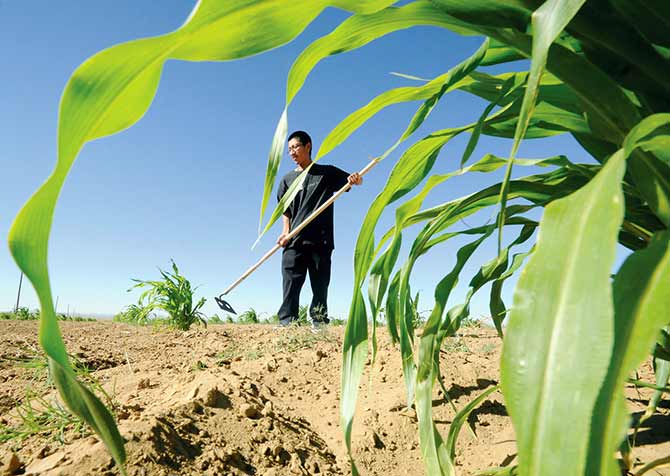 (Special to the Times - Donovan Quintero)
By Cindy Yurth
Tséyi' Bureau
CHINLE, Aug. 21, 2009
They may not be making much money at it, but Native Americans are a major force in American agriculture, the first accurate count of Native farmers and ranchers reveals.
And it should come as no surprise that the nation's largest land-based tribe is right out in front.
The U.S. Department of Agriculture last month released the results of its 2007 Census of Agriculture - the first one that counted individual farmers on each of America's Indian reservations - and there is no denying that the traditional occupation is still strong among the first people to till this continent's soil.
The vast majority of America's counties boast at least one Native-operated farm or ranch. But on the map in the statistical summary of the USDA report, the big red diamond across the Four Corners - indicating counties with more than 500 Native-operated farms - tells the story: the farming-est tribe in America is the Diné.
Of the nation's nearly 56,000 Indian farmers, more than one in five is a Navajo. The five counties with more than 500 Indian-operated farms - San Juan and McKinley in New Mexico; and Coconino, Navajo and Apache in Arizona - each include a good chunk of the Navajo Nation, and San Juan County in Utah, which contains the Utah portion of the rez, is not far behind with between 251 and 500 Native farms.
Arizona and New Mexico are the two states with the highest proportion of Native agriculturalists, and Natives - Navajos, mostly - operate more than half of Arizona's farms and ranches.
If anything, the numbers are low, according to a USDA official familiar with the new farm census. The National Agricultural Statistics Service says it did its best to count Indian farmers, meeting with tribal leaders and advertising the census in local media, but the report itself concedes it probably missed more than a few.
"I'm hearing from lots of people that they weren't counted," said Wilson Halwood, a Diné soil technician for the Natural Resource Conservation Service's Chinle office.
Halwood admitted he hasn't yet read the 147-page report, but he's glad it's there.
"Finally, we have some numbers to plug in," he said, noting that many federal grants rely on statistics.
Until this year, stats on Native farmers were few and far between. The Census of Agriculture, which is taken every five years or so when Congress authorizes it, counted each Indian reservation as one farm until the turn of the millennium.
In 2002, a pilot program was launched to count American Indian ag operators on reservations in three states: the Dakotas and Montana. When NASS determined that, yes, Natives would fill out the forms and mail them in, the experiment was extended to the rest of the country for this census.
The result was an 88 percent increase in the number of Native farms, mostly on paper, "although I do think we had a small increase in the actual number," said Michelle Radice, NASS diversity and outreach coordinator.
advertisements
---
In Arizona and New Mexico alone, the count increased from 694 to 12,929 - of which all but 893 were Navajo (and of those, 572 were Hopi).
Which could make a big difference in where the federal ag dollars go in the future, Halwood predicted.
For all their numbers, however, Navajo farmers weren't particularly successful. As a whole, in fact, they lost money, producing $60 million worth of agricultural products but racking up $100 million in expenses, mostly feed and gasoline. Only three Navajo farms grossed over $50,000, and most - 6,854 - made $1,000 or less.
Being a conservation service guy, Halwood attributes that to a neglect of good conservation practices, like rotating crops and pastures.
"We haven't been kind to our Mother Earth," he said. "We're all trying to see how much we can get out of her without putting anything back in."
Diné farms also tended to be small. Most - 9,922 - were between one and nine acres, compared with a national average of 418 acres. Only 93 comprised 1,000 acres or more. However, nearly the entire reservation - 15.7 million of its 17 million acres - is under either cultivation or grazing.
Mostly grazing, of course. Some 5,436 Navajo farms produced crops on a total of 109,000 acres - that figure grossly distorted by the giant Navajo Agricultural Products Industry with its 70,000 acres of alfalfa, beans, potatoes, popcorn and pumpkins, among other crops.
Any Diné schoolchild could guess the main Navajo crop: sheep, although slightly more ranches (7,397 compared to 6,912 that raised sheep) had at least one horse. Some 143,000 sheep roamed the Navajo Nation in 2007. If you slaughtered them all and divided them up, every Navajo would get about two-thirds of a sheep.
There were also 81,000 cows, 35,000 horses and 56,000 goats.
For every Native farm counted by the census, however, there are probably dozens like the Kuwunvana family's half-acre of blue corn near Sichomovi, Ariz.
Like many Hopi farms, the Kuwunvanas' patch keeps the family in corn through the winter, but doesn't qualify as a farm under the census because they don't sell any of their produce.
Mostly, said Alida Kuwunvana, she sends her sons Richard and James Jr. into the corn patch because she believes Hopi men should know how to farm.
Richard, 24, agrees, even though he admits he sometimes hoes weeds with a four-iron to practice his golf swing.
"Our family has farmed this land forever," he said. "We're part of the corn, and its part of us."