News
Cold War patriots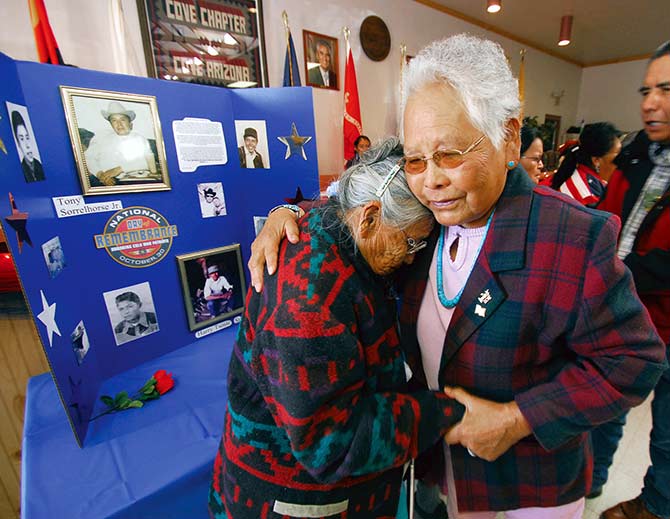 (Special to the Times - Donovan Quintero)
Uranium miners, widows get warm reception
By Cindy Yurth
Tséyi' Bureau
COVE, Ariz., Nov. 5, 2009
It was a very belated thank-you, but appreciated nonetheless.
Some 300 former uranium workers and their family members braved an icy wind Oct. 30 to gather at tiny Cove Chapter and celebrate the first ever National Day of Remembrance for the nation's "Cold War patriots."
Cove was one of 13 communities selected from across the country to host the historic celebration in response to a Senate resolution in March setting aside Oct. 30 as a day to honor those who worked in the country's uranium mines and mills.
The House has yet to pass similar legislation, but is being lobbied heavily by the Cold War Patriots, an organization that advocates for uranium workers of the 1940s-70s.
From the reaction of the crowd at Cove, it was apparent the special day was needed. Widows of miners cried; strangers hugged each other.
Many of the former miners and millers who sacrificed their health working with the radioactive ore have been financially compensated under the Radiation Exposure Compensation Act, but it seemed they still needed to hear "thank you."
Cove, where some of the earliest uranium mines on the Navajo Nation are located, seemed a fitting venue in spite of its isolation. Flags were unfurled and a wreath laid at the chapter's tiny Veterans and Uranium Memorial Park, dignitaries spoke, a video was shown, and of course, there was mutton stew for all.
But for many of those present, it was just being among other miners and their families - not to protest, not to lobby, just to be appreciated - that drew them to the event.
"It feels like a family," said sixth-generation miner Daahaana Baadaanii, who had traveled all the way from Durango, Colo. "I just wanted to be a part of it."
Serafina Nez of Chinle said she had no intention of making the trip across icy Buffalo Pass the day after a snowstorm, but her mother, whose husband and father both worked in the little uranium mines near Tachee, Ariz., insisted.
"She said, 'I'm going,'" Nez recalled. "If I hadn't driven her, I think she would have hitchhiked."
The mysterious ailment known as "Navajo neuropathy" runs strong in Nez's family. Seven of her 10 siblings died of the disease, along with her nephew. Her own daughters, she says, are afraid to have children.
advertisements
---
While most experts pin Navajo neuropathy on a recessive gene that surfaces in relatively small populations like the Diné, Nez doesn't buy it. She blames the mines, one of which was just a mile from her family's home.
"My dad and grandfather both worked there," she said. "My mom used to go over to do their cooking and cleaning while she was pregnant. You don't think that had some effect on our family's genes?"
Similar stories abounded among the Cold War patriots who attended the Cove function. Baadaanii has brain cancer. Others showed up in wheelchairs or on oxygen.
At nearby Red Valley/Cove High School, the mascot is the Miner, pictured on the school's T-shirts as a tough-looking man in a Navajo bun and a hardhat. For the Day of Remembrance, teacher Tom Riggenbach had his students interview any relatives they had who worked in the mines, as part of an oral history project.
"I would say about 75 percent of them had a connection to the mines," he said. Two of the students read their histories as part of the event.
Former miner George Tsosie spoke in Navajo about his own experience.
"We worked for a white man," he said. "He chased us around like a drill sergeant."
The days when they blasted new tunnels were the worst. There were no ventilation holes in the mine, and Tsosie recalled feeling like he was going to suffocate.
"The mine filled up with smoke," he recalled. "We wanted air. How can we get air?"
Eventually, the miners complained enough that the managers drilled a small hole from the surface and ran a hose through it.
"It didn't help much," Tsosie said.
The job paid 90 cents an hour, Tsosie recalled. According to Nez, he was lucky.
At Tachee, she said, the men were often paid in scrip that was only good at the local trading post.
"They must have had a deal with the trader," she surmised of the mining company.
While it was a day to remember and not necessarily to lobby, there were some important people listening. Pete Valencia from New Mexico Congressman Ben Ray Lujan's office said Lujan remains committed to expanding the RECA benefits to cover those who worked in the mines after 1971.
Navajo Nation Council Delegate David Tom (Beclabito/Gadii'ahi), who has former miners in his family, said he felt it was important to attend the event to assure the Cold War survivors they are not forgotten by their tribe.
Tom pointed out that a Navajo delegation has made numerous trips to Washington to lobby Arizona, New Mexico and Utah congressmen for amendments to RECA.
Larry Martinez of the Office of Navajo Uranium Workers pronounced the first Day of Remembrance a success, and by lunchtime was already planning next year's event.
"I think we need a bigger venue, so people won't feel so cramped," he said as he watched people propping themselves against the wall to eat their stew. "Maybe we'll take it to Window Rock, so more people can come."
But somehow, honoring uranium workers at this oft-forgotten chapter in the shadow of the mountains many of them spent their lives hollowing out seemed only right.
At any rate, it's a safe bet people like Baadaanii and Nez's mother will turn out again next year, even if it's on the moon.