News
Marshall Plummer, Diné statesman, dies at 62
By Marley Shebala
Navajo Times
WINDOW ROCK, March 26, 2010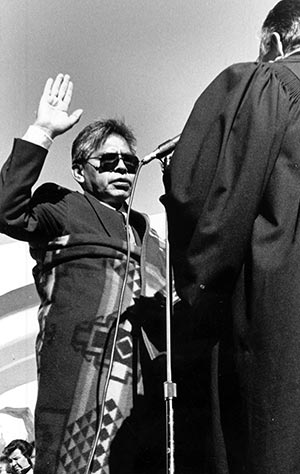 (Times file photo)
advertisement
F
ormer Navajo Nation councilman and Vice President Marshall Plummer died at a Phoenix hospital about 1:45 a.m. today, March 26. He was 62.
Herman Plummer, Marshall's brother, said in a telephone interview from Phoenix that a family meeting will be held Saturday, March 27, at 9 a.m. at the VFW hall (5513 U.S. Highway 64) in Farmington.
Herman said Marshall's children were at his hospital bedside when their father passed on.
He said that the children are taking the passing of their father very hard and so he is speaking on their behalf.
Herman was also at the hospital bedside of his brother.
Mark Schiavoni, senior vice president for fossil generation with Arizona Public Service, announced Plummer's death unexpectedly and prematurely while making a report Thursday morning to the Resources Committee in Window Rock.
Plummer was the human resources director and tribal liaison for the Four Corners Power Plant, which is managed by APS.
The Navajo Times learned earlier this week that Plummer was on life support at the Mayo Clinic. On Thursday afternoon, family members at his bedside contacted the Times and said he'd been taken off life support at about 11:30 a.m.
Family members declined to say why he was hospitalized, but Schiavoni said Plummer had been seriously ill for several months.
advertisements
---
Plummer, a Vietnam veteran, served as vice president under Peterson Zah from 1991 to 1995. He previously served as a council delegate for Coyote Canyon from 1988 to 1991. In 1994 he ran for president against Zah and Albert Hale and came in third.
It was during his tenure on the council that Plummer became one of the "49'ers," a slim majority of delegates who battled then Chairman Peter MacDonald Sr. for control of the government after congressional hearings in February 1989 made public allegations of corruption against MacDonald.
His colleagues' respect for Plummer as a statesman was shown when they voted during that period to appoint him interim chairman after MacDonald was forced to take leave with pay.
In 2006, Plummer's statesmanship was called on again when racial tensions erupted between the city of Farmington and the Navajo Nation over the shooting by a Farmington police officer of a Navajo man and the beating of another Navajo man by three Anglo youths.
Then Farmington Mayor Bill Standley asked Plummer to conduct cultural sensitivity training for all city employees.
Plummer held a bachelor's degree from New Mexico Highlands University and a master's degree in business administration from the University of Phoenix.
Survivors include his wife Pauline and three children, Marsha Shorty, Nathaniel Plummer, and Aurelita Jackson.