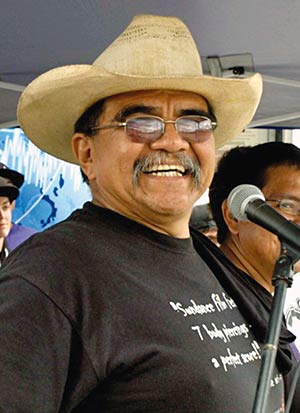 advertisement
L
egendary Diné comedian and singer/songwriter Vincent Craig has died, according to a family member.
Craig, known for the comic-strip super-hero character "Muttonman" that he created and used in performances, passed away at 9:10 p.m. Saturday at Kindred Hospital in Scottsdale, Ariz., said his son Dustinn. Vincent Craig was 59 and would have turned 60 on June 6.
"His battle with cancer was long, hard-fought and painful, but in the end, death came peacefully as he lay surrounded by the love of family who had gathered," Dustinn wrote in a prepared statement.
Reports had circulated this spring that Craig was battling a form of cancer related to the digestive system.
A post on Craig's official Facebook fan page on Saturday night thanked friends and family for their support this spring:
"I am writing this update to inform the many family, friends and fans that my father Vincent Craig left this world at 9:10 pm tonight. We will provide more details in the near future. Thank you all for your support, prayers and positivity. From all his family, we extend our thanks to you all for sharing your love and support with this very special man."
The post reportedly came from Craig's son, Dustinn.
In a prepared statement on Tuesday, Dustinn wrote that his father "tenaciously fought his cancer and held on long past the time when his doctor, who described him as the toughest patient he had ever treated, said most others would have yielded."
"He wanted to stay with his family and he never gave up," said his older brother, Harrison Craig. "His spirit stayed strong. It was only his body that could not go on."
Many times during his long hospitalization, when he could see that his family was struggling, Craig used his famous sense of humor to lift their spirits. Once, after taking a look at the sad and worried faces that surrounded him, Craig asked, "Why all the glum faces?" This caused everyone to laugh and brought them a moment of cheer.
On April 12, Vincent's grandson, Kraig, brought an electric guitar and amp into the hospital and performed a solo concert for his grandfather. Afterward, Vincent asked for his own guitar and then performed a final, impromptu concert for his family. His granddaughter, Ashlee, joined in with him to sing a fun version of "Brand New Key."
Craig then improvised a "goodbye song" of his own words. The following evening, Kraig and Ashlee's brother, Chance, brought his violin to his grandfather's bedside and performed Beethoven's Ode to Joy.
Vincent and Mariddie celebrated 35 years of marriage on April 21.
Vincent Craig's last public appearance before starting treatment for the cancer was Feb. 6 at the Tohono O'odham Tribal Fair.
Along with Mariddie, Craig leaves behind three sons, Dustinn, Nephi and Shiloh; adopted daughter Kyra Little Flower Johnson; five grandchildren, all of them Craigs: Ari Carter, Kraig, Chance, Ashlee and Tristan; his mother, Nancy M. Ettsitty; siblings Harrison, Emerson, Vivian, Elvira N. and Lucia A. Craig; along with a host of cousins, nieces and nephews.
His late father, Bob E. Craig, was a Code Talker who fought at Iwo Jima.
The Diné comedy duo James and Ernie is scheduled to host a show at 7 p.m. the Mesa Hilton, 1011 W. Holmes Ave., Mesa, on May 26 to raise money to help Craig's family with medical expenses.
A public viewing is scheduled from 1 to 8 p.m. today (May 20) at the Fort Apache Branch chapel of the Church of Jesus Christ of Latter-Day Saints.
Services are scheduled for 10 a.m. Friday at the LDS Pinetop-Lakeside Stake Center, 1520 Church Lane, Lakeside, Ariz.
After the service, a 25-mile procession is scheduled from Lakeside to the community cemetery in Whiteriver, Ariz., where Craig and his White Mountain Apache wife, Mariddie, raised their family. Craig, who served in the U.S. Marine Corps, will be buried with full military honors. Afterward, the Relief Societies of the Fort Apache LDS Branch and the Pinetop-Lakeside Stake invite all who have come to celebrate Craig's life to join the family in a feast at the Fort Apache chapel.
During his illness, neither Craig nor his wife were able to work. They incurred enormous expenses. In lieu of flowers, which will be provided by Craig's family, donations may be made to a trust fund to help cover some of this expense:
Wells Fargo Bank
Vincent Craig Donation Fund Account # 6734185546, registered to Mariddie J. Craig.
advertisements
---