News
Reputation restored
New book describes effort by park service to smear local trader
By Bill Donovan
Special to the Times
WINDOW ROCK, April 15, 2011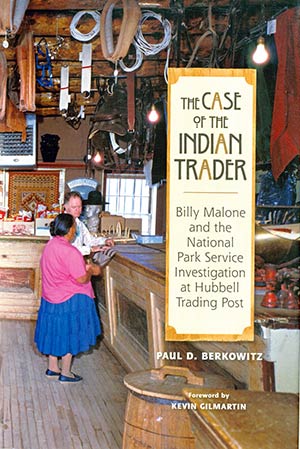 advertisement
P
aul D. Berkowitz, the author of "The Case of the Indian Trader," describes his book as being about "the end of an era in the Old West."
The fact that it took place in Ganado, Ariz., less than a decade ago makes the story of the National Park Service's attempt to put Bill Malone behind bars and take control of his extensive personal collection of Navajo rugs and jewelry a tale that most people on the reservation can relate to.
Malone at the time was the manager of the Hubbell Trading Post, the oldest trading post on the reservation. It had been purchased some 40 years before by the NPS from the Hubbell family. The NPS was under orders from Congress to operate it as an authentic trading post under the supervision of a real Indian trader.
Probably no one other than Berkowitz could have written the full story of what happened to Malone than Berkowitz. He was a senior investigator for the NPS who was given the job in 2005 - 18 months after Malone's collection was confiscated - to prove that Malone had violated the government's trust and either stole or misappropriated his personal collection while he was running the trading post.
Berkowitz, who retired from the NPS shortly after concluding the Malone investigation, said during a telephone interview from his home in Colorado that when he was first approached about the idea of getting involved in the investigation, he assumed that there was some validity to the accusations.
Then he did something none of the other federal investigators had done - he called Malone to get his side of the story.
"He was 100 percent cooperative," Berkowitz said, admitting that Malone took a chance since his job was to prove wrongdoing by Malone. But that's what Berkowitz's investigation did - give Malone back his life while at the same time pointing the finger of blame at those who were behind the movement to smear Malone's name.
Malone started in the Indian trading business in 1960, serving an apprenticeship of sorts at various trading posts on the reservation until 1980 when he was hired by a nonprofit corporation called the Western National Parks Association to run Hubbell's Trading Post.
Everything seemed to be going well and Malone was thinking or retiring from the job in a few years when on the morning of June 9, 2004, Malone was fired and then found federal agents at his doorstep with a warrant to confiscate his entire Indian arts and crafts collection, which consisted of hundreds of rugs and thousands of pieces of Indian jewelry.
"I was really blindsided by the WNPA," Malone said in a telephone interview Tuesday. "They made a deal with the Park Service to take over my personal collection as a spoils of war."
The rugs and jewelry had been collected, piece by piece, over 56 years and was worth several hundred thousand dollars, if not millions. The argument federal officials made was how could someone amass a collection of that value on a government salary?
But if someone had done any investigation before the raid - and no one apparently had - they would have learned something about the Indian trading business that was well known in the industry.
In 1998, Malone talked about this aspect of the Indian trading business.
advertisements
---
"In 1963, I could buy a rug that would fill the floor of this house," he said. "I'm talking something that would have been a 12 x 18 or something like that. They were only $350, $500 in those days.
"Today, to buy a rug like that, they could run anywhere from $15,000 to $20,000 - a big rug. So things have changed. And little rugs. I know weavers that get $2,500 for a small tapestry rug, $4,000 or $5,000. Nobody ever dreamed that rugs were gonna cost that much in those days."
Instead of investing in stocks or land, Malone did what most traders did - invested in Indian arts and crafts knowing that their value would far appreciate more than any other kind of investment and would be safer as well.
In his book, Berkowitz said that Malone, who still had the support of his friends, had to wait as the investigation proceeded, his spirit crushed. The investigation turned into an "amazing series of allegations leveled against him, allegations that literally equated him with the likes of Al Capone."
Looking back at that time, Malone today said it was the hardest period of his life.
"I was literally knocked to my feet. I became a recluse," he said, adding that if it hadn't been for the support of his friends, he doesn't know what would have happened to him.
Eventually, because of Berkowitz's investigation, the truth finally came out and the case against Malone was dropped.
In July of 2006, he drove to Tucson and picked up his collection, which was stored there by the WNPS. His reputation restored, Malone went to work for Shush Yaz Trading Co. in Gallup where he continued to buy rugs and jewelry from the same families he bought from while he was at Hubbell's.
But the story doesn't end there.
Berkowitz's investigation got in the hands of people outside the NPS and Malone's accusers found themselves having to retain their own attorneys and refused to comment to the newest round of investigators hired by the Office of the Inspector General at the Department of the Interior. Many would lose their jobs.
Malone also filed a civil lawsuit against the WNPS, which is now winding its way through federal court. He's now retired but says he still buys rugs and jewelry from his loyal artisans.
But the biggest loser may have been Hubbell's Trading Post, which Berkowitz said suffered a "premature death" after Malone left. It's still in operation but has lost much of its luster and is now, in the eyes of many in the community, more of a convenience store than a trading post.
Malone said he enjoyed reading Berkowitz's book since it revealed "a lot of stuff going on behind the scenes that I did not know about."
It is also the first book to expose many of the secrets of the NPS, which Berkowitz described "as a world unto its own."
"There has been very little research and very little written about its culture and organizational psychology," he said and the book spends many pages describing how being loyal to the park service can overcome a wide variety of sins and lead to undeserved promotions.
The book came out April 1 and is available only in hardcover from the University of New Mexico Press, local bookstores or on the Internet where it is selling at Amazon for $27.98.