News
'All I could do was pray'
Soldier finally receives Silver Star for service in Vietnam
By Marley Shebala
Navajo Times
WINDOW ROCK, Oct. 10, 2011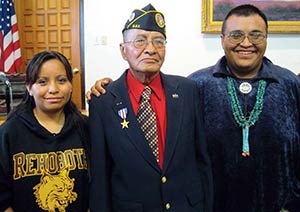 (Times photo - Marley Shebala)
advertisement
P
erry Benally of Tohatchi celebrated his 22nd birthday on the grave of a Vietnamese farmer.
Benally, 65, was forced to take refuge on the grave after North Vietnamese soldier ambushed his platoon on day 10 of the 15-day Battle of Tam Quan, a town in the central highland's northern coastal part of Binh Din Province.
That was on Dec. 16, 1967.
Army Sgt. Doug Warden, then 21 years old, recounted in his book "Boy Sergeant, A Young Soldier's Story of Vietnam," that Benally and five other members of the 4th platoon "walked right into a major fortification of the NVA."
"The NVA waited until they were right on top of them before they opened fire," Warden said.
According to two articles written by Spec. Richard Hawkins, on Dec. 17, 1967, three of Benally's team were immediately killed as they advanced on a fortified village through thick hedges and palm trees.
"Enemy sniper rounds began to crack around them as they moved into the village," Hawkins reported. "Fragments from an enemy rifle grenade tore into Benally's right leg."
Hawkins reported that Benally, whom he interviewed at the 15th Evac Hospital at Bong Son, recalled in a "soft voice showing little emotion," that the wound "didn't hurt much so I just kept on going."
But as Benally and his buddies moved toward a hedgerow, fire from enemy automatic weapons suddenly erupted from it.
As Benally fired on the NVA and provided cover for his buddies to withdraw, an enemy machine gun bullet creased his right temple.
"It just stung," he told Hawkins as he gestured toward his bandaged head.
Two of Benally's wounded team members lay in a ditch about 20 feet behind Benally.
After the rest of Benally's company regrouped and attempted a second assault, they rescued the two wounded soldiers but heavy enemy fire drove them back before they reached Benally.
advertisements
---
They made their third assault with armored personnel carriers but they still couldn't reach Benally.
One of the APCs was within 13 feet of Benally when an enemy recoilless rifle disabled it.
The sun was setting and darkness came.
Benally began crawling with his rifle. He spotted two NVA stepping out from behind a hut about 20 feet away.
"I emptied a magazine at them," Benally said.
He figured that he had killed them and continued crawling and found a U.S. grenade, which he threw at the spot where he had been wounded in the face.
The explosion covered his continued escape down a trail, where he spotted a hole that he crawled towards until an NVA soldier stuck his head out of the hole.
"I just swung my rifle as hard as I could at his head," Benally told Hawkins. "I hit him twice."
He took off running and came across the farmer's grave, which was encircled by a stone wall.
U.S. artillery arrived, along with three infantry companies and three APCs, which surrounded the village and trapped most of the NVA.
And then the big guns from nearby U.S. fire bases began pounding the village throughout the night. But as soon as the bombing stopped, the enemy would begin firing back.
"All I could do was pray," Benally said.
When morning came, spotter planes overhead were marking targets for Air Force fighter bombers, which arrived almost immediately after the planes left. The bombers dropped 754-pound bombs that shook the earth.
When Benally heard an APC coming close to his position, he stood up and waved. He learned about 42 years later that it was Warden who recognized him.
Benally was awarded two Purple Hearts while he was hospitalized but he didn't receive his Silver Star, the third highest military award, until Sept. 9, 2011.
Warden, 64, and former Charlie Company GIs Terry Combs, Thomas Crabtree and Rick Valles traveled from across the country to witness Sen. Tom Udall, D-N.M., pin the Silver Star on Benally during a ceremony at Gallup City Hall.
After the ceremony, Benally said that he didn't receive his Silver Star until then because his paperwork got lost.
He said that when Warden learned that he had not received his Silver Star, Warden renewed the paperwork and started contacting military personnel in 2008.
In an interview after the Silver Star ceremony, Vaughn Benally, 27, the oldest of Perry Benally's three sons, and Lucindie Benally, 17, his only daughter, both said that they were very proud of their dad.
Lucindie wiped tears from her eyes and said the crowd that attended the ceremony surprised her.
"I like how much people respect him," she said.
Perry Benally is Ashiihi (Salt clan), born for Kinlichii'nii (Red House clan).
He said that his prayers on the battlefield of Tam Quan involved a promise to God "to work and help his people...if I made it out of there."
He earned bachelor's and master's degrees in social work after returning from the Vietnam War and worked at the Las Vegas, N.M., Medical Center, the Navajo Nation's Division of Social Services and the U.S. Veterans Affairs center in Farmington. He took a medical retirement in 1999.
"My wounds used to really hurt when I was in school," he remembered. "But even though I had medical problems and was diagnosed with PTSD I still made it. These young students have no excuse. They can easily make it."
Perry Benally added that he supports more funding for tribal scholarships. All three of his sons were denied scholarships because "no money was available."
Perry Benally said he's also very concerned about teen suicide.
"I believe it's linked to a combination of problems - negative peer pressure, low self-esteem, lack of parental involvement and too much time playing video games and watching inappropriate television shows," he said.
He said he turned in an application for veterans housing in the 80s but was told his paperwork was lost.
Perry Benally's late father, Grant Benally Sr., was a World War I veteran. His late older brother, Norman Benally, was a Korean War veteran. His late young brother, Gale Benally, was a Vietnam veteran. His later maternal uncle, Harry Kinsel, is a WWII veteran. Perry's paternal uncle, John Benally, 90, is also a World War II veteran.