News
'Language is important...'
Navajo Code Talker Samuel Tso laid to rest in Lukachukai
By Noel Lyn Smith
Navajo Times
LUKACHUKAI, Ariz., May 17, 2012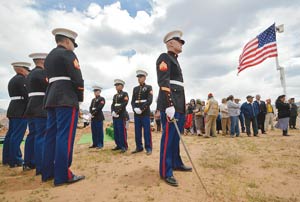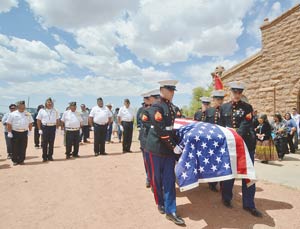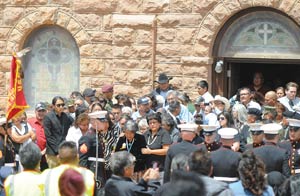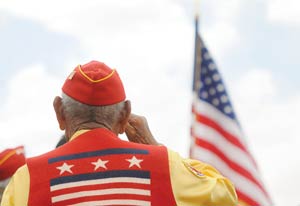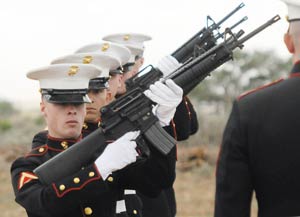 (Special to the Times - Donovan Quintero)
advertisement
I
t seemed Mother Earth knew Navajo Code Talker Samuel Tso was being laid to rest Wednesday because the wind calmed as the funeral procession journeyed to the veterans' cemetery from St. Isabelle Catholic Church.
Tso, 89, died May 9 from cancer at San Juan Regional Medical Center in Farmington. He was the vice president of the Navajo Code Talkers Association and a member of the Navajo Code Talker Foundation.
With no empty chairs available, people surrounded the church entrance to hear the funeral Mass. Speeches and additional honors were presented during the reception at Lukachukai Community School.
Two of Tso's grandchildren - Samuel Nakai Tso and Lena Tso, both of Bellingham, Wash. - presented a eulogy chronicling their grandfather's personal and professional life.
A touching moment came when Samuel said his grandfather enjoyed collecting cider tree seeds from the Pacific Northwest with the idea of planting them here.
When members of the U.S. Marines 4th Recon Battalion, Delta Company, from Albuquerque placed the coffin inside the hearse, one of Tso's relatives, Freeland Jishie, of Lukachukai, sang a memorial song that carried throughout the church grounds.
Flying to the east was a 28-by-30 feet U.S. flag, guarded by Fred Jim and Clyde Wilson, both employees of the Navajo Tribal Utility Authority line department in Shiprock.
Tso was buried with full military honors, including a rifle salute.
He was born June 22, 1922, at Black Mountain, located west of Many Farms, Ariz. He was Zuni Táchii'nii (Zuni Red Running into Water Clan), born for Naakai dine'é (Mexican Clan).
Tso would have celebrated his 60th wedding anniversary with his wife, Ann Yazzie Tso, next month. The couple met when they were working at Intermountain Boarding School in Brigham City, Utah.
Tso is survived by Anne; son Ron Tso (Danita Washington) of Bellingham, Wash. and daughter Yvonne Tso of Lukachukai, Ariz.; grandchildren Samuel Nakai (Helena) Tso and Lena Tso of Bellingham, Wash., Adrianna Tso (Skyler Revey) of Lukachukai, Ariz.; great-grandchildren Kalen Tso and Nakaia Tso of Bellingham, Wash., and Athena Revey, Ryan Revey and Skyler Revey Jr. of Lukachukai, Ariz.
"There are many things I'll miss," Ron said Tso said in a telephone interview Tuesday. "His calmness when talking about things. He'd think through what he would say to you and they were always good words."
Tso attended Chinle Boarding School then graduated from Wingate High School. After graduating he went to San Francisco where he was employed by the railroad at age 17 but lied about his age, claiming to be 21, in order to work.
He served with the U.S. Marine Corps from February 1943 to March 1946 and completed basic training, communication school, reconnaissance training and trained to become a code talker at Camp Pendleton, Calif.
He fought on Iwo Jima with the 5th Marine Division as a member of a recon battalion, where he witnessed the flag raising on Mount Suribachi.
Tso also served in the occupation of Japan and was stationed at Nagasaki.
advertisements
---
In 2001, he received the Congressional Silver Medal for his service as a code talker.
After his discharge, he returned to San Francisco then rode a bus to Gallup and hitchhiked to Black Mountain.
Following his return home, he was informed that his father, mother and sister had died when he was in the military so he left the next day to find work.
He attended Haskell Indian Nations University in 1950 and earned a bachelor's degree in elementary education from Utah State University in 1962 and a master's degree from Arizona State University in 1975.
"He realized how important and valuable it was for people to get their education," Ron said. "The only way he felt he could do that was becoming a teacher."
After Samuel and his family settled in Lukachukai, he went to work at Lukachukai Boarding School, first as a teacher then as a teacher supervisor before retiring in 1986.
After retirement, Tso remained active in education by serving on school boards in Chinle, Lukachukai and Many Farms.
Ron said he was aware of his father's military service but did not know he was a code talker until Yvonne told him that their father was preparing to march with the code talkers in the Navajo Nation Fair parade.
"I said, 'What?' and she said, 'Dad was a Navajo Code Talker,'" he recalled.
His father did not talk about being a code talker because the men were told to keep it private because they were entrusted with secrets of the United States, Ron said.
Samuel Tso returned twice to Iwo Jima and traveled throughout the United States giving presentations about the code talkers and contributed to the documentary, "Back to the Battlefields."
He was also a member of the Marine Corps League and Veterans of Foreign Wars Post 1677.
Code talker Tso was invited by the National Indian Education Association and the National Congress of American Indians to testify before the Senate Committee on Indian Affairs about the importance of teaching Native languages in schools.
"Language is important because it goes hand in hand with culture. To learn your language is to learn your culture," Ron said was his father's reason for testifying.
Among Tso's last public appearances was The Boeing Company in Everett, Wash., Northwest Indian College and Western Washington University, both in Bellingham, Wash.
In January, Tso spoke at the memorial service for code talker Keith Little. Both men advocated for the Navajo Code Talkers Museum and Veterans Center, a $42 million facility.
"The people of America asked us to help during the Second World War and we did not refuse. We gladly went along and helped," Samuel Tso said at that time.