News
Native leaders leave White House conference inspired, rejuvenated, recommitted
By Alysa Landry
Special to the Times
WASHINGTON, D.C., December 6, 2012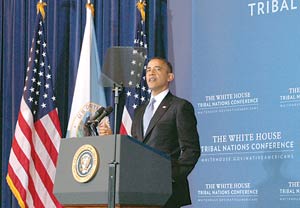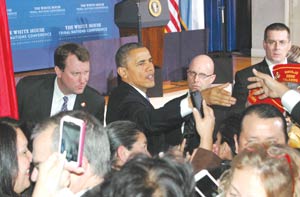 (Special to the Times – Alysa Landry)
advertisement
A
large painting titled "Navajos Breaking Camp" hangs on the wall of Secretary Ken Salazar's office at the Department of the Interior.
Salazar invited all attendees of yesterday's White House Tribal Nations Conference to accompany him to his sixth-floor office to view the painting as a token of his dedication to Indian Country – and a symbol of how American Indians and Alaska Natives have taken a front seat in the Obama administration.
Most attendees, including Navajo Nation Vice President Rex Lee Jim, took advantage of the offer, along with three Navajo Code Talkers who helped post the colors at the conference.
"I'm feeling great, I'm feeling inspired," Jim said after the conference ended. "This is sort of like an inspiration, a recommitment, a renewal. I firmly believe that we can accomplish a lot in the next four years working with this administration."
The daylong conference, to which representatives of all 566 federally recognized tribes were invited, inspired and rejuvenated tribal leaders, Jim said.
This year's conference was the fourth in the four years since President Barack Obama was elected and made promises to improve relationships with the Indian nations.
Although the conference included many commitments on behalf of the federal government to keep moving forward, it also served as a reminder of the responsibility tribes have to get things done on their end, Jim said.
"We have a lot of work to do," he said. "We are given every opportunity to advance our agenda through this administration and we are not pushing hard enough. We need to have a strong sense of urgency on Navajo and in Indian Country to push these things through."
Jim attended a breakout session that focused on protection of culture, natural resources and the environment. He said he is especially interested in using the Navajo Nation's 27,000 square miles of land to the tribe's benefit.
"The question to us is how do we make the most of that land," he said. "It's balancing research development, protecting the environment and culture, preserving the sacred sites."
Breakout sessions were held to allow tribal leaders some face time with members of the Obama administration, a "true government-to-government consultation," said David Hayes, deputy secretary of the Interior Department.
All the notes from the sessions will be typed up and used at next year's conference as a way to hold the government accountable, he said.
Topics included the entire range of issues faced by tribes, including poverty, law enforcement, violence against women, infrastructure, sacred sites, unemployment, health care and education.
A dozen department secretaries addressed the crowd, and many offered evidence of success or announced plans for continued progress. Many of those are expected to benefit the Navajo Nation as one of the largest tribes with some of the least-developed land.
Tom Vilsak, secretary of the Department of Agriculture, called on tribes in rural locations to keep these sparsely populated areas from being marginalized.
Rural America "is a place worth fighting for," he said. "It is a place worth preserving."
advertisements
---
Yet 90 percent of the nation's poor counties are in rural areas, not the inner cities, Vilsak said. He asked tribal leaders for help in preserving and revitalizing those places.
"No one in this country understands the history, the culture, the importance of the rural parts of our country like the people in this auditorium today," he said.
Another long-standing issue for the Navajo Nation is infrastructure and roads. Transportation Secretary Ray LaHood addressed reservation roads and pledged $15.5 million to 72 tribes for improvements.
"All of you know transportation is not simply how we get from one place to another," he said. "It's how we connect to opportunity, especially on Indian Country. A rebuilt road or a new transit system can be the difference between a child going to school or not, or the difference between a tribal elder going to the doctor or not. No one knows better than tribal leaders that transportation is the key to accessing jobs."
LaHood pledged to work with tribal leaders to build roads, bridges and transit systems that connect tribal communities to services.
The conference brings together more members of the president's cabinet into one building than any other event, said Brian Cladoosby, chairman of the Swinomish Indian Tribal Community near Seattle, Wash.
The scope of the conference is a testament to the changing views of tribal issues and triumphs, he said.
"The president makes this commitment, and the cabinet hears from us directly," said Cladoosby, who introduced Obama to the crowd. "There's no one in between."
Other tribal leaders also praised the conference, saying it was refreshing to have a president who went out of his way to listen to concerns from American Indians and Alaska Natives.
"I think it's a great opportunity to continue what the president has built the last three years, to continue moving forward with Indian Country's agenda," said Gary Hayes, chairman of the Ute Mountain Ute Tribe.
"There are so many broken promises, but this president has been able to fulfill his promise of being with tribal leaders every year," he said. "I think it's a win-win for the president and for the tribes, and hopefully it will continue for the next four years."
Obama, who spoke at the end of the conference, said he is hopeful for the future of Native America.
"Throughout Indian Country, you've got a generation ready to build on what generations before them have built," he said. "They're out there right now, stirring with hope and restless for change and restless to take ownership of their future."
Obama also pledged to continue working for American Indians during his second term as president.
"Over the next four years, as long as I have the privilege of serving as your president, we're going to keep working together to make sure that the promise of America is fully realized for every Native American," he said.