News
ADOT: N-20 will be paved
By Krista Allen
Special to the Times
PAGE, Ariz., March 21, 2013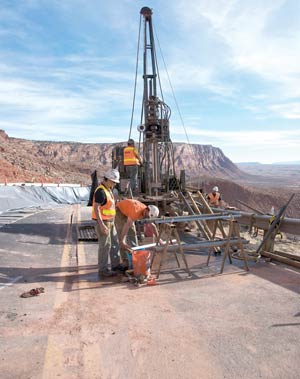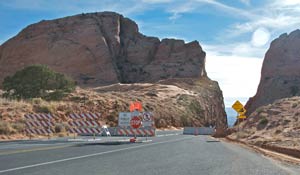 (Special to the Times – Krista Allen)
advertisement
T
he long-suffering folks along infamous Navajo Route 20 may finally get the pavement they've been waiting for for at least 40 years, officials with the Arizona Department of Transportation revealed during a presentation to the Page City Council last Wednesday.

The sand-blown dirt road that has been known to swallow semi-trucks up to their axles is being targeted as the alternative route to U.S. 89, which has been impassable between Gap, Ariz. and Page since Feb. 20.

Early that morning, a landslide near Bitter Springs took out a large chunk of the only paved road in the area, leaving tourists and locals alike to either brave the precarious sand road through the dunes (as Coppermine residents have been doing for decades just to get to their homes), or drive 50 miles out of their way through Tuba City on U.S. Highway 160 to State Highway 98.

As for 89 itself, more study is needed before it can be repaired, the ADOT officials told the council during a presentation to bring the local government up to speed on what is now being called "Operation Lost Highway."

"We've been working very hard to respond to the situation," ADOT Communication Director Matt Burdick said as he presented to the council. "While we recognize the significance of U.S. 89 to Page, to this region, we're working diligently to get that route restored."

But before ADOT can move forward with a design to possibly repair the area that failed on Feb. 20 without any moisture (what ADOT officials call a "dry slide"), the agency needs to determine the mountain slope has stabilized.

Geotechnical engineers are installing underground sensors called inclinometers to evaluate the landslide and monitor the stability of the site.

To learn what's happening beneath the surface of the ground, ADOT used drilling rigs to drill 10 borings between 80 and 120 feet deep to install inclinometer tubes for instrumentation.

Nine more high-speed borings are scheduled.

"There's crews out there every day lowering those instrumentation down the borings every two feet to take a reading to verify if there's movement," said Robert Samour, ADOT senior deputy state engineer of operations.

ADOT has also taken a three-pronged approach to restore essential traffic. Samour says the first phase of the solution is the geotechnical data collection. The second phase is the paving of Navajo Route 20 on the existing alignment with no improvements.

Unfortunately, ADOT is not designing an all-weather road.

The general plan is to pave the 27-mile Bureau of Indian Affairs road that runs parallel to U.S. 89 near three western Navajo chapters, known locally as "the Coppermine Road."

advertisements
---
Because the N-20 detour duration is estimated to be two years, ADOT will design to correct some curves and known low spots.
"I hope our local people will be hired for the construction (of N-20)," Bodaway-Gap Chapter president Perry Slim, Sr. said. "Bodaway is really affected by the road condition. A lot of people from here, Bitter Springs, Cedar Ridge, Echo Cliffs (and Lees Ferry-Marble Canyon) go shopping in Page. They're the most impacted."
"Coppermine has always used N-20 as their main route into Page, but for us, we've always used U.S. 89 as our main route into Page," Slim continued. "I hope ADOT really considers our community members that do construction and labor."
Burdick said the improvements to N-20 will last at least until U.S. 89 is repaired, but he emphasized this won't be the standard type of paving designed to hold up 20 years. That will still be up to the BIA.
"We have no intentions of building the ultimate N-20 for the Bureau of Indian Affairs," Burdick said.
Fortunately, the BIA and the Navajo Department of Transportation are expected to resolve N-20 road issues by the year 2024.
"It is not by any means the ultimate project that they were looking for," Samour said.
Public safety and security of the landslide site remain key factors. Samour said ADOT had to place temporary concrete barriers across the road and post "Pedestrian Prohibited" and "No Public Access" signs at the two checkpoints on the north and south ends of the site.
In fact, there were five breaches of security last weekend alone.
Since people are approaching the landslide site from different areas, ADOT worker Tom Cleaver said if someone walks up here, they could fall into one of the 30-foot cracks below the cliff.
"It's a concern to us because we don't know the stability of the area just yet," Samour said. "Safety is our primary concern."
The area is now closed to both vehicle and pedestrian traffic.
Although the road is closed indefinitely, Cleaver said a passage through the landslide site will only be accessible for emergency service vehicles.
Finally, the third phase of the solution is to reopen U.S. 89 between the U.S. 89A junction in Bitter Springs to State Route 98 junction near here.
"Basically, we're going to be drilling for the next month," Burdick said. "So we'll have more information and more results out of that geotechnical investigation."
ADOT will be establishing a project office here at the City Hall in late March. The office will be open two days a week to provide information.
ADOT officials will also be visiting area chapter houses to keep community members informed and to address questions.