News
Men in photo were CFR judges
By Krista Allen
Western Agency Bureau
TUBA CITY, August 15, 2013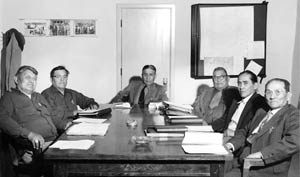 (Courtesy photo)
advertisement

W hen the late Robert L. Bennett (Oneida) was succeeded by Philip "Sam" Deloria (Standing Rock Sioux) as director of the American Indian Law Center in Albuquerque, Bennett was in possession of a photograph of six gentlemen sitting around a table.
It was hung on a wall along with portraits of Felix S. Cohen, a lawyer and scholar, and John Collier, a social reformer.
"It was at the American Indian Law Center when I got there in 1971, as I recall, and may have been brought there by (Bennett) ... who was there for two more years before turning the job over to me," said Deloria in an email to the Navajo Times. "They were all displayed on (Bennett's) wall, and then he left them when he retired from the AILC."
Deloria says back then, Bennett was very involved in putting together the National American Indian Court Judges Association and moreover, worked closely with the late Diné Chief Justice Virgil Kirk Sr.
"He may have gotten the picture from Judge Kirk," said Deloria who at first believed that the men from the photograph were judges in the Navajo Nation Court System.
He sent a copy of the image to the Navajo Times in hopes of finally finding out who those men were.
On the back of the photograph was written, "Milton Snow - US Indian Service - 1954."
So in March, the Times published the picture and asked its readers for their help in identifying the dignified, well-dressed men. The Times received several responses from across the Navajo Nation and neighboring states.
"We are now beginning to think that the (men) may have been (judges) of the Court of Federal Regulations (CFR and also known as Court of Indian Offenses) and not tribal judges," wrote Deloria in a later email. "There might have been some transition years when there were simultaneous CFR and tribal court systems."
Deloria is right.
The Milton Snow photograph indeed reveals members of the Navajo Judiciary. It was taken at a special law and order meeting in Window Rock on Feb. 26, 1954.
The original photograph is housed at the Navajo Nation Museum where 15,000 unsurpassed Milton Snow photographs are stored. It identifies the Diné judges as, from left to right, Joe Duncan from Shiprock, Walter Juan from Crownpoint, Tillman Hadley, Zhealy Tso from Chinle, Max Littlesalt from Kayenta, and Alfred S. Hardy Sr. from Fort Defiance.
The great warriors of the historic photo were part of the 20th Century. They lived through the Great Depression and then World War II. They were farmers and ranchers, brave and insightful, and they were leaders.
However, there's little information recorded apropos to each of the men. The Times tracked down some of their descendants to learn more about them.
advertisements
---
"He's my dad," said Eula Davis, 80, about Hadley. "The very first job he had was interpreter for the school here. He worked with the police force, then he became a police officer, (eventually) chief of police."
Davis says her father was a chapter official for Coalmine Chapter on one occasion.
"After that - I don't know if he was chosen or volunteered, or something - he became a judge, then chief justice," said Davis, who has a copy of the Snow photograph. "He helped families with their situations because they didn't know where else to get help."
According to an April 1953 issue of The Gallup Independent, Tillman Hadley was named chief judge of the CFR that year on April 30.
The article read, "Judge Hadley was elected judge of the Tuba City area in 1951. He will serve in his new post until the Tribal elections of 1955. As chief judge, Hadley is authorized to take charge of all court dockets and actions pending review or trial by the Navajo (CFR) ... The new chief judge will direct and supervise the dockets in the courts of Judge Alfred Hardy Sr.; Judge Zhealy Tso; Judge Max Littlesalt; and Judge Joe Duncan."
"He used to give us (children) a ride every morning from Coalmine (Canyon) to Tuba City just to go to school," said Reuben Claw, 59, of his grandpa Hadley, who had a twin sister.
"Because of the food situation, his mother didn't take him. He was taken by his aunt from Tall Mesa area," said Davis. "He was raised by that family while his real family was in Cedar Ridge."
The family does not know what became of Hadley's twin sister.
Meanwhile, an almost impenetrable bloom of optimism made Zhealy Tso, a noble figure on the Navajo Nation.
According to a July 1947 issue of The Gallup Independent, members of the Navajo Tribal Council on July 8 elected Mr. Tso as vice chairman "to take the place left vacant by Chee Dodge's death." The article read, "Tso won the position in an election in which Howard Gorman; Clyde Lizer and Roger Davis were also nominated as candidates."
"He was a businessman. He had a store that he ran. He was an entrepreneur," said Valonia Hardy of her great-grandfather. "He was (the epitome of a chairman) to the community. He was really there to provide good services for the individuals where he lived."
"He was a rancher too," added Genevieve Tom. "He had a lot of sheep, maybe 500. My (parents, Gee and Lorraine Hardy) used to herd sheep for him all the time."
Tso's family say his nickname was "Tó Dík'oozh Yázhí," meaning Little Bitter Water, since he was originally from Salt Water Canyon near Many Farms.
As for Max Littlesalt, he wasn't a Council delegate, but he was a judge.
"He became a judge back in 1953," said Allison Graymountain of her great-great-great paternal grandfather who was a Navajo-English interpreter.
Justice on Navajo land back then was served by CFR courts located in Fort Defiance, Chinle, and at a number of circuit courts in other reservation localities. None of the judges held a law degree, although they were all well informed regarding tribal custom.
Contact Krista Allen at kallen@navajotimes.com.