Business
Diné couple offers shoes for serious runners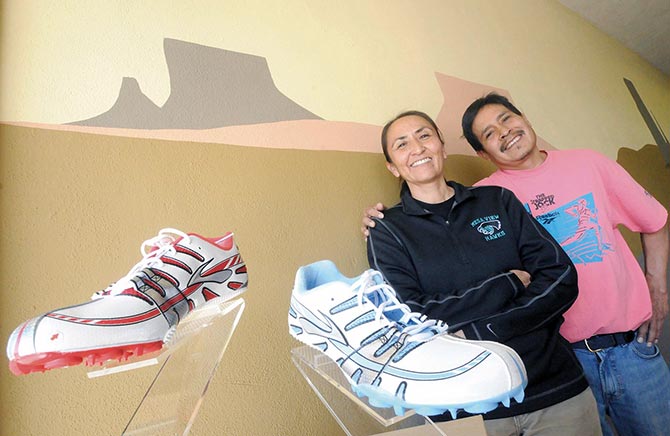 (Special to the Times - Donovan Quintero)
By Erny Zah
Navajo Times
FARMINGTON, March 11, 2010
For people who love running, any time is a good time to run, even when the run might be somewhat short.
Eugene Hogue owns recently opened Southwest Runners, a Navajo-owned store specializing in running shoes and apparel. And of course, he loves running, which shows when a customer sends him back to inventory to hunt for a particular shoe.
Like other shoe stores, most of the inventory is on shelves in the back. When Eugene needs to get shoes for a customer to try on, he runs.
"It's like he runs everywhere. Walking's too slow for him," joked Jeri Hogue, Eugene's wife and co-owner of the business. She is Hooghan Laní (Many Hogans Clan), born for Shash Dine'é (Bear People Clan).
On March 5, Eugene, who is originally from Burnham, N.M. and is Ta'neeszahnii (Tangle Clan), born for Tl'ááshchí'í (Red Bottom Clan), trotted to the back to get a pair of shoes for Jimmy Jaramillo of Aztec, N.M. Jaramillo was shopping for track shoes for his son.
The Hogues emphasize customer service and depth of knowledge about their products to distinguish their store from others in the area. Jeri has bought running shoes in Farmington, she says, and the experience led her to do her shopping in Albuquerque or Durango, Colo.
Now, she and her husband want to localize that knowledge and offer some harder-to-find shoe brands such as Mizuno and Brooks to an area that doesn't have a store specializing in running shoes.
Serious runners
Jeri, who is originally from Cason, N.M., and Eugene are serious runners and it has given them insight into their business. In addition, Jeri coaches track at a local middle school and Eugene, who ran in the Boston Marathon in 1993 and 1994, has been running since a young age.
So combined, the couple has the knowledge to find shoes that match a person's walk.
Most experience runners know exactly what type of shoes match their specific arch or the kind of shoes they need, Eugene said. For customers who might not be knowledgeable as to the specific needs of a flat foot versus a high-arched foot, Eugene has them do a walking test.
Norman Tippeconnie of Upper Fruitland, N.M., walked into the store March 5 and said that he is flat-footed. Eugene started showing him different shoe choices, and then suggested they make sure. He asked Tippeconnie to walk a short distance away from him, and then back, and then determined that Tippeconnie had a medium arch.
"If you got happy feet, you can walk," Tippeconnie said.
advertisements
---
He ended up buying a pair of running shoes, though he plans to start walking to become healthier.
Eugene said when he observes a person walking, he looks at how well the arch is supporting the ankles and is able to match shoes accordingly.
"It's the foundation of your whole body," Eugene said, adding that improperly fitting shoes can add to foot, leg, hip and even back pain.
But Eugene is cautious as to the prospects of a properly fitting shoe answering all health concerns, physical and meta-physical.
"I'm not a medicine man, I give suggestions," he said jokingly.
In addition to the walking test, the Hogues will sit the customers down and ask them to remove their shoes. From there, the Hogues retrieve all the relevant shoe styles they have in stock, to ensure each customer has the most comfortable shoe him or her. The store even has a short one-lane track where customers can test drive the shoes.
Early plans
Opening a business was no impulse decision. The Hogues said they had thought about opening a running-shoe store since the early '90s.
Eugene until recently was a general contractor but when new construction ground to a halt, thanks to the tanking economy and imploding housing market, he decided the time to try out their dream was "now."
"We wanted to do this a long time ago, so why not now?" Jeri said.
"I always wanted a running store," Eugene added.
The couple received some help from the Navajo Nation in the form of a micro loan that they found out about through the Regional Business Development Office in Shiprock. This helped them cover the start-up cost of about $16,000, of which about $11,000 went to purchase inventory.
They also used about $5,000 of their own money.
They chose a location in the Mesa Shopping Center, a small strip mall in a residential area north of East Main Street. Though a little off the beaten track, the store offers a roomy display area and total overhead is less than $900 a month - important to a business that may take some time to get established.
The couple hasn't had extensive experience running a retail business, and their immediate goal is to make enough to cover their personal and business expenses.
However, Jeri has discovered one challenge to owning a business - the paperwork.
"The bookkeeping is the most challenging part (especially) now that I'm coaching and that's taking hours from here," she said.
Off to a good start
But the couple hopes that their experience as runners and knowledge of their products will help make their business successful.
And the Hogues are off to a good start, selling two pairs of shoes and other apparel in a short space of time on a recent Friday afternoon.
Stella Vaden, 40, of Farmington, purchased shoes for her daughter, Emily, 15, who runs for Farmington High School.
Vaden said they've been to other shoe stores in Farmington, but the sales staffs there knew little about the products they were selling and she wasn't comfortable buying such an important type of shoe from them.
After doing a walking test, and being fitted with some new shoes, Stella said she'd return to Southwest Runners for shoes in the future.
"They were helpful and knowledgeable," she said.
Southwest Runners is located in the Mesa Shopping Center at 1000 N. Butler Ave. and is open Monday through Friday, 10 a.m. to 6 p.m., and Saturday from 11 a.m. to 7 p.m. The phone number is 505-325-SHOE (7463).